Russia Conducts 22 Airstrikes, Three Missile Launches in One Day: Ukraine
Russian forces launched 22 airstrikes in one day as the war in Ukraine approaches its one-year mark.
The Armed Forces of Ukraine wrote in a Facebook post that Russia had fired three rockets, 22 airstrikes and "over 30 shellings with jet fire systems" during daylight on Monday. The Ukrainian military also said Russia continues to focus its artillery on northern cities in the Kharkiv region, as well as in the eastern Donetsk region, including the city of Bakhmut.
In response, Kyiv forces carried out 16 airstrikes "in the areas of the occupiers' personnel and military equipment," read the post. The Armed Forces also claimed to have struck a Russian "anti-aircraft missile complex."
"The threat of further Russian aviation and missile strikes across Ukraine remains high," the Ukrainian military added.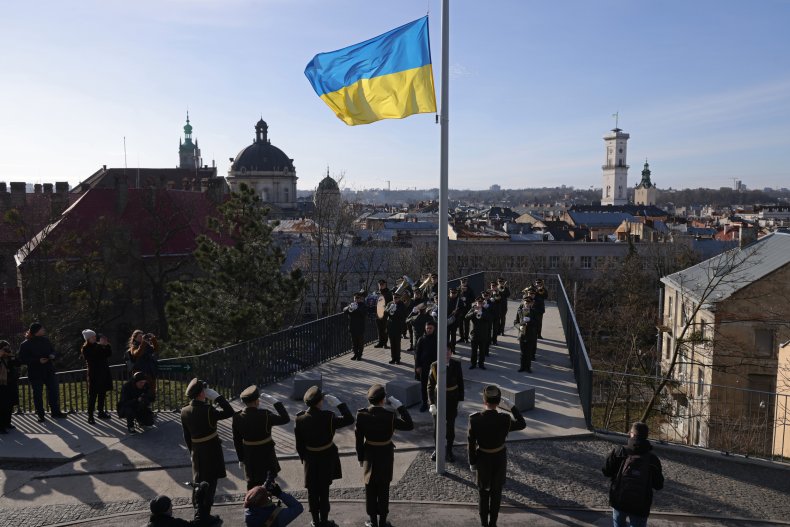 Russian troops are also reportedly forcing Ukrainian citizens to carry Russian passports in the areas of the Kherson region that Moscow's forces still occupy, reported the Armed Forces of Ukraine. According to the post, Russian officials are "threatening to confiscate personal property" to "accelerate the process of obtaining Russian passports and reorganization of the business of ... real estate under Russian law."
"In the absence of a Russian passport, pensioners are threatened to leave them without pension payments," the post continued. "As a result, local citizens have experienced social tension and concerns about the loss of their own property and business."
After Russian President Vladimir Putin ordered his troops to retreat from the city of Kherson in November, Russian troops still occupied around 70 percent of the southern Kherson region, according to a report from CNBC.
The latest offensive front from Moscow falls on the anniversary of Russia's invasion of the Crimean Peninsula in February 2014, which led to Russia eventually annexing the Ukrainian territory.
U.S. President Joe Biden was also in Kyiv on Monday as part of a scheduled trip to Europe in support of Ukrainian President Volodymyr Zelensky. Biden had previously dismissed the possibility of visiting Ukraine, but reportedly solidified his plans on Friday after making the "final security arrangements," Newsweek previously reported.
Jake Sullivan, U.S. national security adviser, said on Monday that Russia was warned of Biden's otherwise unannounced trip several hours before the president left the White House.
In a tweet early Monday morning, the president wrote, "As we approach the anniversary of Russia's brutal invasion of Ukraine, I'm in Kyiv today to meet with President Zelenskyy and reaffirm our unwavering commitment to Ukraine's democracy, sovereignty, and territorial integrity."
Friday will mark the one-year anniversary of Russia's invasion of Ukraine.
Newsweek has reached out to the Russian Ministry of Defense for comment.