Why Bakhmut Could Decide Who Wins Ukraine War 
Russia has been pouring its troops into the battle for the city of Bakhmut for months, but has so far failed to capture it.

The battle for Bakhmut is approaching a tipping point. Clashes are intensifying around the city ahead of an anticipated fresh onslaught by Russia this spring.
But why has the small industrial city become such a critical spot in the war?
As Russia's full-scale invasion of Ukraine nears the one-year mark, the small industrial city of Bakhmut in Ukraine's eastern Donetsk region remains one of the most intense battlegrounds of the war.
Russia and Ukrainian forces have engaged in grueling clashes in the area since July as Moscow remains desperate for its first major battlefield victory since the summer of 2022. Russian troops are fixated on seizing Ukraine's eastern regions of Donetsk and Luhansk, collectively known as the Donbas—a stated war goal of Russian President Vladimir Putin.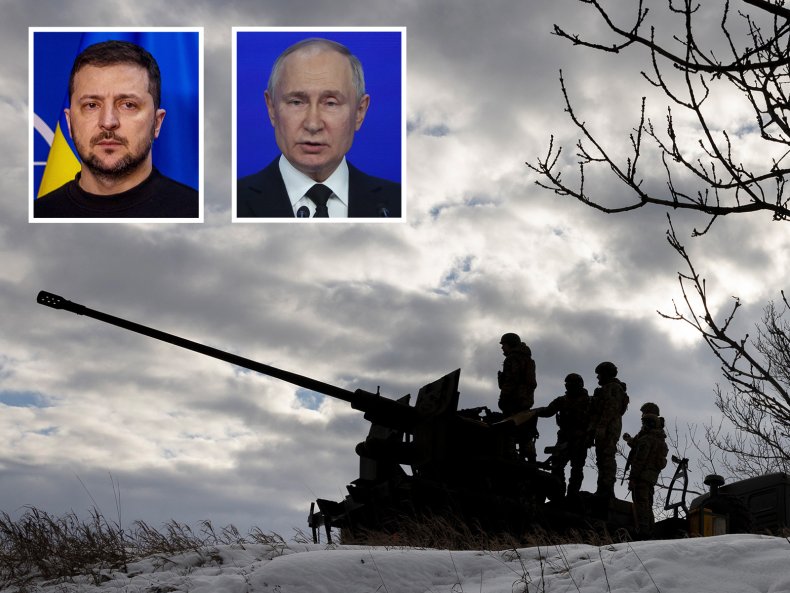 The battle for Bakhmut has been costly. With intense fighting in the summer months, and clashes increasing in ferocity more recently between Russian and Ukrainian forces around Bakhmut and the nearby salt-mining town of Soledar, Ukrainian troop casualty numbers since the invasion began nearly a year ago are believed to be at least 100,000 dead and wounded.
Although the Bakhmut death toll is unknown, a top Ukrainian military officer claimed in December that between 50 and 100 Russian troops were killed daily in the battle for the city.
Bakhmut, which had a pre-war population of 70,000, is a shell of its former self. According to Ukrainska Pravda, 90 percent of Bakhmut's residents have fled, with the few thousand who remain subject to daily fire. Images and videos from the front line around Bakhmut show clashes between Ukraine and Russia have descended into trench warfare reminiscent of World War I.
Ukrainian President Volodymyr Zelensky has described the situation on the frontline in Bakhmut as "very difficult", but so far, Moscow has been unsuccessful in making any strategic advances around the city.
The city has also become an important symbol of Ukraine's resistance. "Bakhmut holds!" has become a national battle cry for Ukrainian soldiers, their supporters, and even Zelensky. Preventing its capture then will be key for Ukrainian troop morale as the war drags on.
A 'Live Wall'
Many analysts say Bakhmut holds little value itself in strategic terms, but nonetheless believe Russia will use the city as a stepping stone toward its goal of capturing the entire Donbas region—one of Putin's stated war aims when he launched his invasion last February.
Ukrainian officials have said it is Moscow's aim to seize Donetsk and Luhansk by the spring.
Anton Gerashchenko, an adviser to Ukraine's minister of internal affairs, told Newsweek on Friday that Bakhmut is "a live wall that allows to prepare our troops for de-occupation"—implying that a successful defense of the city could put the Ukrainians in a position to launch a counter-offensive.
"[The] Russian army has lost a colossal amount of people and equipment in this direction. They have been trying to capture Bakhmut for months now without any result," he said.
Bakhmut holds "huge symbolic value" for Russia, Gerashchenko added.
"The situation there is the most complicated at the moment, but our defenders stand strong and carry out their combat missions."
Symbolic Victory
If captured, Bakhmut would be Russia's first major battlefield victory since the summer of 2022.
That's something both Russia's conventional military, and Yevgeny Prigozhin's notorious paramilitary outfit, the Wagner Group, are desperately hoping, and competing, to achieve, experts tell Newsweek.
"The fall of Bakhmut, of limited strategic, but high symbolic importance, would be claimed by Russian President Vladimir Putin as a major victory, not least to counter Russian critics of the conduct of the war as indecisive, and President Volodymyr Zelensky would be likely to see it as a demoralizing setback," Alex Kokcharov, a London-based risk analyst who focuses on Russia and Ukraine, told Newsweek.
Since July, Bakhmut has tied significant numbers of the Russian forces to one small area, thus preventing their deployment elsewhere, he said.
Kokcharov said its fall would likely serve to Russia's end goal of seizing the Donbas region.
"If Russians manage to capture Bakhmut, it will likely lead to the frontlines moving westwards, close to Slovyansk and Kramatorsk, further endangering Ukrainian positions in the northern part of Donetsk region," he said.
Ivan Klyszcz, a research fellow for the International Centre for Defence and Security, a think tank based in Estonia, said however that a lot would depend on whether Russia would "manage to build momentum" from Bakhmut, should it be seized.
"Bakhmut might be captured, but if Russia does not seize on the victory, the Ukrainian armed forces can retake it not long afterwards as it happened in Severodonetsk," he told Newsweek.
Also important, Klyszcz said, is that the capture of Bakhmut has become "something that Russian forces desire and compete with each other to attain."
The Wagner Group, which consists largely of recruited Russian convicts, had been leading an offensive alongside Russian troops against Bakhmut.
However, Prigozhin has been sidelined by the Kremlin in recent weeks, with the Wagner Group now seeming to play a less prominent role in operations around Bakhmut. Putin is gradually replacing Wagner fighters, favoring instead professional military personnel.
"It has been reported that Prigozhin wanted Wagner to capture the city to demonstrate the superiority of his forces over the Russian military. Since he failed, now the Russian military has a chance to overtake him," Klyszcz added.
Prigozhin Shifts Expectations
Prigozhin in video interviews with Russian media published late on Wednesday, appeared to shift expectations on the potential capture of Bakhmut.
Russia could encircle the war-ravaged city by March or April, Prigozhin assessed, warning that Russia should not underestimate or play down Ukraine's armed forces by saying that Bakhmut is "surrounded."
"If they are not surrounded, why should we say they are? We shouldn't downplay the enemy in this," he said.
Why Is Bakhmut so Important to Russia?
In launching the war, which Putin still calls a "special military operation," Putin said one of his main objectives was to "liberate" Donbas, a separatist region in southeastern Ukraine with linguistic ties to Russia.
A Russian envoy has said Bakhmut's capture will determine the course of the war. The city serves as a regional hub with highways that lead to strategic cities in the Donbas, such as Kramatorsk and Slovyansk.
Dmitry Polyanskiy, Russia's first deputy permanent representative to the United Nations, told Newsweek that it will be impossible for his country to achieve Putin's war aims in Ukraine unless Bakhmut is captured.
"I know that there is no way to liberate Donbas without capturing Bakhmut and I know that liberation of Donbas is one of the tasks of our military operation," Polyanskiy said on Tuesday.
The Russian diplomat described the war-ravaged city as a "fortress" that is "part of a heavily fortified line of defense."
"It's not just a simple city. It's a city that has long underground tunnels and fortifications," he said. "That's why it's so difficult to capture this fortress, but I'm sure that we will do it."
Zelensky said during a press briefing with Swedish Prime Minister Ulf Kristersson on Wednesday that the situation near Bakhmut was the "most difficult" on his country's front line, but added that his troops were "firmly holding" back Russia's advances.
"It's not easy for our soldiers in the east but they don't call it 'fortress Bakhmut' for nothing."