As the race to find a novel coronavirus vaccine continues across the globe, Russia has reportedly become the first country to complete clinical trials of a vaccine candidate, with the potential to be distributed from around mid-August.
A vaccine could be rolled out across the U.K. by the first half of next year, while Australia began a human trial of its vaccine candidate in Queensland on Monday.
There are at least 160 potential novel coronavirus vaccines being developed by researchers in the U.S., Europe, China and Australia. They include 21 vaccine candidates in clinical evaluation and 139 under preclinical evaluation, according to the latest July 6 report from the World Health Organization.
Here we take a closer look at some of the recent COVID-19 vaccine developments.
Russia
The results of human clinical trials completed at Russia's Sechenov University were reported to have proven the effectiveness of its vaccine candidate, according to Elena Smolyarchuk, the head and chief researcher at the university's Center for Clinical Research on Medications, Russia's TASS news agency reported Monday.
"The research has been completed and it proved that the vaccine is safe. The volunteers [of the clinical trials] will be discharged on 15 July and 20 July," Smolyarchuk told TASS.
The participants of the trials will remain under medical supervision on an out-patient basis after they are discharged, Smolyarchuk noted.
Alexander Gintsburg, head of Russia's Gamalei Institute of Epidemiology and Microbiology where the vaccine was developed, hopes the vaccine will "enter civil circulation" on August 12 to 14 and that private companies will begin mass production by September, he told TASS.
Clinical trials on two formulations of the vaccine candidate were launched last month at Sechenov University, with 18 people vaccinated on June 18, followed by a second group of 20 people vaccinated on June 23, TASS reported.
The potential vaccine has reportedly been developed by the same government labs that produced an effective vaccine for the Ebola virus as well as MERS virus, The Washington Post reported.
Australia
Australia launched a human trial for its vaccine candidate on Monday at the University of Queensland (UQ).
The potential vaccine was developed and manufactured in partnership with the Commonwealth Scientific and Industrial Research Organisation's advanced biologics production facility in Melbourne, technical assistance from Australian biotech company CSL, Brisbane-based biotech manufacturer Patheon and global biotech company Cytiva, UQ confirmed in a statement Monday.
Phase one of the trial sees 120 volunteers, aged between 18 and 55, injected with the potential vaccine, while a proportion of participants receive a placebo, the UQ statement noted.
UQ associate professor and infectious diseases expert Paul Griffin, a principal investigator at the Nucleus Network, confirmed participants would receive two doses during the trial and would be monitored for 12 months.
"We expect to have preliminary results after about three months, and if all goes well, we can move as fast as we can to the next stage in the vaccine's development," Professor Paul Young, another co-leader of the UQ vaccine project, said in the statement. "That will be a larger trial with people from a range of ages, to ensure the vaccine works across the board," he said.
U.K.
There are currently two vaccine candidates in development in the U.K., including one at Imperial College London which could potentially be available for use by the first half of 2021, according to Professor Robin Shattock, the head of the vaccine development team at the university.
"We anticipate if everything goes really well, that we'll get an answer as to whether it works by early next year," Shattock told the U.K.'s Sky News on Sunday.
"And we have put in place the infrastructure to make that vaccine for the whole of the U.K. So, assuming that the funding is there to purchase that vaccine, we could have that vaccine rolled out across the U.K. in the first half of next year."
The first doses were reported to have been given to 15 trial participants earlier this month. Two doses will be administered to 300 people in the current phase, with plans for a further efficacy trial on 6,000 people to begin in October, Imperial College London reported this month.
The trials are reported to be the first test of a new "self-amplifying RNA" vaccine technology developed by Shattock and his team, which unlike most vaccines, doesn't use real virus particles, Imperial College London reported earlier this month.
Last month, British-Swedish pharmaceutical company AstraZeneca announced it would be supplying up to 400 million doses of its AZD1222 vaccine to European Union countries. The vaccine has been developed by researchers at the University of Oxford's Jenner Institute and the Oxford Vaccine Group.
A phase three clinical trial of the university's vaccine candidate began last month on 5,000 volunteers in Brazil. Vaccinations were set to take place in São Paulo, Rio de Janeiro and a site in the northeast of Brazil, the university announced in a statement last month.
Over 4,000 participants in the U.K. are already part of a clinical trial for the vaccine candidate, while an additional 10,000 participants will also be recruited, the university confirmed.
U.S.
On July 8, biotechnology firm Moderna completed enrollment for the phase two trial of the mRNA-1273 vaccine as well as for the National Institutes of Health phase one study of the vaccine, the company confirmed in a statement earlier this month.
The first phase of the vaccine trial began in March at Seattle-based Kaiser Permanente Washington Health Research Institute.
Emory University's Vaccine and Treatment Evaluation Unit in Atlanta, Georgia was added by the National Institute of Allergy and Infectious Diseases (NIAID), which is funding the trial, as a second test site for the first phase of the study.
Last month NIAID director Dr. Anthony Fauci noted that vaccine development efforts are "moving very quickly" and was cautiously optimistic that initial doses of a potential vaccine could be available by the end of the year or "the first few months of 2021."
Moderna noted in the statement this month: "Moderna has completed manufacture of vaccine required to start the phase three study. With the phase three dose at 100 μg, the company remains on track to be able to deliver approximately 500 million doses per year, and possibly up to 1 billion doses per year, beginning in 2021..."
Maryland-based biotechnology firm Novavax began phase one of its NVX-CoV2373 vaccine trial in May. It is expected to report preliminary safety results from the first phase by July. A phase two trial looking at immunity, safety and disease reduction will begin short after July, the company confirmed.
This month, Novavax secured $1.6 billion in funding from the U.S. government, under the condition that it will produce 100 million doses of its vaccine by the start of next year.
Inovio Pharmaceuticals, the developers of the INO-4800 vaccine, which is given as a skin-deep shot instead of the typical deeper shot, last month announced that preliminary analyses indicated 94 percent of its phase one trial participants showed "overall immune responses at week six after two doses of INO-4800 in trial with 40 healthy volunteers," the company noted in a statement at the end of June.
"Through week eight INO-4800 regimen was deemed safe and well-tolerated with no serious adverse events; all reported adverse events were grade one in severity," the statement said.
Inovio will begin a "U.S. phase two/three efficacy study this summer upon regulatory concurrence," the company stated.
China
Chinese biopharmaceutical company CanSino Biologics, which in May launched the first human trials for its Ad5-nCoV vaccine, was reported to be in discussion with Russia, Brazil, Chile and Saudi Arabia to begin a phase three trial of its vaccine candidate, Qiu Dongxu, the executive director and co-founder of CanSino, confirmed Saturday at an antiviral drug development conference in Suzhou of eastern China.
He noted that the phase two trial showed "much better" results than the phase one trial about the vaccine's safety and ability to trigger an immune response. The phase three trial is likely to begin "pretty soon," with 40,000 participants to be recruited for the trial, according to Qiu, Reuters reported.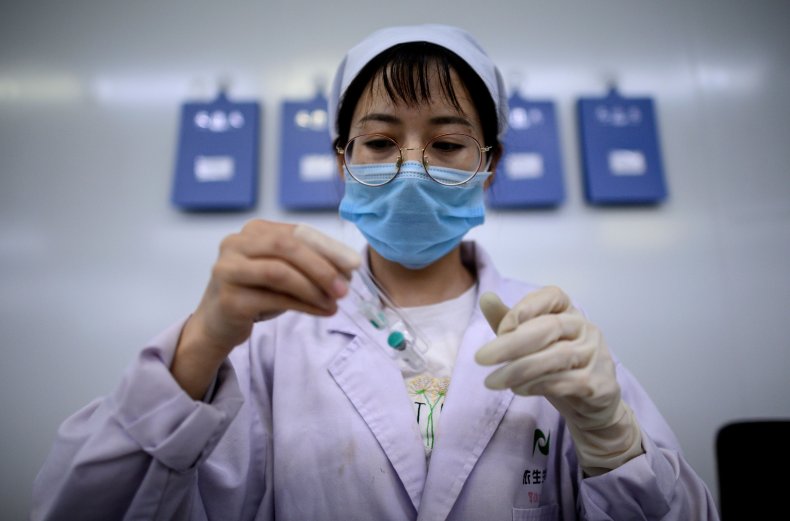 A new factory under construction in China is expected to allow 100 to 200 million doses of the vaccine to be produced per year from early 2021, Qiu noted.
Two other vaccine candidates in China, developed by Sinovac Biotech and a unit of China National Pharmaceutical Group (Sinopharm), have already been approved for phase three trials, Reuters reported.
Over 12.9 million people across the globe have been infected since the virus was first reported in Wuhan, China, including over 3.3 million in the U.S. More than 7.1 million globally have reportedly recovered from infection, while over 569,800 have died as of Monday, according to the latest figures from Johns Hopkins University.
The graphic below, provided by Statista, illustrates the surge in COVID-19 cases in the U.S.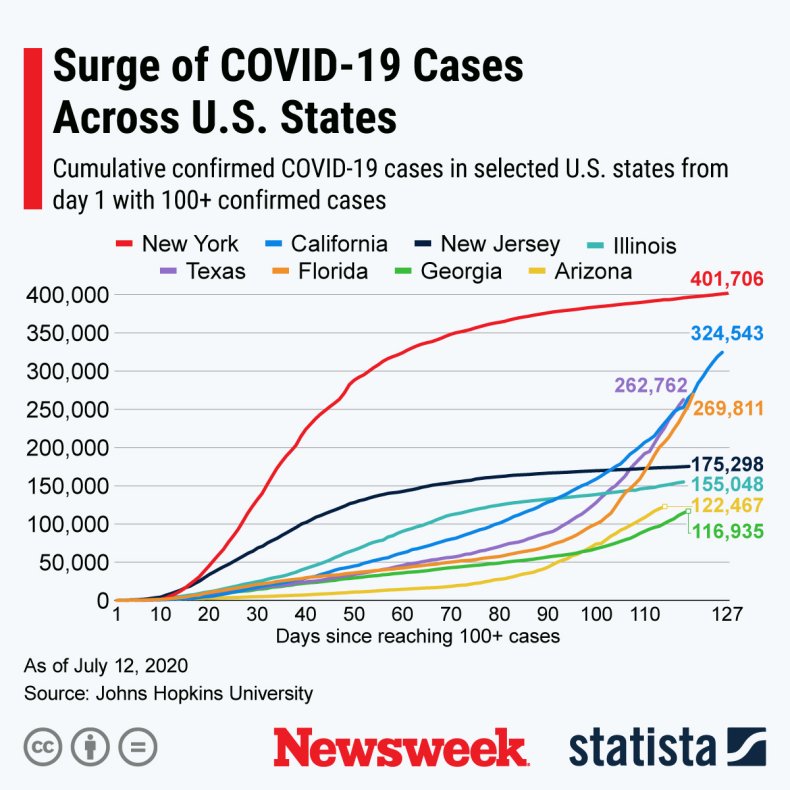 The graphic below, provided by Statista, illustrates the spread of new COVID-19 cases across the U.S.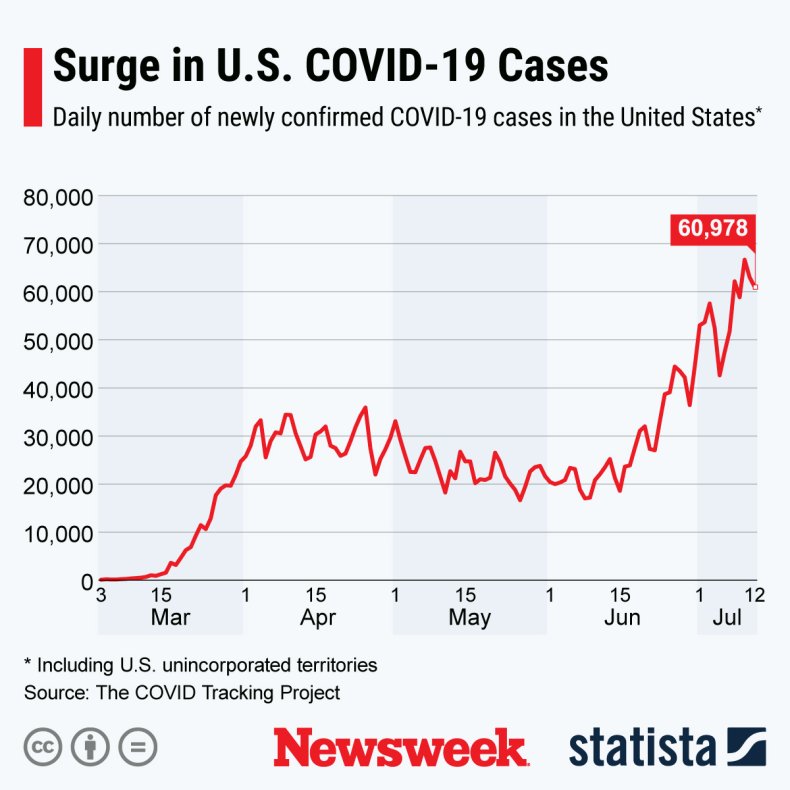 The graphic below, provided by Statista, illustrates the countries with the most COVID-19 cases.