Russia Is Counting Killed Soldiers as 'Missing' to Hide Losses: Ukraine
The Russian military is allegedly counting killed soldiers in Ukraine as "missing" to hide the true number of combat losses, a Ukrainian government agency said Tuesday.
The Security Service of Ukraine said on Facebook it has intercepted phone calls between Russian soldiers who admitted to covering up losses and hiding dead bodies in massive "dumps" across the country. Russia has suffered significant military losses since the war began in late February, including the deaths of at least 12 top generals.
The report comes as the Russian invasion of Ukraine is in its 11th week. Since then, NATO has estimated that Russia has lost between 7,000 and 15,000 soldiers. Ukrainian President Volodymyr Zelensky said the real figures may be even higher, with more than 23,000 estimated casualties.
"Russia is recording killed soldiers on the list of [the missing]," Ukraine's security service said Tuesday. "Their bodies are made up on improvised dumps, where 'two hundred' are so many that the mountains of corpses reach two meters high."
The Ukrainian agency said one of the so-called dumps is in the eastern city of Donetsk, where thousands of killed Russian soldiers are reportedly piled on top of one another. After dumping the bodies, the Russian military allegedly contacts relatives of the "missing" and charges money to locate the soldier.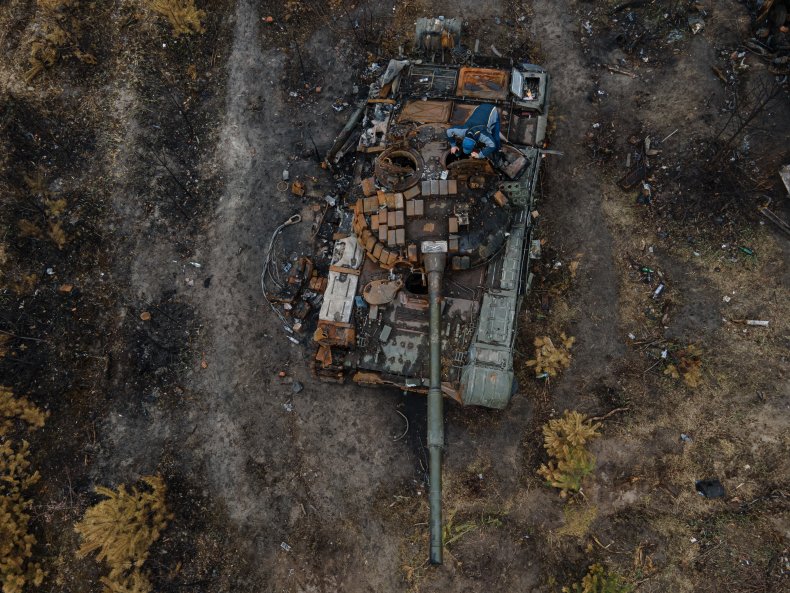 "They just toss them there. And then later it's easier to make as if they disappeared without a trace. It's easier for them to pretend they are just missing, and that's it," a Russian reportedly said in a translated version of an intercepted call.
"There's nowhere left to place them. It's a dump. I'm telling you in plain Russian—a dump. It's as tall as a person," he continued, adding that the site is "fenced off, sealed, they don't let anyone in."
Russia's military death toll has likely outpaced Ukraine's. Ukrainian officials said last month that roughly 3,000 of its troops have been killed. However, the nation has suffered significant civilian casualties, and an official military death toll has not been independently verified by the U.S.
The loss of Russian military leaders has been particularly striking, with experts noting that such deaths have significantly weakened morale among Russia's troops. Earlier this week, a Ukrainian military administration reported that Russian soldiers have begun sabotaging their own vehicles to avoid going to the front lines.
A senior official at the U.S. Defense Department told Newsweek on Monday that it has received similar reports of poor morale, as well as reports that Russian military officers have been disobeying orders.
"The moral and psychological condition of the said personnel is low and tends to deteriorate," the General Staff of the Ukrainian Armed Forces said in a statement last month.
Newsweek reached out to Russia's Ministry of Foreign Affairs for comment.