Russia is Now in the Top 5 Countries Most Affected by the Coronavirus
A sharp rise in the number of cases in Russia has seen the country become home to the fifth highest number of confirmed infections worldwide, according to data compiled by John Hopkins University.
The country reported 10,699 new cases over the past 24 hours, with a total of 187,859 infections according to the country's official number of cases. Russia now also has the second-fastest rate of new infections, behind the United States.
Russia has seen six consecutive days where the number of new cases has increased by more than 10,000. The total number of fatalities now stands at 1,723.
It also means Russia has overtaken France and Germany in terms of the number of cases, with more than half of the country's 177,160 cases in Moscow, leaving its healthcare system struggling to cope.
The capital's mayor, Sergei Sobyanin said research suggested the actual number was nearer 300,000, more than triple the official figure, the TASS news agency reported.
Russian President Vladimir Putin was intending to host French President Emmanuel Macron and President Xi Jinping of China in Moscow's Red Square this weekend to mark the 75 anniversary of the defeat of Nazi Germany.
However, Putin now finds himself battling a crisis that has seen Russia become another European COVID-19 hotspot.
A strict lockdown has been imposed in Moscow, with 12 million people being ordered to stay at home with few exceptions.
However, earlier this week Putin backed calls to begin easing the national lockdown.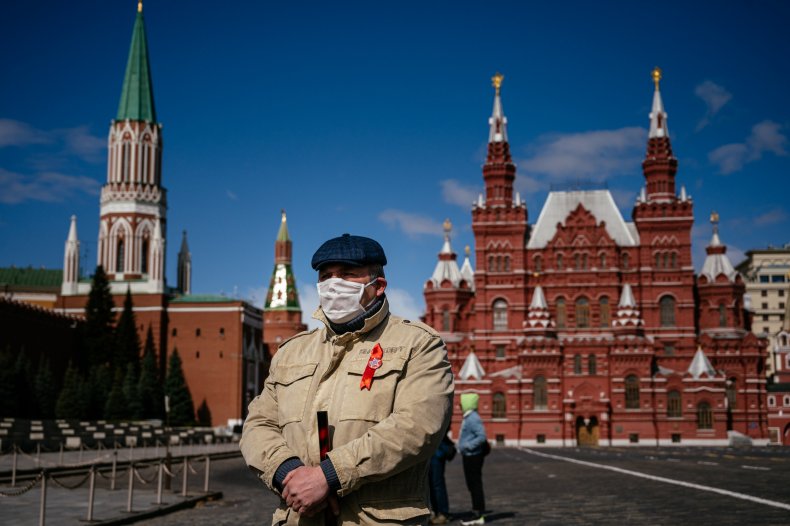 During a televised meeting with ministers and regional representatives on Wednesday, Putin backed a plan for companies and construction projects in Moscow to restart work on May 12.
Russian authorities say that the rise in the number of cases can be attributed to increased levels of testing.
Mayor Sobyanin said: "The fact that we have identified so many sick people is a huge plus, not a minus."
Meanwhile, Russian army medical personnel who had been sent abroad to Italy to fight COVID-19 are returning home to help combat the increasing spread of the virus.
Defense minister Sergei Shoigu announced that personnel would start to leave the country on Thursday, according to Interfax news agency.