Kremlin 'Crazy' Enough To Use Nukes, Russian TV Pundits Warn
There are "crazy ones" in positions of power who will likely "lead to a catastrophe" with nuclear weapons, a Russian state television guest has said during a broadcast.
Appearing in a February 9 clip, translated and published on Monday by Ukrainian internal affairs advisor, Anton Gerashchenko, Russian state media commentators can be seen discussing nuclear weapons detonations in the context of Vladimir Putin's ongoing war in Ukraine.
Speaking on Mesto Vstrechi, or "Meeting Point," Andrey Sidorchuk, attributed as the editor of the Argumenty i Fakty newspaper, said Western countries were "relying" on what he called Russia's "low threshold of pain."
He said the West was banking on the idea that "at some point, we [Russia] will give up, and that we are not crazy." This was disputed by another guest, before Russian commentator Maxim Yusin jumped into the conversation.
Referencing a comment he said was made to him by fellow guest, Kremlin-aligned military expert Aleksey Leonkov, he said: "Alexsey, whom I deeply respect, said a brilliant phrase - I even wrote it down. 'They think we don't have crazy people, but we have sovereignty first.'"
"We think they don't have crazy people, but they have ideology, illusions overriding," Yusin added. "So, there is a very high probability that the crazy ones here and there will lead to a catastrophe."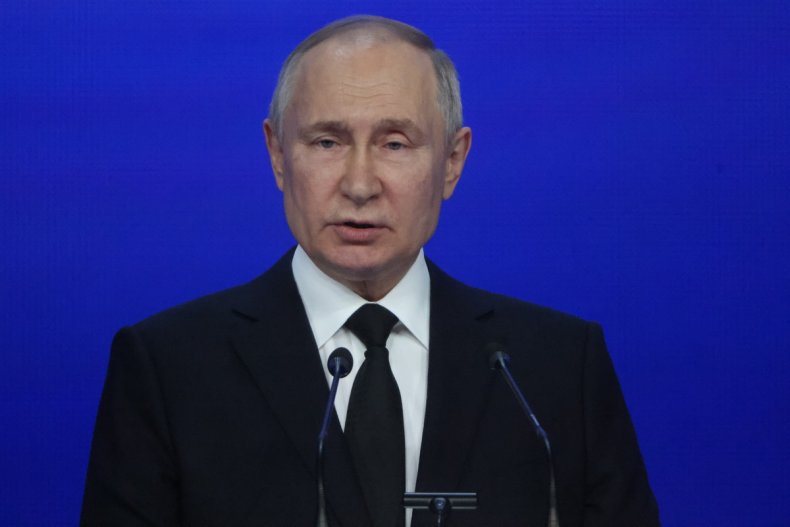 Russian state television has long openly discussed nuclear weapons use. In a clip posted on Saturday by journalist Julia Davis, who runs the Russian Media Monitor service, state television host Vladimir Solovyov appeared to advocate for Russia to use nuclear weapons first in the war.
"Let's change our doctrine by allowing a pre-emptive nuclear strike," Solovyov said.
On February 8, Gerashchenko posted and translated a clip of a former Russian commander and serving Duma member, who argued that nuclear weapons should be used, after a run of military setbacks in Ukraine.
"We need to win, that is all," Andrey Gurulyov said during the clip from Russia-1's Evening with Vladimir Solovyov. "We have to achieve this with the means that we have. I would remind you that a nuclear weapon is not just a bomb, it is the heritage of the whole Russian people."
"We have the right to use it to defend our homeland," he added. "It is worth making a decision."
In a previous episode, Gurulyov said that Americans "won't come to their senses" until they "get hit with a nuke on their skull," according to a translated excerpt published by Davis.