Russian State Media Host Explodes at Viewers and His Own Production Staff
Kremlin propagandist Vladimir Solovyov has gone on another tirade about Russia's war in Ukraine in which he appeared equally irked by technical problems on his program as well as his own audience.
Venting against the West is the Vladimir Putin ally's stock in trade on his evening television show on the Russia 1 channel, and he continued this theme on his radio program Polniy Kontakt (Full Contact) which is also video streamed online.
During an excerpt of his show tweeted by journalist and Russia watcher Julia Davis, Solovyov expressed his disdain for Volodymr Zelensky as images were played of the Ukrainian president appealing to European leaders for more military help, including jets.
Solovyov called Zelensky "an unbearably stupid nobody." He then condemned what he saw as the increasing role in the war by Western countries whose leaders' support for Zelensky was just an appeal to their domestic audiences.
Solovyov also wondered why "you can bomb Donetsk every day but you can't bomb Berlin," adding that the world was against Russia as he took aim at the Western supply of weapons to Kyiv.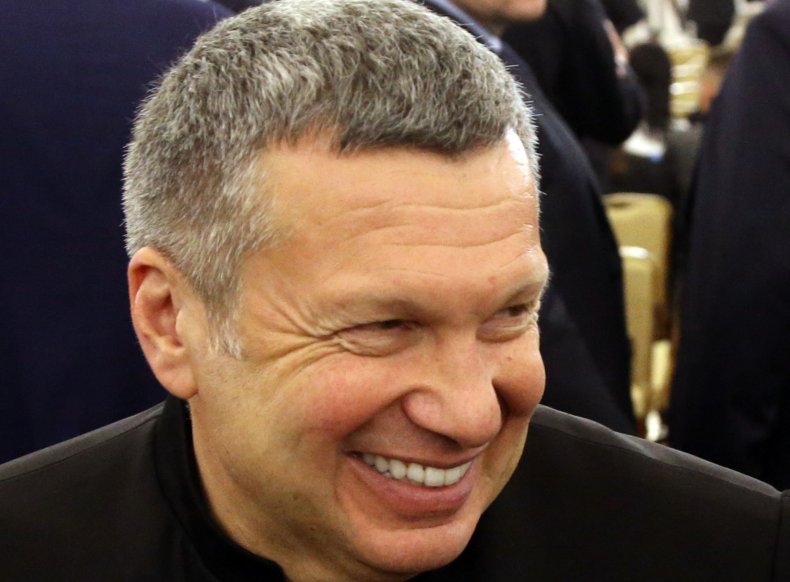 "Why aren't they being destroyed?" by Russian weapons, he asked as he reiterated calls he has made before on the air about Russia conducting nuclear strikes.
"Let's change our doctrine by allowing a preemptive nuclear strike," he said.
After venting his spleen, Solovyov turned the volume up a notch when he found out that the broadcast of his show on the Telegram social media channel had been lost. "Guys, what's going on?" he said, "what's the deal with our technicians?"
Soon he was shouting into his microphone. He said: "Do we even have a production team or not? A bunch of people sitting the control room, what are they doing?"
As he read out comments from viewers about the broadcasting problems, Solovyov appeared to calm down slightly before resuming his shouting again, angered at what he suggested was buck passing among his production team when informed there was a general Telegram outage.
"Every mistake has a name. We hired a bunch of incompetents," he shouted. He was also angered by comments from those watching a live stream of his show, in particular one named as "Ivan Zloy" who Solovyov said had written "get the psycho off the air." The broadcaster cursed and sarcastically said the viewer was "so mean."
Returning to the war, Solovyov went on to lament what he said was a lack of an adequate response to suspected Ukrainian strikes on military facilities in Russian cities, such as Belgorod and Rostov-on-Don which he feared could be followed by more long-range targeting, especially if Kyiv got jets from the U.K.
"What are we waiting for," he said, "can't we finally carry out a strike against London?"