Putin Ally Explodes in TV Rant on West Arming Ukraine: 'Not Enough Anger!'
A well-known Russian state television propagandist has raged against Western supplies of weapons to Ukraine, saying Moscow's enemies should be dealt with "harshly and clearly."
State television host Vladimir Solovyov told his audience that Russia's "enemies will deliver everything, they'll give [Ukraine] everything, until we deal with them harshly and clearly."
"And by 'them,' I don't mean Ukraine. By 'them,' I mean the West," Solovyov continued.
"Our enemy has good equipment that the entire NATO is supplying them with," the state television anchor said, in a clip posted online by Julia Davis, creator of the Russian Media Monitor. "Now the new information is coming out that they'll get the capacity to reach 150km [93 miles]," he said, apparently referring to the range of the weapons.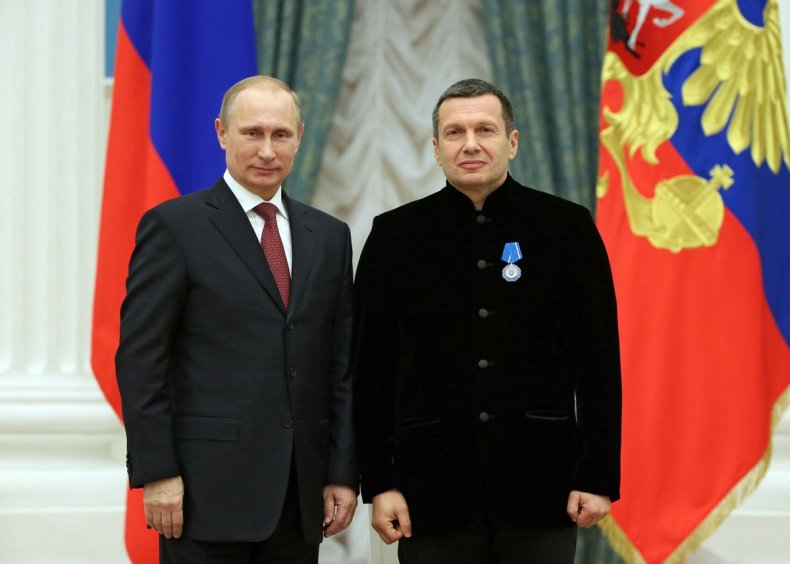 On Tuesday, Reuters news agency reported the U.S. was preparing another round of military assistance for Ukraine, thought to be worth in excess of $2 billion.
Two officials briefed on the military aid discussions told the outlet the package would include longer-range rockets for the first time, likely to be the Ground Launched Small Diameter Bomb (GLSDB). Although the government has declined to send Ukraine ATACMS missiles, with a range of almost 300 kilometers, or 185 miles, the GLSDB has a range of 93 miles.
Turning to Lithuania's president, Gitanas Nausėda, Solovyov threatened the future of the Baltic state that has vocally backed Kyiv. On January 11, Nausėda said Lithuania had granted Ukraine 660 million euros ($725 million) in aid in 2022, with more to come throughout 2023.
Nausėda said in an interview on Monday that "red lines" must be "crossed" for NATO countries providing military aid, such as with the GLSDBs and fighter jets, according to Ukrainian outlet Euromaidan Press.
Referencing the Lithuanian leader's comments, Solovyov said that "when Lithuania no longer exists, he'll ask: 'Why did you come after us?'"
Solovyov continued: "We have given them the right to exist. It means that we need to take this right away. These countries couldn't handle independence, they didn't defeat us. As a goodwill gesture, we gave them independence. For some reason, they are now our enemies, deliberately calling for the destruction of our nation, of our culture, of our people."
"Why do we put up with their existence?" Solovyov then asked.
In 1990, Lithuania became the first republic to declare its independence from the disintegrating Soviet Union.
In his wide-ranging segment, Solovyov then said he did not "have enough anger, simply not enough anger" as he pushed for the use of nuclear weapons by Moscow. "No one is deterred if you don't use it," he said, adding: "If you draw a pistol, then shoot."
Solovyov frequently appears on Russian state television, and has long used his air time to condemn continuing Western support for Ukrainian President Volodymyr Zelensky's government.
"Berlin, Paris, Madrid, London, Washington should be on fire," Solovyov said earlier this week in a clip tweeted by Julia Davis.