Russian State TV Host Rails Against 'War Criminal' Elon Musk
Vladimir Solovyov, a Russian state TV host, railed against Elon Musk during a recent broadcast, dubbing him a "war criminal" over his company's support for Ukraine.
Solovyov's remarks come more than 11 months after Russian President Vladimir Putin launched his "special military operation" in Ukraine last February. After nearly a year of fighting, Moscow has struggled to attain substantial goals against Ukraine's stronger-than-expected defense effort, which has been bolstered by Western military aid.
Throughout the conflict, Musk, the CEO of Tesla and Twitter, has frequently voiced his opinions about the war. He also earned praise from Putin's propagandists last year for suggesting a peace proposal perceived to be favorable for the Russians, sparking backlash from many in the West.
However, that praise has since dissipated, with Solovyov denouncing Musk in a recent discussion about his company's SpaceX donation of more than 20,000 Starlink satellites to Ukraine's military since the start of the war.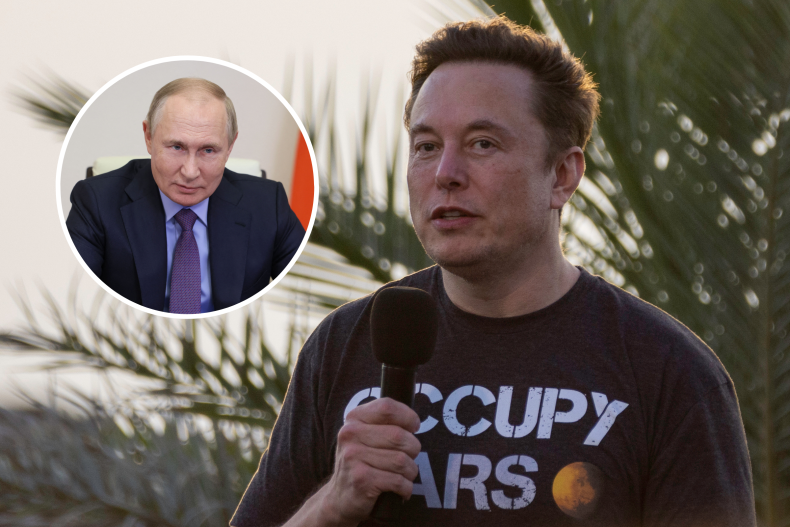 Solovyov described Musk as "in principle, a war criminal."
"Well, objectively speaking, because those technology and those satellites that he supplies, and those terminals, it's all now being used to create attack drones of various power degrees," Solovyov said. "And we have to deal with them seriously, with this space group, and with everyone like that militarist Elon Musk."
Video of the broadcast was translated and posted to Twitter by Anton Gerashchenko, who serves as an adviser to the Minister of Internal Affairs of Ukraine. It had been viewed more than 30,000 times as of Monday afternoon.
Russian State TV's Complicated History With Elon Musk
Solovyov's tone set a departure from last October when Musk's peace plan was met with approval from Russian state TV. Musk's plan included redoing elections under United Nations (U.N.) supervision in the four Ukrainian regions that Putin said he annexed last year, Crimea to remain part of Russia, and for Ukraine to remain neutral in international affairs between Russia and the West.
"Musk reminds us that people in those regions want to be a part of Russia," said anchor Olga Skabeyeva at the time, adding that "in general Elon is moving in the right direction." She also dubbed him "Elon Muskovsky." His plan, on the other hand, was met with scorn from Ukraine.
Later that same month, Solovyov suggested destroying Musk's satellites with nuclear weapons. Ukrainian Vice Prime Minister Mykhailo Fedorov described Starlink as an "essential part of crucial infrastructure" that allowed Ukraine to fix energy and communication issues amid military strikes. However, Musk has said that SpaceX may discontinue the program, citing costs.
Meanwhile, Musk faced criticism last month for taking a photograph with Nailya Askher-zad, a pro-Putin broadcaster, during the FIFA World Cup.
Newsweek reached out to Musk's companies SpaceX and Tesla for comment.