Russian Host Explodes Over U.S. Help for Ukraine: 'Should Be on Fire'
A Russian state media host erupted in anger recently over military aid that was provided to Ukraine from the United States and the West during a recent appearance on his show.
Condemning the West for its support of Ukraine is the stock in trade for Vladimir Solovyov, however the Kremlin propagandist was equally as angered about what he sees as a soft Moscow response to such moves.
During a monologue on his radio show Polny Kontakt (Full Contact), which gradually grew in volume as it went along, Solovyov raged about the delivery that Ukraine would soon receive of Abrams tanks from the U.S and Leopard 2 tanks from Germany.
Despite the delivery falling far short of Kyiv's demands for at least 300 tanks, Solovyov warned his listeners not to underestimate the quantity of the armored vehicles being sent, suggesting that eventually Ukraine's allies "will deliver everything."
He said that he had previously warned that Adolf Hitler would be "rehabilitated" as he referred to the widely dismissed "denazification" justification for Russian President Vladimir Putin's invasion of Ukraine, adding "this is where everything is heading."
"World War Three is already underway," he said in the clip, tweeted by journalist and founder of the Russian Media Monitor, Julia Davis. "And the West has returned to its Nazi roots."
Solovyov blamed Russia for allowing this to happen and questioned why Moscow had not conducted strikes against New York or Washington, D.C.
He said this should have been the least response to the sabotage of the Nord Stream pipelines last September, which Moscow and the West have blamed each other for.
"They blew up our pipelines...they're delivering heavy tanks," he said. "Stop talking about red lines—it's a totally empty phrase."
"Berlin, Paris, Madrid, London, Washington should be on fire," he said and asked, "Why wasn't Kyiv wiped off the face of the earth" after the "Nazi nation" of Ukraine was blamed for strikes on Russian territory, such as in Belgorod.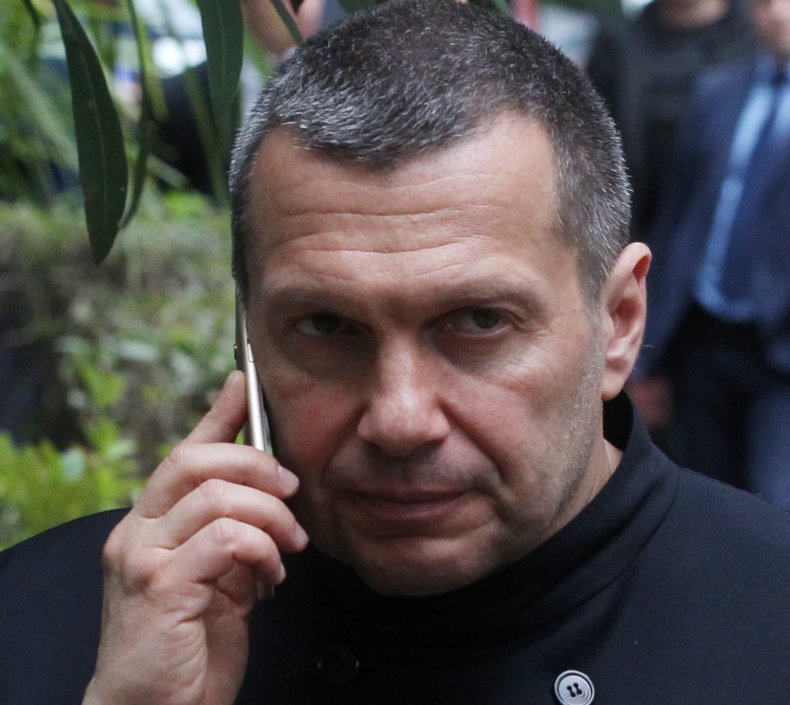 "Why do Odesa, Kharkiv, Dnipropetrovsk [Dnipro] still exist?" Solovyov questioned, also condemning "the silence" from Moscow about the impending delivery of Western weapons to Kyiv.
"Did we destroy a single base on NATO territory? No. Did we conduct strikes against the vile Polish dogs? We didn't do a damn thing," he said.
Solovyov, who has regularly said on his evening television show that Moscow should use its nuclear capabilities against the countries that back Ukraine, said: "How are we planning to respond?"
"By howling that avoiding nuclear war is the most important thing? Then why the heck do we have a stockpile of tactical and strategic nuclear weapons? To be afraid to use it?"
"We have strategic nuclear weapons, why aren't they put on high alert?"
Solovyov's appearance comes after Russia accused the West of "escalation" over the U.S. decision to send 31 M1A2 Abrams main battle tanks to Ukraine.
On Thursday, Pentagon deputy spokesperson Sabrina Singh said the accusation was nothing new.
"I feel like I've heard that talking point before from them, whether it was the Javelins that we were giving or the HIMARS and then the Patriot. Everything seems, I guess, to be an 'escalation.' I don't view it as that," she said. "This is a war that Russia started, invading a sovereign state. What is escalatory is them continuing this war each and every day...[Russian President] Vladimir Putin could make the decision tomorrow to end it."
When contacted for comment about the rhetoric coming from the Kremlin and its media outlets about U.S. support for Kyiv, a U.S. State Department spokesperson told Newsweek: "We are committed to getting Ukraine what it needs as it defends itself from Russia's brutal and barbaric war, for as long as it takes."
Update 01/28/23, 10:45 a.m. ET: This article has been updated with State Department comment.