Russian TV Welcomes Tucker Carlson's Speculation Over Nord Stream Sabotage
A video clip of Tucker Carlson speculating about U.S. involvement in the suspected attacks on the Nord Stream pipelines has been discussed by a number of Kremlin propagandists on Russian state television.
Amid suspicion that Moscow was behind the explosions in the Baltic Sea pipelines, the Fox News anchor suggested that the Biden administration may have been responsible for an act that would be followed by a Russian response.
"Did the Biden administration really do this?" asked Carlson during a segment, citing a tweet by European Parliament member Radek Sikorski, who tweeted "thank you USA" in a thread about the suspected attack. The tweet has since been deleted.
Carlson continued, "It's hard to believe. Given that it's an atrocity, it's effectively an act of terrorism. We don't want to make that accusation."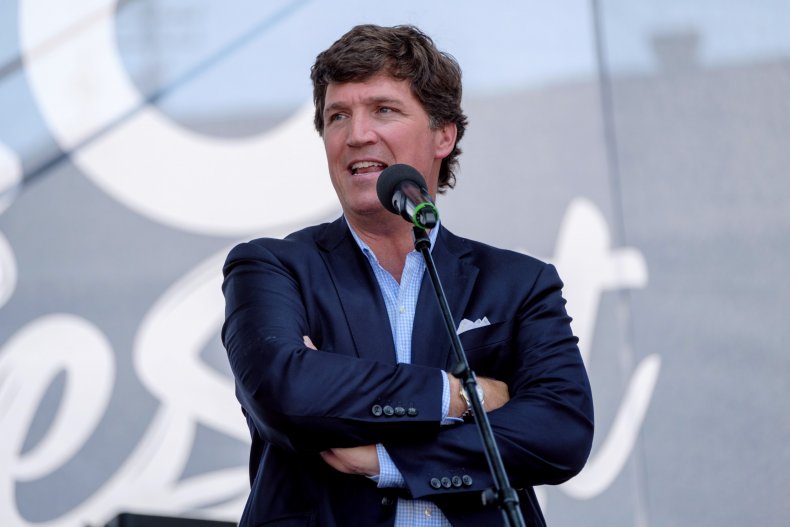 But he said that "coincidentally" a new pipeline, the Baltic Pipe, was unveiled at the same time to carry gas from Norway to Europe which was "likely to do well now because it has less competition."
While not directly accusing the Biden administration of being behind the sabotage, Carlson's comments were leaped upon by Russian TV anchors and panelists, a montage of which was collated and tweeted by journalist and Russia watcher, Julia Davis.
"Every state TV program is feasting on Tucker Carlson's accusations that the Biden administration is somehow involved in causing the Nord Stream damage," she wrote.
In the selection of clips, Russian MP Vyacheslav Nikonov told Bolshaya Igra (Big Game) on Russia's Channel One how Moscow would be blamed for the damage but "they don't believe that even in the United States" citing as evidence the clip of Carlson described as "the most popular American TV host."
On the same channel, the anchor of the political talk show Vremya Pokazhet (Time will tell), Artyom Sheynin, said that Carlson was "reaching interesting conclusions" even telling one smirking guest, the political analyst Alexander Kozakov, "you're probably communicating with him on Twitter."
Host of 60 Minutes, Olga Skabeyeva referred to how Carlson's version of events "was called realistic by former President Trump and (Republican Representative) Marjorie Taylor Greene."
Co-host of the Russia-1 program, Evgeny Popov, played Carlson's clip before turning to his correspondent in New York, Valentin Bogdanov, who said "we should turn to TV host Tucker Carlson" for his idea that Russia could retaliate by cutting internet cables under the sea between London and New York.
"You could only imagine the catastrophic consequences for the financial markets," the correspondent said.
Military expert Evgeny Buzhinksy said on the program, "I think we cannot leave this without a response. Yes, a cable, sure why not?"
The same Carlson clip was played by another Russia-1 anchor, Vladimir Solovyev on his nightly program.
News channels and TV pundits in Russia have regularly used clips from Carlson's show to promote Vladimir Putin's invasion of Ukraine, although the Fox News anchor has previously denied that he is a Kremlin propagandist.
Newsweek reached out to Fox News for comment.