Russia Angrily Demands U.S. Stop Sending Weapons to Ukraine
Russia has sent a formal note to the U.S. demanding that the Biden administration stop sending weapons to Ukraine, Russian Ambassador to the United States Anatoly Antonov said on Monday.
In an interview on state-owned Russian-language TV channel Russia-24, Antonov criticized Washington's latest $800 million arms package for Ukraine.
President Joe Biden announced the military aid on April 21, pledging to send heavy artillery and ammunition, as well as new Phoenix Ghost tactical drones developed by the U.S. Air Force, to Ukraine.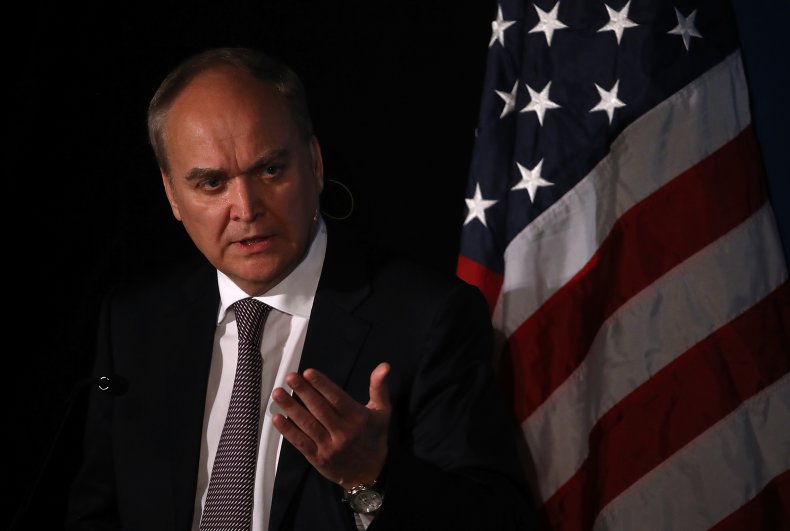 Antonov told the broadcast channel that sending weapons to Kyiv "does not contribute to the search for a diplomatic solution and settlement of the situation."
"This is a huge figure," he said.
Antonov said the Kremlin in its formal note stressed the "unacceptability" of the U.S. supplying Ukraine with weaponry.
"We demanded an end to this practice," the diplomat said.
He accused the United States of "trying to raise the stakes even more and aggravate the situation."
Biden unveiled his arms package in an address from the White House's Roosevelt Room last week.
"We're in a critical window now of time where they're going to set the stage for the next phase of this war," the president said, referring to Russia's declaration days earlier that its offensive in Ukraine had entered a new phase—controlling Ukraine's east.
The United States and its allies are "moving as fast as possible" to provide Kyiv with additional weapons and equipment, Biden said.
Pentagon Press Secretary John Kirby told reporters on Thursday that the new Phoenix Ghost Tactical Unmanned Aerial Systems, manufactured by California-based AEVEX Aerospace, will help Ukraine "deliver a punch" to the Russian army.
The drones "very nicely" suit the needs of Ukraine's armed forces as Moscow ramps up its efforts in the Donbas, he said.
Biden also pledged to send dozens of howitzers and 144,000 rounds of ammunition to Kyiv.
The Pentagon said in a statement on Thursday that the U.S. will "continue to utilize all available tools to support Ukraine's Armed Forces in the face of Russian aggression."
Antonov's remarks come after The Washington Post reported that it had obtained a copy of a formal diplomatic note sent from Moscow to the U.S.
According to the news outlet, the Kremlin in the note warned that U.S. and NATO shipments of the "most sensitive" weapons systems to Ukraine were "adding fuel" to the conflict.
Further shipments could bring "unpredictable consequences," the note reportedly said.
Newsweek has contacted the Biden administration and the Russian Ministry of Foreign Affairs for comment.
Since Russian President Vladimir Putin launched an invasion of Ukraine on February 24, Washington has spent approximately $3.4 billion on sending military assistance to Kyiv.
Update 04/25/22, 3:00 a.m. ET: This article was updated with additional background information.