Russia Denies Putin Is Suffering From Serious Illness
Russian Foreign Minister Sergei Lavrov on Sunday denied claims that Russian President Vladimir Putin is suffering from a serious illness.
Lavrov discussed Putin's health during an interview with the French television station TF1. While much of the talk centered around Russia's war in Ukraine, TF1 reporter Liseron Boudoul asked the Kremlin's top diplomat about unconfirmed reports that Putin may be sick.
Speculation about the leader's health predates the Ukrainian invasion. In 2020, the British tabloid The Sun suggested Putin may have both cancer and Parkinson's disease, though the claims were unverified. Talk of Putin being sick further intensified since he ordered his military to attack Ukraine in late February.
Social media users and some media outlets have discussed still images and videos of Putin where he appears shaky or tense. One popular clip shared widely on the web shows Putin tightly gripping a table while meeting with Russia's defense minister Sergei Shoigu earlier this year. Such videos have led some to believe the president has Parkinson's disease, but some medical experts have dismissed that claim. Other outlets and Russian experts have said Putin may have cancer or is otherwise terminally ill.
"I don't think that sane people can see in this person signs of some kind of illness or ailment," Lavrov said when asked about Putin's health.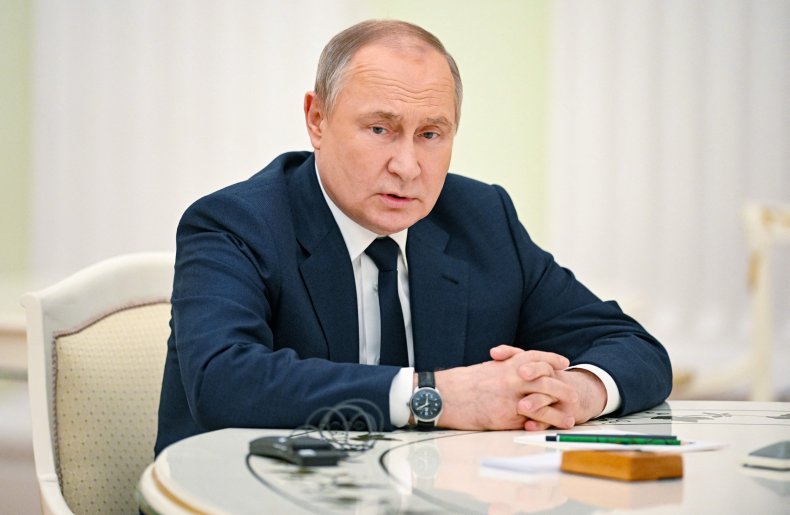 Lavrov also said Putin, who turns 70 in October, "appears in public every day."
He continued, "You can watch him on screens, read and listen to his speeches."
The Kremlin previously denied Putin was in ill health in March. Speaking to the Associated Press at that time, Putin's spokesman, Dmitry Peskov, said Putin's health was "really perfect."
However, Christopher Steele, a former British secret service official, told Sky News in a May 15 story that Putin is "quite seriously ill."
"It's not clear exactly what this illness is—whether it's incurable or terminal, or whatever. But certainly, I think it's part of the equation," Steele told the British news channel.
Steele's comments came a day after Sky News reported Ukrainian Major General Kyrylo Budanov claimed Putin had cancer and possibly other illnesses.
While insisting that he wasn't merely spreading propaganda, Budanov said to Sky News that Putin is in a "very bad psychological and physical condition, and he is very sick."
Lavrov attempted to dispel such claims when speaking with TF1.
"I leave it to the conscience of those who spread such rumors despite everyday opportunities to make sure who and what they look like," Lavrov said.
Newsweek reached out to the Russian Foreign Ministry for comment.