Russia Designates Alexei Navalny Groups an Extremist Organization, Silencing Putin Critics Ahead of Election
A Russian court on Wednesday designated an organization of political and activist networks linked to President Vladimir Putin critic Alexei Navalny "extremist," opening members up to prosecution.
By outlawing the groups founded by the Russian opposition leader, the court barred their members from running for parliament in the September election. If prosecuted and convicted, members could also face jail time. In light of Navalny's own imprisonment, the court's move was largely seen as an effort to silence Putin's critics.
Along with activists who worked with the networks, those who donated to them or shared materials could face lengthy prison terms, the Associated Press reported.
Navalny's Anti-Corruption Foundation was founded in 2011 and carried out high-profile investigations into alleged corruption among some of Russia's elite, including Putin. A viral exposé of Putin's seaside palace fueled nationwide rallies, according to The Moscow Times. The Kremlin has denied the foundation's claims.
In January, Navalny returned to Russia to face a court after a near-fatal poisoning that he believes was the work of the Kremlin. He was sentenced to two and a half years for violating the terms of a suspended sentence he was given after being convicted of embezzlement in 2014. Navalny, one of Putin's top political opponents, dismissed the conviction as politically motivated.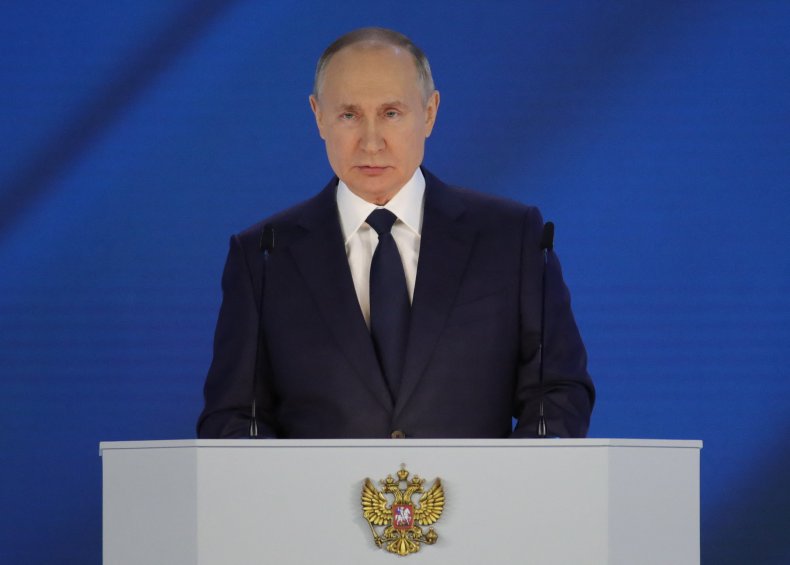 Navalny's request to take part in the closed-door hearing via video link from prison was rejected by the court, according to the AP. The court session was not open to the public because classified materials would be discussed, the AP said.
"Navalny's team will not stop its activities. They shouldn't hope for that," Ivan Zhdanov, a top Navalny associate, told Dozhd TV, a Russian independent TV channel.
On Tuesday, his daughter, Daria Navalnaya, a student at Stanford University, accepted an award from the Geneva Summit for Human Rights and Democracy on her father's behalf. In her speech, she said her father wrote her a letter from prison asking her to give the award to "every political prisoner in Russia and Belarus."
"You really should be looking at my father instead, but he's in a Russian prison right now simply because of what he says, does and believes in—and because he didn't die when the Russian government wanted him to," Navalnaya said.
Navalny's imprisonment has drawn the world's attention and raised concerns about political opposition in Russia and Putin's ability to remain in power indefinitely. Ahead of the court's ruling, Putin signed a law that banned individuals designated as "extremists" from running for public office.
Navalny was barred from running in the last presidential election, and Wednesday's court ruling will make it difficult for those connected to him to mount a run in 2024. Putin originally planned on stepping down because of term limits, but a constitutional reform allows him to seek two more six-year terms, which means he could be president until 2036.
He's considered the longest-serving Russian leader since Joseph Stalin led the Soviet Union.