Russia Dismisses Coronavirus Death Toll Skepticism as Moscow Records Mortality Spike
President Vladimir Putin's spokesperson has rejected suggestions that Russia is underreporting the number of coronavirus deaths in the country, as Moscow recorded a spike in additional mortality and the number of national cases passed 500,000.
Kremlin spokesperson Dmitry Peskov, himself hospitalized with COVID-19 in May, told CNN Tuesday that the Russian government had handled the pandemic well and protected the national health service from being overwhelmed.
Russia has recorded the third most coronavirus cases in the world to date, behind only the U.S. and Brazil. But the country's death toll is relatively low at 6,522 as of Thursday, according to Johns Hopkins University.
Skeptics have suggested that local authorities and the central government have been purposefully massaging the figures. Early in the pandemic, for example, Russian authorities recorded a spike in deaths caused by pneumonia, a deadly complication of COVID-19 infection, which were not attributed to the novel coronavirus.
On Thursday, Moscow authorities announced a 58 percent spike in all-cause mortality in May compared with the same month over the past three years, The Moscow Times reported, amounting to 5,799 excess deaths.
Last month, Moscow officials said they were only counting deaths that were confirmed by autopsy as directly caused by coronavirus complications, but these only represented some 40 percent of all suspected COVID-19 deaths.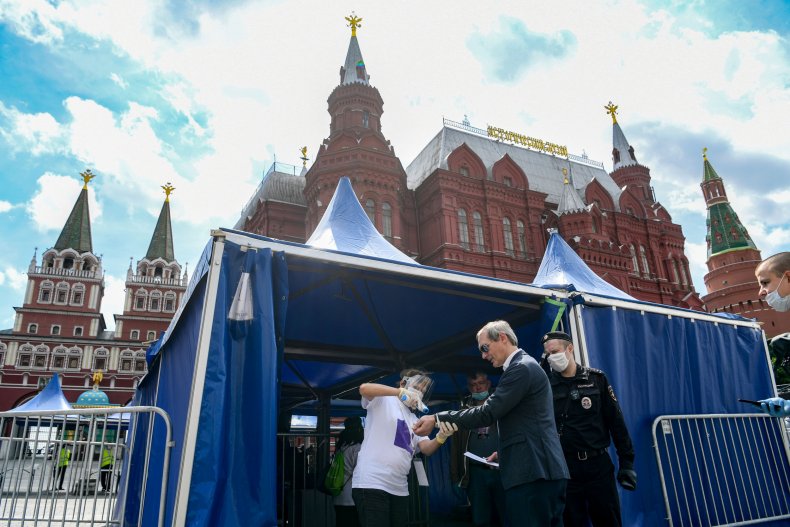 But Peskov dismissed skepticism about the death toll when speaking with CNN. "Have you ever thought about the possibility of Russia's health care system being more effective?" he asked, arguing that Russia's public health infrastructure had been "giving an opportunity for more people to stay alive."
Putin declared the pandemic "under control" just before it erupted in Russia, and has faced falling approval ratings throughout the crisis. The strongman president—who has been forced to delay a proposed vote on constitutional changes that would allow him to stay in power until 2036—has been criticized for absence and delegation of key responsibilities during the pandemic.
Putin has announced the end of a nationwide lockdown as the government attempts to kickstart the flagging economy. "We are concerned about this pandemic, and we are concerned about the impact of this pandemic on the country's economy," Peskov admitted.
"But President Putin has stated numerous times that he doesn't care about his personal ratings, that in politics if you are a real statesman, you should not think about your ratings. Because if you think about your ratings, you won't be able to take responsible decisions."
Peskov also denied that the government had bungled its response to the pandemic. "Nothing went wrong except for the coronavirus itself," he said. "Firstly, we have a number of cities with a high density. And those cities in the world are the most infected cities. That was the case with Moscow."
The graphic below, provided by Statista, illustrates the countries hit hardest by the coronavirus.