Putin's Greatest Challenge—How Russia's Leader Has Been Paralyzed by the Coronavirus Pandemic
Russia reached the unenviable milestone of 100,000 coronavirus infections on Thursday, reporting the country's largest spike in new cases in a 24-hour window—7,099—since the start of the crisis.
With the country under nationwide lockdown and cases rapidly increasing, the COVID-19 coronavirus appears a long way from being under control, as President Vladimir Putin confidently claimed at the end of March.
The death toll has risen above 1,000 people, and the lag-time of the disease means this too will increase fast in the coming weeks. Just like other badly affected nations, Russia is facing the dual threat of the public health crisis and the subsequent economic turmoil inflicted by nationwide lockdown, which Putin has now extended to at least May 11. As the chart from Statista shows—Russia currently has the eighth highest number of coronavirus cases in the world, with at least 106,498 people infected.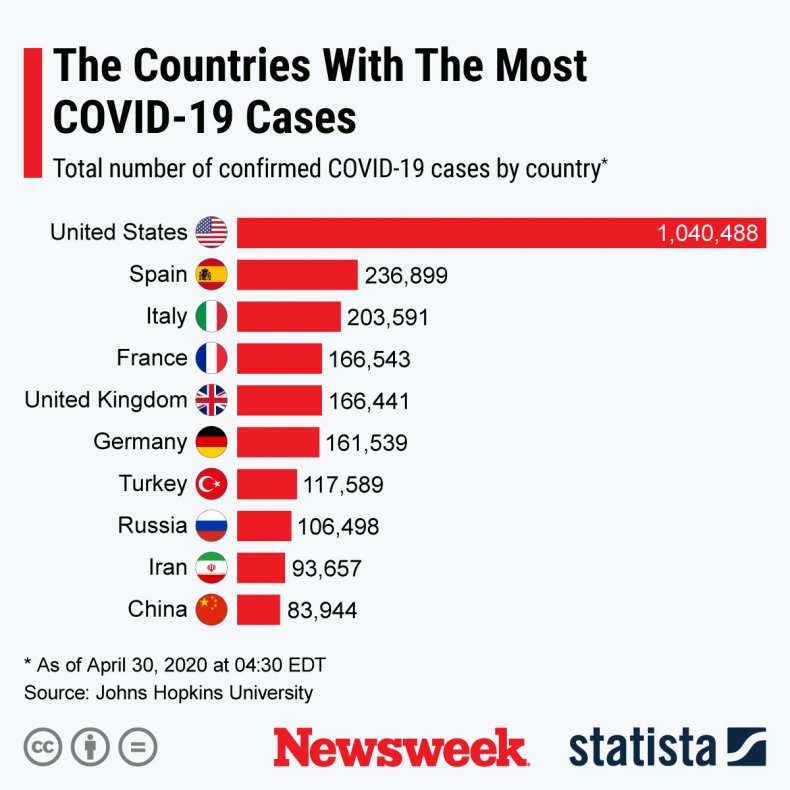 Putin—the former Soviet spy considered by many to be a master geopolitical strategist—has been caught flat-footed by coronavirus at the worst possible time. Mark Galeotti, a journalist, academic and the author of "We Need to Talk About Putin," told Newsweek the pandemic "is as far removed from Putin's area of comfort and competence as anyone could imagine."
"Like so many authoritarian leaders over time, Putin has become quite accustomed to the notion that there is no opposition that cannot be intimidated, jailed or beaten into submission," Galeotti added. This is not a war with an obvious external enemy, it is a novel natural disaster with no concern for national borders or political affiliation.
The strongman leader has been in power either as president or prime minister since 2000, but has been strangely absent during the crisis. He self-isolated early in the outbreak after coming into contact with a Moscow doctor who later tested positive for COVID-19. The president then decided to extend his isolation, working remotely to coordinate the national response.
But Putin has delegated many of the key responsibilities of the COVID-19 battle, and other figures like new Prime Minister Mikhail Mishustin and Moscow Mayor Sergey Sobyanin have been more prominent—unusual in the centralized system Putin has built around himself.
"When he doesn't know what's likely to happen it tends to paralyze him, and I think that's what we saw," Galeotti said. "It looks as if he was essentially paralyzed by not knowing how this pandemic was going to play out."
Just weeks before the true scale of the challenge was evident, Putin reshuffled his government and pushed ahead with constitutional amendments allowing him to circumvent Russian term limits and stay in power up until 2036. The president planned to put the changes to a national—though symbolic—vote, but this too has been postponed on account of the pandemic.
According to Nikolai Petrov, a senior research fellow at Chatham House, Putin prioritized his political machinations above pandemic preparedness. His newly reshuffled government, too, has hampered the response. "The government is not even finally formed," Petrov told Newsweek, noting that lower level ministerial positions remain vacant.
Things will get worse before they get better. Already there have been protests against the stay-at-home order, attended by those whose livelihoods depend on an open economy. Meanwhile, the oil price collapse is buffeting Russia's mineral-dependent economy. Russia's central bank has already warned that the national economy could sink by 6 percent this year.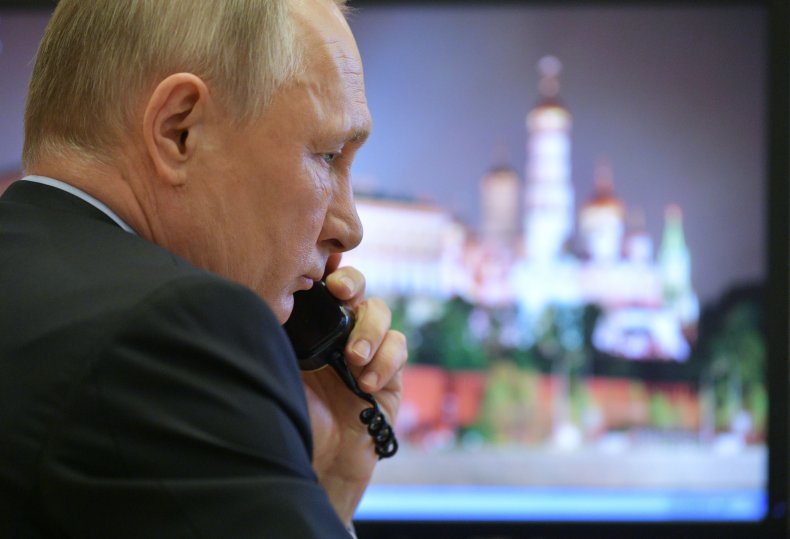 Recent opinion polls show that Putin's approval rate is falling, though in Russia such polls should always be taken with a pinch of salt. Still, the pandemic, the resulting economic crisis and the political upheaval present a combined and unprecedented challenge for Putin, one that offers few easy decisions or obvious ways out.
Petrov argued that Putin will only win fresh political capital if he can demonstrate effective crisis management, which so far has eluded him. "What matters is whether he is a good or bad leader at a time of war or crisis," Petrov explained. "It looks like here, he is not that good."
"This is the most serious crisis that has actually faced Russia in the 20 years of the Putin era," Galeotti said. Other challenges "pale into insignificance," he argued. Petrov noted that for once, the president is not the "master of what's going on." With this crisis, the Machiavellian Putin can't control the agenda—"it's a very uncomfortable situation for him," Petrov suggested.
It is hard to imagine that Putin—synonymous with Russia and the Kremlin—will not weather the storm. But the crisis and his performance could undermine the system he has used to rule the country since 2000.
If Moscow abdicates responsibility, local elites and powerful oligarchs will have to find their own ways to maintain power and govern their regions. This could delegitimize the hierarchy that Putin has constructed.
"The question is whether or not Putin begins to look like a liability before his own elite," Galeotti said. "He's created this hyper-presidential system that frankly doesn't work when the president isn't willing to 'president.'"
For now, Putin is trying to maintain authority while dissociating himself from the worst news and results, Petrov said. "Generally speaking, he avoids coming with bad news," he explained. "The problem is that there is no good news in the foreseeable future."
Centers for Disease Control and Prevention Advice on Using Face Coverings to Slow Spread of COVID-19
CDC recommends wearing a cloth face covering in public where social distancing measures are difficult to maintain.
A simple cloth face covering can help slow the spread of the virus by those infected and by those who do not exhibit symptoms.
Cloth face coverings can be fashioned from household items. Guides are offered by the CDC. (https://www.cdc.gov/coronavirus/2019-ncov/prevent-getting-sick/diy-cloth-face-coverings.html)
Cloth face coverings should be washed regularly. A washing machine will suffice.
Practice safe removal of face coverings by not touching eyes, nose, and mouth, and wash hands immediately after removing the covering.
World Health Organization advice for avoiding spread of coronavirus disease (COVID-19)
Hygiene advice
Clean hands frequently with soap and water, or alcohol-based hand rub.
Wash hands after coughing or sneezing; when caring for the sick; before, during and after food preparation; before eating; after using the toilet; when hands are visibly dirty; and after handling animals or waste.
Maintain at least 1 meter (3 feet) distance from anyone who is coughing or sneezing.
Avoid touching your hands, nose and mouth. Do not spit in public.
Cover your mouth and nose with a tissue or bent elbow when coughing or sneezing. Discard the tissue immediately and clean your hands.
Medical advice
Avoid close contact with others if you have any symptoms.
Stay at home if you feel unwell, even with mild symptoms such as headache and runny nose, to avoid potential spread of the disease to medical facilities and other people.
If you develop serious symptoms (fever, cough, difficulty breathing) seek medical care early and contact local health authorities in advance.
Note any recent contact with others and travel details to provide to authorities who can trace and prevent spread of the disease.
Stay up to date on COVID-19 developments issued by health authorities and follow their guidance.
Mask and glove usage
Healthy individuals only need to wear a mask if taking care of a sick person.
Wear a mask if you are coughing or sneezing.
Masks are effective when used in combination with frequent hand cleaning.
Do not touch the mask while wearing it. Clean hands if you touch the mask.
Learn how to properly put on, remove and dispose of masks. Clean hands after disposing of the mask.
Do not reuse single-use masks.
Regularly washing bare hands is more effective against catching COVID-19 than wearing rubber gloves.
The COVID-19 virus can still be picked up on rubber gloves and transmitted by touching your face.