Trust in Vladimir Putin Falls to 14-year Low as Russia Government Faces Criticism Over Coronavirus Response: Poll
When asked by a state-funded polling organization in Russia which politician they trusted, nearly three-quarters of respondents did not name President Vladimir Putin.
The survey carried out by Russia's Public Opinion Research Center, or VTsIOM, asked the question: "Whom do you trust and whom would you not trust in solving important state issues?"
Putin was not directly mentioned in the question, but only 28.3 percent of those who responded named the president, a drop of nearly two percent from January. In second place was defense minister Sergei Shoigu, with just over 13 percent, and foreign minister Sergei Lavrov in third with 12 percent.
The newly-appointed prime minister, Mikhail Mishustin, was the answer for 7.9 percent of people, up from five percent in February, while opposition leader Alexei Navalny was named by 1.7 percent of respondents. Just over 47 percent said they did not know.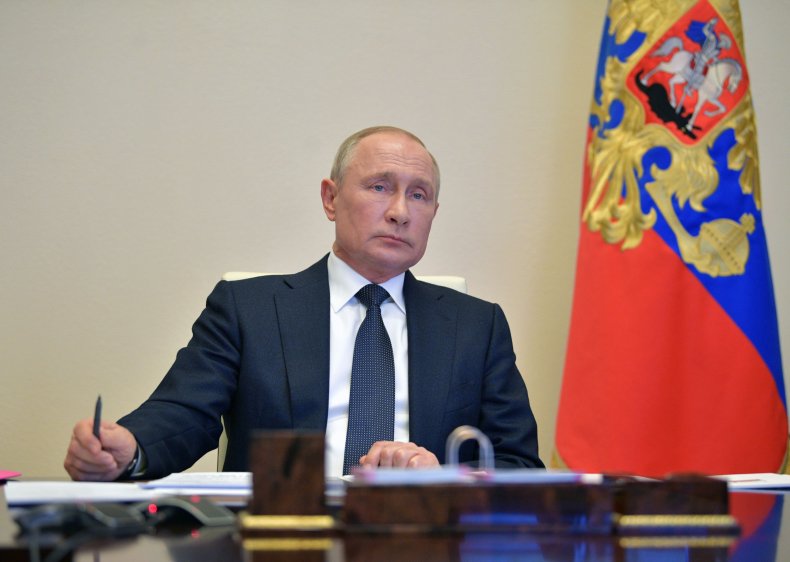 Forbes Russia noted that the results suggested Putin's popularity was at its lowest in 14 years, although Valery Fyodorov, the head of VTsIOM, told the publication that respondents would have been more likely to say they trusted the president if they had been given multiple choices rather than an "open-ended" format.
Forbes reported that a VTsIOM survey specifically asked people on April 19 whether they trusted Putin, with 69.8 percent of respondents saying they did. Newsweek has contacted VTsIOM for further comment.
The Russian government's measures to restrict public movement during the coronavirus may have influenced the poll numbers, which include a long non-working period for employees until May 11.
"Things that we term 'acts of God', as we have seen in the past, tend to put pressure on Putin's poll ratings," Anna Arutunyan, author of The Putin Mystique told Newsweek. "The president is structurally ill-prepared to flexibly handle these issues and that maybe reflects in public opinion."
Putin had already faced a gradual decline in popularity in the months before the coronavirus, due in part to unpopular pension reforms and a slowing economy. Since the outbreak, he has delegated decision making to governors of regions due to their different resources and conditions.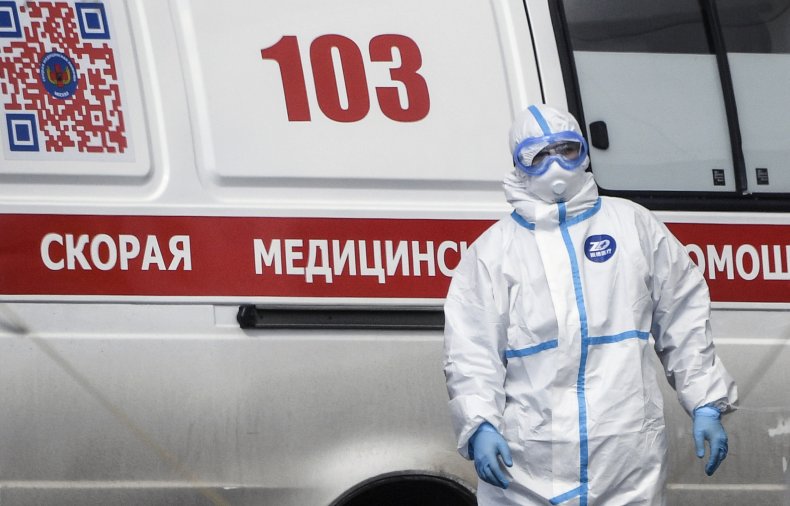 "Initially the Russian response to COVID was pretty well planned, they closed the border with China, they initiated screenings at airports," Arutunyan said.
"But when the threat became bigger and when it became clear that there needed to be a lockdown, generally, there have only been very conservative measures to spend money and support people and businesses."
She said that Putin has conceded there needs to be more money but has not specified how it would be allocated.
"The problem is that by delegating these decisions to governors without really giving them the resources and real authority, more money, more federal funds, access to the military, which would entail a state of emergency, he is not giving them a lot to work with.
"The Kremlin tends to be more afraid of public protest than we often assume, that is one of the reasons, why I think there hasn't been more of a move to impose a state of emergency," added Arutunyan, who is a senior Russian analyst at the International Crisis Group.
As of Wednesday, there were 93,558 reported coronavirus cases in Russia, and 972 deaths, according to data from Johns Hopkins University.
There is a partial lockdown in many regions, and Sergei Sobyanin, the mayor of Moscow, which has been worst-hit by the crisis, announced that restrictions would stay in place until May 11, state news agency TASS reported.
Those living in the capital can only go out for food, medicine and medical treatment, to walk the dog or take out the trash, with any other movement across the capital requiring a digital permit.
This system was criticized when huge crowds had to gather outside metro stations across the city.
"We are now nearing a new, perhaps the most intense stage in the fight against the pandemic," Putin said on Tuesday, as he spoke via video conference to the heads of the country's regions, Reuters reported.