Russia Disputes Study Showing Country's Sputnik COVID Vaccine Has No Effect on Omicron
Russia is pushing back against a study claiming that its Sputnik V vaccine does not protect against the Omicron coronavirus strain.
The Gamaleya Institute and the Russian Direct Investment Fund released a statement on Friday claiming that Sputnik V had "the best virus neutralization results against omicron in comparison with other vaccines."
The claim starkly contrasts an independent study by the University of Washington and pharmaceutical firm Humabs Biomed that said the vaccine "had no neutralizing activity against Omicron."
Russian President Vladimir Putin backed up the vaccine, which he has taken four times as both a shot and an experimental nasal spray.
"Our Sputnik V is working well, and, perhaps, even more effective against the Omicron than other vaccines used," Putin said at a congress meeting of the Russian Union of Industrialists.
Russia is one of the many countries that have reported cases of the Omicron variant. According to Deputy Prime Minister Tatiana Golikova, 25 cases of COVID-19 have been linked to Omicron.
The announcement comes as Russia begins to recover from the surge of cases seen in October and November, which were perceived as the deadliest times for the country since the pandemic began.
According to Reuters, around 28,958 new cases are recorded in the country each day, with the number falling by more than 6,100 over the past three weeks.
Despite the decrease, it is still lagging far behind other countries when it comes to vaccinating its citizens. Around 47.6 percent of Russia's population is fully vaccinated, a staggeringly low number compared to its total population of around 144 million people.
Russia has attempted to encourage vaccination, with some regions in the country even issuing vaccine mandates for citizens age 60 and older. However, the number might not account for the Russian citizens that have flown to nearby countries such as Croatia and Serbia to receive vaccinations that are approved, unlike Sputnik V, by the World Health Organization.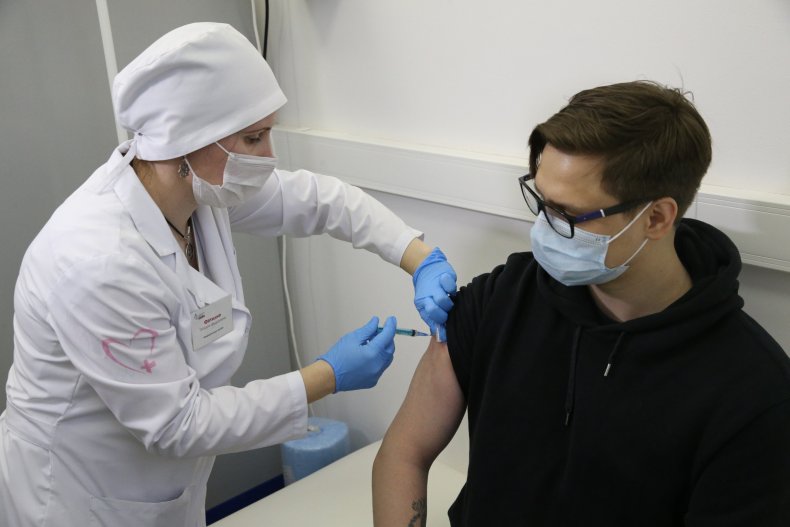 The Washington and Humbas study published Tuesday is pre-print and yet to be peer-reviewed.
The study, which used samples from health care workers in Buenos Aires, Argentina, who received Sputnik V, showed "no neutralizing activity against omicron."
The Gamaleya Institute disputed the foreign research findings, claiming they resulted from the use of "wrong serum samples."
"A recently published small study addresses Sputnik vaccine's efficacy against omicron variant deliberately using serum samples that are not representative," the Russian center's statement said.
The Associated Press contributed to this report.