Russia Dissent Rises as Man Tries To Set Government Building on Fire
A man threw a Molotov cocktail at a government building in a central Russian city on Thursday, in an apparent sign of protest against Russian President Vladimir Putin's invasion of Ukraine, according to local news outlets.
The Russian online news portal Baza reported that on Thursday afternoon an unknown man hurled the fire bomb at a local office of Russia's Federal Security Service (FSB) in Nizhny Novgorod before fleeing the scene.
According to the Russian language news agency, there was no fire, and law enforcement officers are now searching for the man.
The FSB is Russia's principal security agency and the main successor to the Soviet Union's KGB.
The latest incident comes after multiple mysterious fires have been reported at government and military enlistment buildings across Russia since Putin launched a full-scale invasion of Ukraine late February.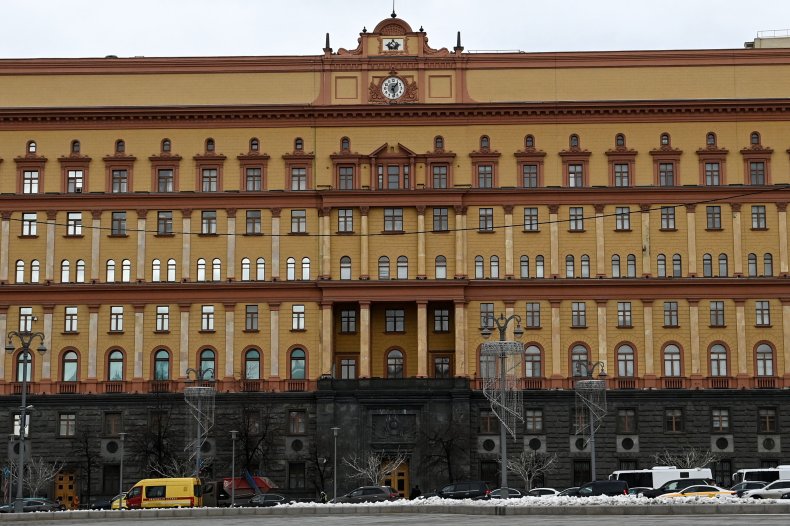 According to Baza, at least 10 enlistment offices have been targeted since the war began on February 24.
Baza reported that last week in the city of Perm, more than 700 miles east of Moscow, four bottles filled with inflammable liquid were thrown into the office of the Military Commissariat for Kirovsky District. There was no fire, and the attackers fled the scene, according to the news outlet.
On June 24, an unknown person broke into the first floor of a Russian military enlistment office in Belgorod—located about 25 miles north of the border with Ukraine—and threw Molotov cocktails inside.
A table caught fire but responders extinguished the blaze within a few minutes, according to the regional department of Russia's emergency situations ministry.
Earlier in June, another military enlistment office in Russia's far eastern city of Vladivostok was reportedly set on fire by two men, according to local reports.
The Belgorod region has been hit with several suspected sabotage attacks by Ukraine, notably when an ammunition depot caught fire near the village of Staraya Nelidovka in April, Newsweek previously reported.
Military enlistment offices in the Voronezh, Sverdlovsk and Ivanovo regions were targeted in March by local residents. Offices recruiting personnel to fight in Putin's war in the northern Khanty-Mansi region and the southern Volgodonsk region have also been attacked.
In addition, there have been multiple cases of ammunition depots and chemical plants in Russia catching fire, in a possible sign of mounting internal opposition to Putin's Ukraine war.
Newsweek has contacted Russia's Ministry of Foreign Affairs and Russia's Ministry of Emergency Situations for comment.