Russia Says 'We Will Do What We Want' If U.S. Moves Troops Closer to Border
Russia has warned it would retaliate if the U.S. military conducts movements along Russia's borders with member states of the NATO Western defense coalition as speculation mounts about whether President Donald Trump's partial withdrawal from Germany could lead to a heightened military presence in neighboring Poland.
Russian Deputy Foreign Minister Alexander Grushko told the state-run Tass Russian News Agency that "of course, we closely analyze all this, including from the standpoint of military planning," after he was asked what Moscow's possible response to nearby NATO activities would be. "If any reinforcement would be deemed necessary, then, of course, all necessary measures will be taken," he said.
"Sometimes, during talks with our colleagues, they hint that our response must be symmetrical," Grushko added. "No, we will do what we want; it will all comply with the obligations we have taken upon ourselves."
While the U.S. has expanded its military presence in Europe in response to deteriorating ties with Moscow over the past few years, Trump announced last month he would withdraw 9,500 troops from Germany amid a political dispute with Berlin over defense spending contributions to NATO. He later said that some of these U.S. forces would be headed to Poland, where President Andrzej Duda has enthusiastically welcomed greater support from Washington.
The Pentagon, however, has yet to announce any formal plans for such a deployment and neither U.S. Army Europe nor NATO immediately responded to Newsweek's request for comment.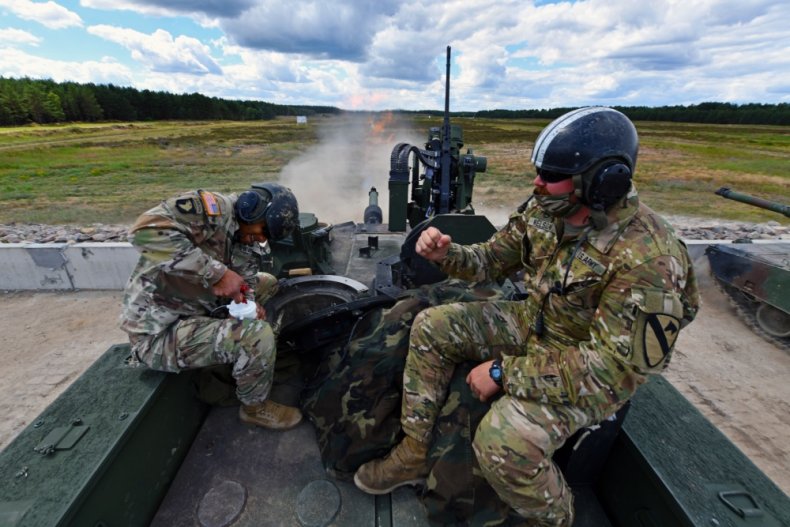 Tensions running are also running high elsewhere in Eastern Europe, especially across the Baltic and Black Seas, where both Russia and NATO forces were regularly active. The Russian military's National Defense Control Center reported Wednesday the reconnaissance radar systems of Russia's Black Sea Fleet and Baltic Sea Fleet air defense quick reaction alert forces shadowed the movements of P-8A Poseidon and U-2S reconnaissance planes of the U.S. military and a P-3C Orion surveillance aircraft of the Germany military, respectively.
These reported encounters came as both Russia and NATO held exercises in the Black Sea, a region fraught with tensions since the 2014 Ukraine crisis and Russia's annexation of the Crimean Peninsula that viewed as illegal by much of the West. Fears of further cross-border Russian moves among NATO sparked a mass mobilization on both sides.
NATO's post-Cold War expansion has made border security a sensitive issue for Russia, which accused the U.S. of militarizing European borders with the deployment of advanced missile defenses to Romania and Poland. Moscow has argued such systems were part of a missile shield capable of also being used offensively.
Shortly after the Trump administration exited a 1987 treaty banning medium and intermediate-range ground-based missiles in August, the Pentagon tested a cruise missile using a similar launcher model to those it has deployed to Eastern Europe, though with key technical differences. Russia, which stands accused by the U.S. of having developed its own treaty-breaking weapon, has threatened to respond in kind to any mid-range missile deployments in Europe.
With New START, Washington and Moscow's last remaining bilateral arms control treaty that limits their nuclear arsenals and ensures mutual inspection regimes, also failing, Grushko said Wednesday that "those security instruments that existed before and ensured security—not by creating potentials and counter-potentials, but by military restraint, bigger transparency—are being eroded" and "deliberately destroyed."
In dealing with NATO, Grushko told Tass that Moscow could not join NATO in its current form and would only be interested in doing so if the 29 member states "realize its statutes no longer function, that it does not meet real security requirements, that it is impossible to facilitate Western hegemony through NATO, that NATO does not work as a connecting link uniting the Transatlantic and that something pan-European can be built based on it."
In Denmark, however, Secretary of State Mike Pompeo emphasized NATO's nature as an instrument of countering Moscow on Wednesday. He told a press conference at the U.S. Chief of Mission Residence in Copenhagen that the U.S. is "countering Russia as part of NATO" as one of the many ways the country is delivering on global security promises to allies.