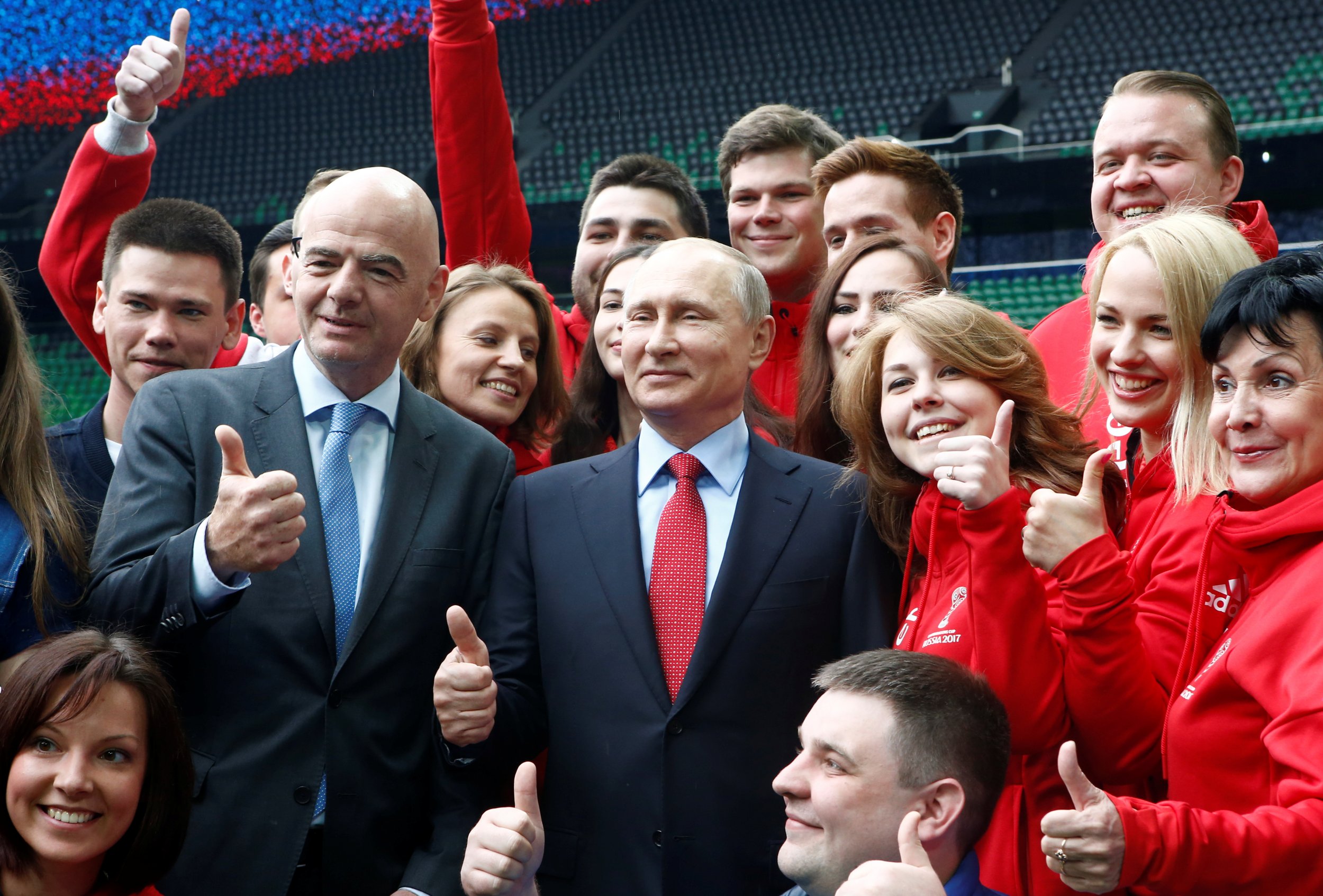 Update| Russia has denied using forced labor from North Korea to build facilities for the World Cup in 2018, after U.S. lawmakers called for a probe into reports of workers from the country not only spotted at the stadium sites but also of North Korean migrants dying under mysterious circumstances in Russia.
Russian ex-Sports Minister and head of the World Cup organization committee Vitaly Mutko said the sport's governing body, FIFA, could attest to the legitimacy of the tournament preparations. The World Cup will take place across 11 Russian cities next summer, with some of the 12 stadiums undergoing comprehensive renovation or construction.
Related: Ahead of hosting the World Cup, Russia's national team is at a historic low in rankings
"FIFA hired an independent monitoring organization," he told Russian state news agency Itar-Tass on Thursday when a journalist asked about the issue of North Korean forced labor. "There are no violations, so it is time to close this topic. They are not working on the World Cup sites."
The use of North Korean workers has been a point of contention during the country's preparations for the tournament. Russian media have estimated between 20,000 and 30,000 North Koreans live in Russia, according to federal migration records.
Two North Korean workers were mysteriously reported dead in Moscow in May, following a Norwegian media report from February, which claimed at least 110 North Koreans worked on the World Cup stadium built in St. Petersburg.
On Wednesday, eight U.S. senators signed a joint letter to request that FIFA strips Russia of hosting rights if an independent investigation finds Moscow subjected "North Korean construction workers to forced labor." Mutko bit back, denying any involvement of such workers.
"There are no questions on FIFA's behalf about the use of labor in the construction of the facilities," Mutko said, noting that Moscow and FIFA are "in contact every week."
"I hope FIFA makes that clear to the senators," Mutko concluded. A FIFA spokesperson confirmed that the organisation has employed independent investigators to probe the issue, carrying out a total of 58 checks, spanning around 75 percent of the workforce
"During a monitoring visit in November 2016 on the stadium construction site in Saint Petersburg, the monitoring team found evidence suggesting the presence of North Korean workers," the spokesperson told Newsweek. "It then engaged in efforts to gain additional information on their labor and living conditions acknowledging the potential issues involving workers from this country. At the last inspection in March, the monitoring team did not find evidence of North Korean workers on the construction site and concluded that no North Korean workers were working on the site."
This story has been updated with FIFA's latest comments on the reports.