Putin Failing to Make Progress in Donetsk as Deadline Looms: Ukraine
Russian President Vladimir Putin's military is failing to make progress in Donetsk as his September 15 deadline to take the region approaches, Kyiv officials said Tuesday.
Putin launched the Ukraine invasion on February 24 to "liberate" Donbas, a separatist region of Ukraine that contains Donetsk and Luhansk. Putin initially hoped for a quick victory against his Eastern European neighbor, as Russia has one of the largest militaries in the world. But Russian troops were met with a stronger-than-expected defense from Ukraine, whose defense efforts have been bolstered by military aid from its allies, including the United States.
After more than six months of fighting, Russia has failed to achieve any substantial victories in Ukraine, with troops last week launching a counteroffensive in Kherson, the first major city taken by Russia at the start of the war—a sign of Ukraine's progress.
Putin reportedly gave his troops a September 15 deadline to make gains in Ukraine to push to the administrative borders of Donetsk. In June, Russia occupied about half of the region, though it remains unclear exactly how much of that land it currently holds.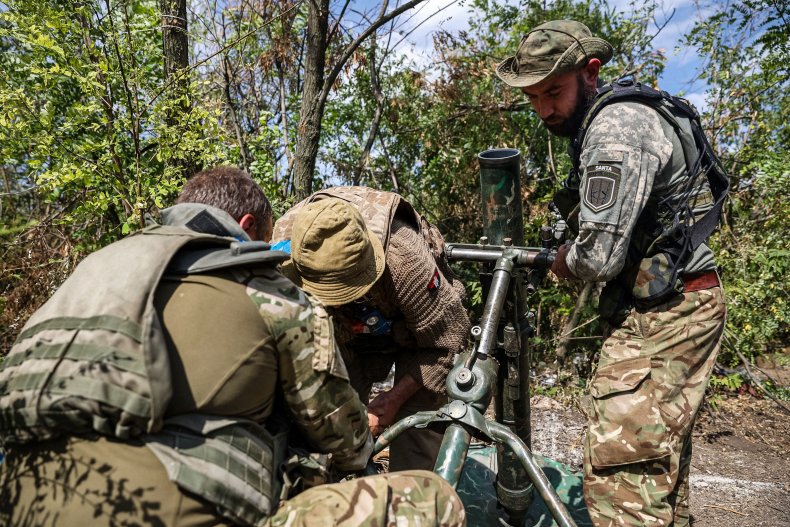 In a Tuesday operations update, Ukrainian military leaders indicated their troops are preventing Russian soldiers from advancing deeper into Donetsk as the September 15 deadline looms.
"Units of the Defense Forces hold their positions and prevent the enemy from advancing deep into the territory of Ukraine," the Ukrainian army's general staff wrote in the update.
Troops "successfully repelled" enemy attacks in areas of Donetsk, including the areas of Dolyna, Soledar, Novobakhmutivka, Kodema, Zaitseve, Avdiivka, Maryinka, and Lyubomirivka settlements, the update said.
The update suggests Russian forces are struggling to meet the deadline Putin set at the start of the month.
Russian losses continue to pile up in Ukraine. On Tuesday, Ukraine said more than 50,000 Russian soldiers have been killed since the conflict began in February. Russian troops have faced a number of obstacles, including a lack of motivation, little training and poor leadership, forcing Moscow to turn to new ways to recruit troops.
In May, The Moscow Times reported the Kremlin was offering new soldiers bonuses to convince them to join.
Putin is also turning to North Korea to purchase new weapons amid mounting struggles, suggesting the Russian military may be suffering from Western sanctions that cut Moscow off from global supply chains. North Korean weapons may be able to boost Russian troops.
Ukraine's Kherson counteroffensive has further added to the challenges faced by Putin's military. U.S. National Security Council spokesman John Kirby said last week that reports of the counteroffensive already forced Russia to deplete "certain units" in other key areas to respond. Over the weekend, Ukraine recaptured and raised its flag over a hospital taken by Russia.
Newsweek reached out to the Russian Ministry of Defense for comment.