Russia Offering Soldiers Signing Bonuses in Desperate Plea for Manpower
The Russian military is reportedly offering soldiers large amounts of money to sign on for short-term military contracts as the nation struggles to recruit troops in its ongoing war in Ukraine.
In Tula, a city located south of Moscow, soldiers who opt for three-month military contracts are now being offered over 170,000 rubles ($2,900) per month. That accounts for roughly four times the average local salary, according to a Monday report by the Moscow Times. Similarly, a military official in the North Caucasus republic of Chechnya recently was offered a first-month salary of 300,000 rubles ($5,200) during a recruitment attempt, according to the news outlet.
Under normal circumstances, contract soldiers are usually signed on for three years of service and are paid an average of about 64,900 rubes, or just $1,100 per month, according to the Washington Post. The latest pay increases come at a time when the Russian military is struggling to recruit troops and maintain morale amid heavy losses in Ukraine.
At the beginning of its invasion, Russia was met with fierce opposition from Ukrainian forces and failed to capture the capital city of Kyiv. The military has since refocused its efforts toward the southern and eastern regions of Ukraine but has nonetheless faced significant losses and military deaths. Ukrainian officials have estimated that over 20,000 Russian troops have died, while at least a dozen of the nation's top military generals have also been slain in the fighting, Newsweek previously reported.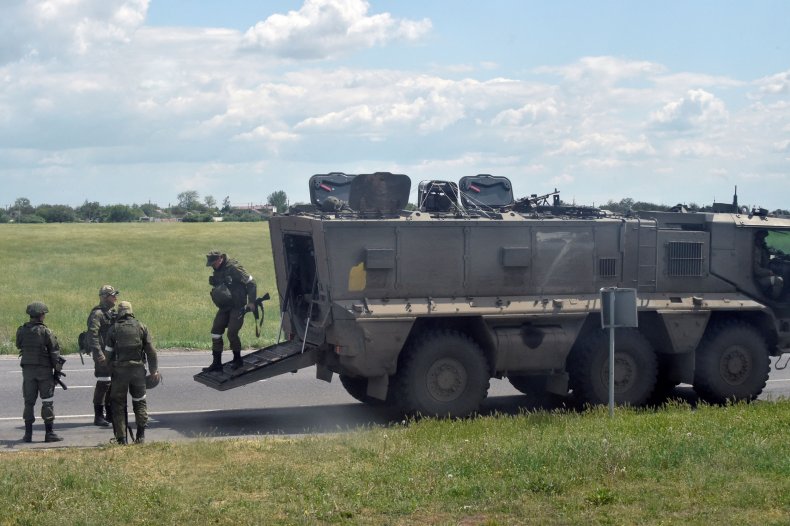 "At this stage, the Russian military is fighting this with a cobbled-together force of unit fragments that they pieced together," military analyst Michael Kofman said in a recent podcast, according to the Moscow Times. "The big challenge they have is they can't replace losses effectively and they have no units to rotate."
Earlier this month, a senior official from the U.S. Defense Department said the agency had received anecdotal reports that Russian military officers are refusing to follow orders. Some Russian troops have reportedly even sabotaged their own vehicles to avoid going to the frontlines.
The Russian military has also been accused of threatening contracted soldiers with criminal charges if they attempt to quit their position and leave Ukraine.
"There are good reasons for low morale on the Russian side. The war isn't going well. Its purpose is unclear, and fighting a war against a neighbor—with whom it's easy to communicate—is psychologically burdensome to soldiers," Michael Kimmage, a Catholic University history professor and former member of the secretary's policy planning staff at the State Department, previously told Newsweek.
Ukraine has also suffered from significant losses throughout the war. On Monday, Ukrainian prosecutors said Russia has so far killed at least 4,600 civilians, including 232 children. The war has also caused widespread destruction to the nation's infrastructure, and has displaced over 8 million people.