Russia's Contracted Soldiers Threatened With Criminal Charges if They Quit
Several contracted soldiers in Russia have been sent to fight in Ukraine against their will and told that they could face criminal charges if they attempt to quit, according to a new report.
Relatives of contract soldiers told Meduza, an independent Russian news outlet that operates out of Latvia, that it is nearly impossible for them to resign from the military service. According to the news outlet, Russians can enlist as a contract soldier instead of carrying out compulsory military service if they have received higher education or vocational training.
Newsweek could not independently verify these claims and has contacted Russia's Defense Ministry for comment.
The report comes as Russia has entered its 12th week of fighting in Ukraine, where some 100,000 soldiers have been sent to carry out what Moscow has deemed a "special military operation." The fighting has so far resulted in significant losses for the Russian military, with Ukrainian officials estimating that over 20,000 troops have been killed. At least a dozen of Russia's top military generals have also been slain in the fighting, Newsweek previously reported.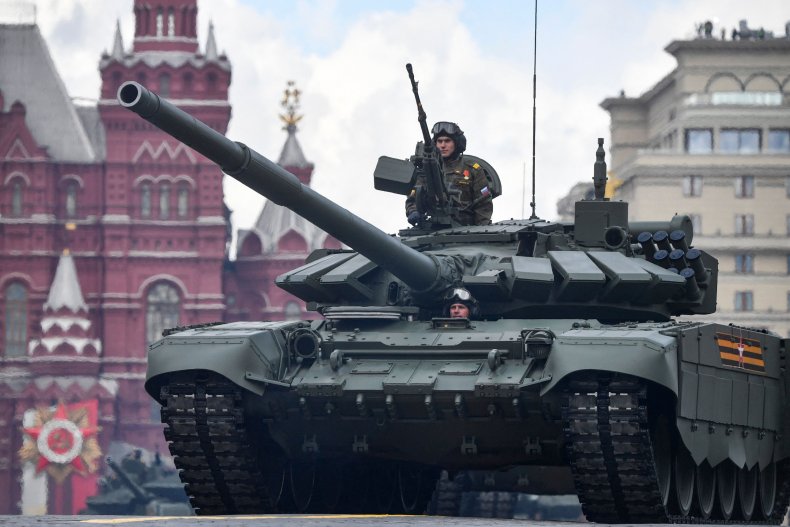 According to the new report, multiple soldiers engaged in contracts with the Russian military before the war in Ukraine began. Two mothers who spoke to Meduza said their sons joined the service in November 2021, months before Russian President Vladimir Putin ordered troops to invade the neighboring country. In late February, they were suddenly sent to fight in Ukraine without being told exactly what was going on, or how long they may be gone.
"We have no idea who we're fighting against or fighting for, or how we're doing it," one soldier told his mother, who was identified in the report as Svetlana A.
Svetlana A told the outlet that several soldiers attempted to file requests to terminate their contracts and switch to conscript service. According to the news outlet, Russian conscripts are currently believed to be in a better position than contracted soldiers.
"More and more people joined in. In the end, there were about 250 people from two battalions. Then an FSB officer and a prosecutor paid them a visit. They told the guys they were under threat of criminal charges [for refusing to follow orders and to continue serving as contract soldiers]," Svetlana A told Meduza.
Following those threats, each of the soldiers filled out new paperwork and agreed to go back to war. Another mother told the outlet that her son was similarly questioned by prosecutors for hours when he expressed interest in leaving Ukraine.
"I can't imagine how much pressure that was. All of the boys signed their consent under pressure. We [their parents] were all in shock," the second mother, identified only as Svetlana B, added.
In general, the news outlet noted that terminating a military contract in Russia takes multiple lengthy steps and that the service must determine there is a "good reason" for dismissal.
"Signing a contract with the Russian army is easy, but terminating one is a big problem. There have been cases where soldiers stopped showing up for service, charges were brought against them, but their contracts weren't terminated," Oksana Paramonova, head of the human rights organization Soldiers' Mothers of St. Petersburg told Meduza.
The latest report also comes as Russian soldiers are believed to be increasingly fed up with the ongoing war. Last week, a Ukrainian military administration reported that Russian soldiers have even begun sabotaging their own vehicles to avoid going to the front lines.
A senior official at the U.S. Defense Department also recently told Newsweek that it has received similar reports of poor morale among soldiers, as well as reports that Russian military officers have been disobeying orders.