Russia Doubles Interest Rates as Economy Wobbles After Expansive Sanctions
In an attempt to offset the damage done by international sanctions, Russia has decided to increase interest rates by nearly 10 percent.
After sitting at 9.5 percent, interest rates at the Russian central bank will now be 20 percent. The inflation rate was at 8.7 percent in January before the country invaded Ukraine, the highest since 2016.
However, this depreciation might already be in effect. Newsweek previously reported that the Russian currency is experiencing a rapid crumbling due to the extreme sanctions put on the country by the U.S. and other world entities. Trading of the currency is currently at around R100 to $1, a record low for the ruble. This increase has also resulted in the price of imported goods dramatically increasing.
The news of the increasing inflation spurred panic among many Russian citizens. People were allegedly lined up at ATM machines trying to get as much foreign currency as possible in case of an emergency. Russian citizens and businesses withdrew about 111.3 billion rubles, or $1.3 billion, from bank accounts between February 23 and 24.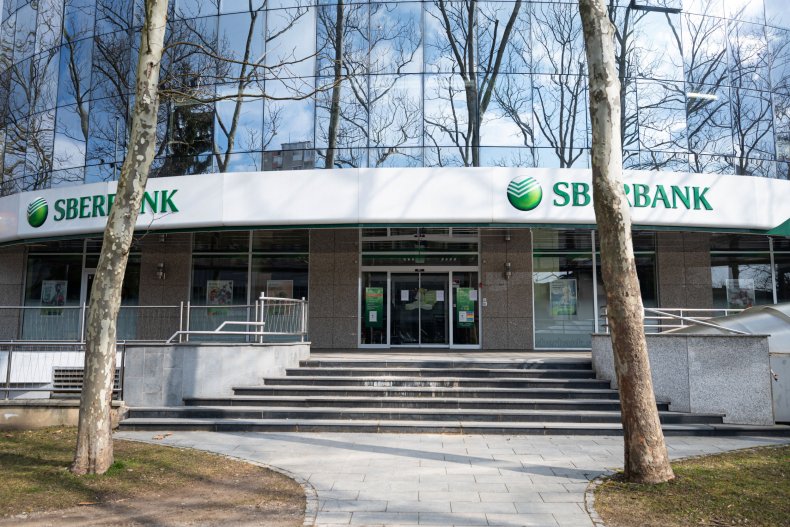 Despite these increases and hikes, Russian President Vladimir Putin might not care about the rupturing economy. Newsweek previously reported that Putin has not yet been deterred by the increasing sanctions put against him and Russia, and it is unlikely that sanctions alone will convince him to end the invasion. In fact, the sanctions seem to only be hurting working-class citizens of Russia.
"The way sanctions are hitting now, it's the middle class and the upper-middle class, those who travel who are feeling it," Seton Hall University professor Margarita Balmaceda told NBC News. "But it's when those key players, those oligarchs, are going to feel the burn that's important."
However, Putin and other prominent Russian figures could begin feeling the impact of the sanctions directly. The European Union has ordered sanctions against Putin, Prime Minister Mikhail Mishustin, and Foreign Minister Sergey Lavrov. What this means is that these three men cannot request money from any banks in countries registered in the EU.
"President Putin and Foreign Minister Lavrov are on the list of sanctioned people together with the remaining members of the Duma (Russian parliament) who are supporting this aggression," said EU Foreign Policy Chief Josep Borell. "Let me flag that the only leaders in the world that are sanctioned by the European Union are Assad from Syria, Lukashenko from Belarus and now Putin from Russia."
Update at 02/28/22, 12:46 p.m. ET: This article was updated with more information.