Russia Draining Reservoir to Leave Over 1M People Without Water: Ukraine
A Ukrainian official on Friday said Russia is attempting to drain Ukraine's Kakhovka Reservoir that may leave over 1 million people without drinking water.
The Kyiv Independent reported that Environmental Protection Minister Ruslan Strilets made the allegations of sabotage during a press briefing. Strilets also noted that lowering the reservoir's level could affect the capabilities of Zaporizhzhia Nuclear Power Plant's (ZNPP) turbine capacitors.
According to the online newspaper, Strilets said that the water level for the reservoir, which is located on the Dnieper River in southern Ukraine, has recently decreased to as low as 13.6 meters and currently sits at 13.83 meters. The standard level for the reservoir is 16 meters.
In addition, Strilets warned that further loss of water could have a devastating impact on the area's environment.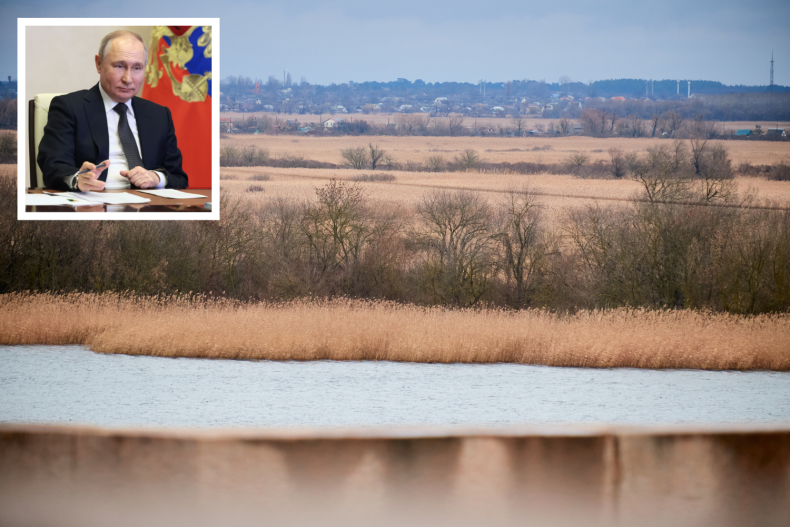 "Lowering the level below 12 meters will lead to an ecological disaster since we can lose a lot of biodiversity," he reportedly said.
Last week, NPR reported that satellite data showed Russian President Vladimir Putin's forces had appeared to be draining the Kakhovka Reservoir. The outlet added that the alleged attack would not only affect drinking water, but also damage the local agriculture and impact the safety at the ZNPP.
The satellite data was said to have found that the water level at the reservoir had reached its lowest point in 30 years. Images also reportedly showed "water pouring through the gates and shoreline along the giant reservoir emerging as a result of the rapidly falling water levels."
NPR reported that Russian troops on November 11, 2022, blew up a road over a dam that controls the water level on the reservoir before using cranes to open sluice gates, causing more water to escape.
As a result of the alleged attack on the water source, "water has been gushing out of the Kakhovka Reservoir" ever since, according to NPR.
Newsweek reached out the Ukrainian and Russian ministries of foreign affairs for comment.
The International Atomic Energy Agency (IAEA) acknowledged on February 3 that it was aware that the lowering levels at the reservoir was posing a risk to the ZNPP.
"Even though the decreased water level does not pose an immediate threat to nuclear safety and security, it may become a source of concern if it is allowed to continue," IAEA Director General Rafael M. Grossi said in a statement on the agency's website.
Meanwhile, The Kyiv Independent reported that Strilets said he notified European Union (EU) Commissioner for the Environment Virginius Sinkavičius on Friday about the situation at the reservoir.