Highly Unlikely Russia Will Attempt to Cross Dnieper—U.K. Intelligence
Russian forces are highly unlikely now to attempt to cross the Dnieper River in Kherson, southern Ukraine, according to an assessment by the British Ministry of Defense.
Russia announced its withdrawal from the key Ukrainian city of Kherson in November 2022, retreating from the western portion of the region following Defense Minister Sergei Shoigu's order to withdraw troops across the Dnieper River.
Russian forces lost control of the city of Kherson as Ukraine launched a counteroffensive in the region.
It was a humiliating defeat for Russian President Vladimir Putin, as Kherson was the only regional capital his forces had seized since the start of the conflict on February 24, 2022.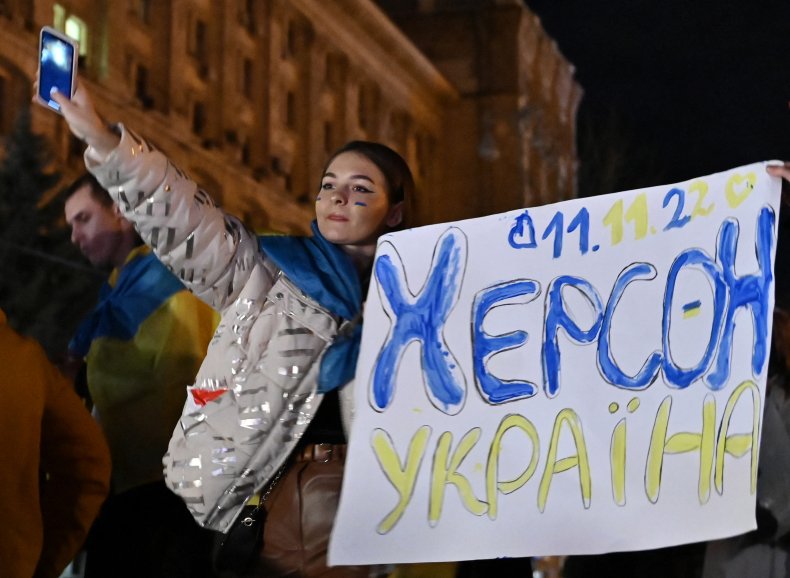 Kherson became the first major region to fall to Putin's forces and had been Russia's biggest military achievement of the conflict, in part due to its strategic location and proximity to Crimea.
Since Russia's withdrawal, some of the most "intense shelling" of the war so far had taken place along the river, the British Ministry of Defense has previously assessed.
In its latest intelligence update on the conflict, the ministry said it is "highly unlikely that Russia will attempt an assault crossing" of the Dnieper River, as it would "likely be extremely complex and costly."
It assessed on Wednesday that since Russia withdrew its forces from the west bank of the Dnieper, "skirmishing and reconnaissance has continued on the complex network of islands and waterways" which make up its delta.
"Russian forces have almost certainly used small boats to try to main a presence on key islands; Ukraine has successfully deployed long-range artillery to neutralise Russian outposts a number of times," the ministry said.
"Both sides have likely also deployed small groups on the Kinburn Spit, which commands the Dnipro Gulf."
Both Russia and Ukraine are likely aiming to maintain a presence in these areas to control maritime access to the strategically important river and to provide warning of any attempt by their adversaries to launch a major assault across the river, the intelligence update said.
Kherson is one of four territories that Putin illegally annexed in September following sham referendums, although it is only partially occupied by Russian forces.
According to the British defense ministry, outside of Ukraine's eastern Donbas region, Kherson remains "the most consistently shelled large Ukrainian city."
On February 2, National Police Chief and Ukraine's acting interior minister Ihor Klymenko announced that his country is preparing "assault brigades" to take back its occupied territories.
That would include Kherson, part of the eastern Donbas region, Zaporizhzhia, as well as Crimea, the Black Sea peninsula that Russia illegally annexed in 2014.
Newsweek has contacted Russia's foreign ministry for comment.
Do you have a tip on a world news story that Newsweek should be covering? Do you have a question about the Russia-Ukraine war? Let us know via worldnews@newsweek.com.