Russia Launches Military Drills Due to U.S.-Iran Tensions and Trump Sending Troops Near Border, Expert Says
A Russian military expert heading a veteran's association has said that recent surprise drills were called Monday in response to rising tensions between the U.S. and Iran and increased activity along his country's borders with the NATO coalition.
Chairman of the Officers of Russia Presidium Major-General Sergei Lipovoi told state-run Tass Russian News Agency Monday that the "main aim of these surprise drills is to check the combat readiness of the country's armed forces and its mobilization abilities."
He added, however, that "this is linked, of course, with NATO's increased activity near the Russian borders, especially in the Baltic region and in Poland" in addition to "the aggravation of the relations between the United States and Iran, and also with the events in Georgia, behind which the Americans stand, in my opinion."
This claim was supported by Russian Defense Minister Sergei Shoigu's announcement Monday that, on the orders of President Vladimir Putin, "the whole military command and control bodies of the Central Military District, part of the troops of the Southern and Eastern Military Districts, separate units of the Airborne Troops, long-range and military transport aviation have been placed on alert." The ministry said more than 50 combat readiness exercises will be held at 35 training grounds across the country.
The official reasoning provided by Shoigu was to assess the military's ability to ensure security in Central Asia, where he noted there were "serious terrorism threats" and to prepare for the upcoming Tsentr-2019 drills, set to be the country's largest-scale Arctic exercise.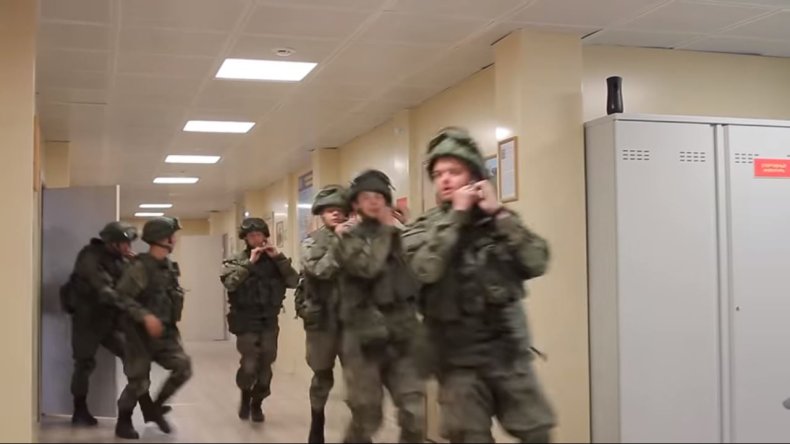 During a White House meeting earlier this month with his Polish counterpart Andrzej Duda, Trump committed to deploying about 1,000 more troops to the Eastern European country to "focus on providing additional defense and deterrence capabilities." Warsaw has frequently complained about what it considers to be aggressive behavior from Moscow, which once exerted considerable control over the former Soviet satellite state.
Russian Deputy Foreign Minister Sergei Ryabkov said the following day that his country was "certainly concerned because it reflects attempts to raise military tensions in Europe, particularly on NATO's so-called eastern flank." He argued that "false excuses are used to implement programs that destabilize and escalate the situation."
He also suggested the deployment may constitute a violation of the 1997 NATO-Russia Founding Act on Mutual Relations, through which the two parties sought to establish a more trusting relationship and avoid increasing the presence of troops on either side of the border. The Russian Foreign Ministry released its own statement calling Trump's decision a "severe blow" to the agreement.
Elsewhere in Europe, Washington has also been blamed for a series of protests in Georgia, another former Soviet satellite whose current government has sought closer ties to Moscow. Russia's Foreign Minister Sergey Lavrov told a meeting of non-governmental organizations that this was "another example of the consequences of geopolitical engineering" from the West.
While Russia may be particularly concerned about events right on its borders, the planned U.S. deployment of up to 2,500 more troops to the Middle East, along with a carrier strike group and a bomber task force, has also raised major concerns for the Kremlin. The Trump administration justified the move by linking Iran to alleged threats against U.S. interests in the region and to recent attacks on foreign oil tankers in the Gulf of Oman, located near the world's top maritime oil traffic route, the Strait of Hormuz.
Iran has denied any involvement in the attacks, but did shoot down a U.S. Navy RQ-4A surveillance drone it claimed violated its territory, though the Pentagon has insisted it remained within international airspace. As Newsweek and several other outlets reported, Trump gave the order Thursday to attack a number of sites in Iran, but suspended the move at the last minute, later citing his concern that an estimated 150 casualties were "not proportionate" to Iran's destruction of an unmanned drone.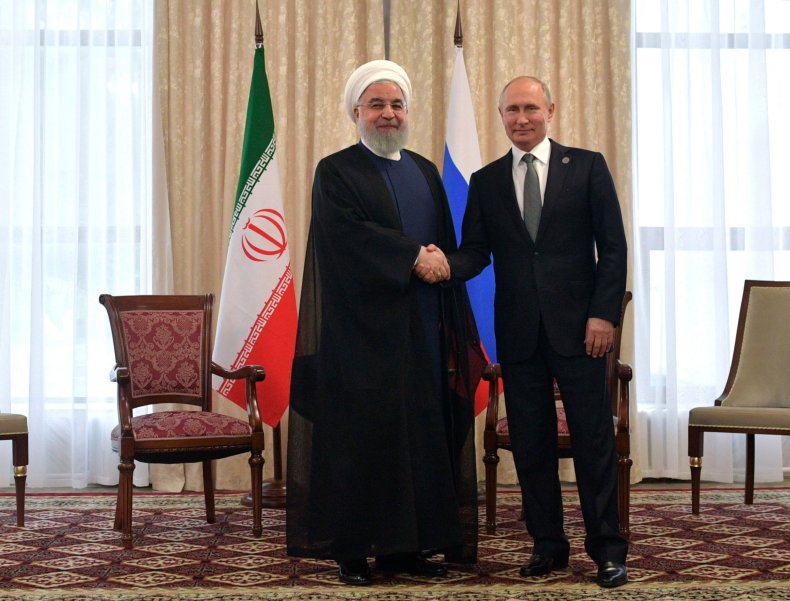 Russia has a strategic partnership with Iran in Syria, where they support the government against a rebel and jihadi uprising once backed by the U.S. and its regional allies. Moscow has also held the U.S. responsible for the deteriorating security situation in the Persian Gulf, pointing to Trump's decision last year to leave a 2015 nuclear deal and impose sanctions as part of a "maximum pressure" campaign to pressure Iran. The agreement's other signatories—China, the EU, France, Germany, Russia and the U.K.—all still support the accord and have called for calm in the region.
Trump signed into action Monday a new round of sanctions against Iranian officials, including supreme leader Ayatollah Ali Khamenei. That same day, Ryabkov condemned such unilateral economic restrictions and pledged to "continue to counter this policy, particularly in cooperation with other forces in the international community," as reported by Tass.
Moscow's ambassador to Vienna Mikhail Ulyanov shared his take on social media, tweeting: "US extraterritorial sanctions at work. Washington says: we don't care that your trade relations with Iran correspond to intl. law. You must stop them. If you don't obey you will be punished even if you are a US ally. US deprives states of a part of their sovereignty. Do you like it?"
Following a rare meeting Monday in Paris between Russian Prime Minister Dmitry Medvedev and his French counterpart Edouard Philippe, both men called for de-escalation and to maintain regional contacts to avoid miscalculation and conflict.