Russia to Open Enlistment Point on Georgia Border as 10,000 Flee Per Day
Russia is set to deploy a new military registration and enlistment office on its border with Georgia as thousands continue to flee the country, according to reports.
On Wednesday, Russian President Vladimir Putin said the country would be conducting a partial mobilization against Ukraine.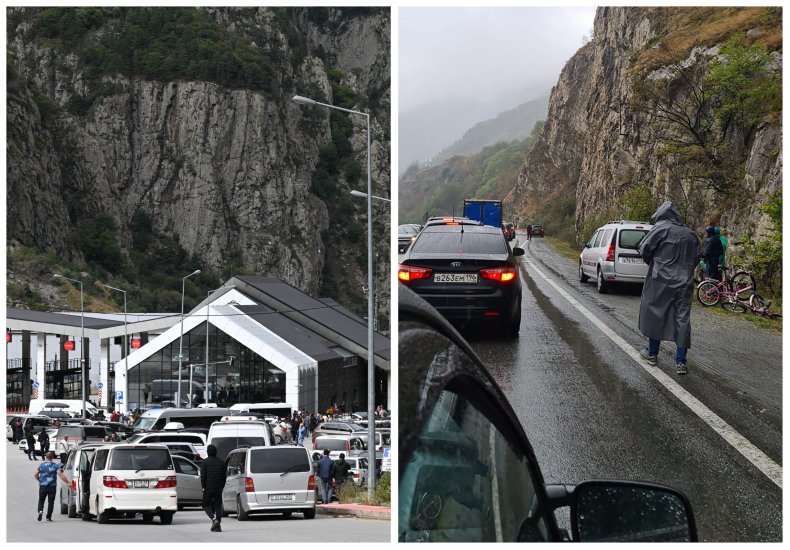 This news resulted in many citizens attempting to flee the country by car, train and plane to the neighboring nations.
According to a report by the Russian news agency TASS, Russia will set up an enlistment office in the section of the Russian and Georgian border in North Ossetia.
New rules were announced to address the sharp increase in people attempting to cross the border after a meeting at the Verkhny Lars checkpoint, according to a post on the Ministry of Internal Affairs Telegram channel for the region.
"Head of the Ministry of Internal Affairs of Georgia [Vakhtang Gomelauri] said: 'We have no reason to close the border with Russia and restrict entry to Russians,'" a separate Telegram post by the Russian news agency Ria Novosti read.
"[Gomelauri] also denied reports that about 250,000 Russian allegedly arrived in the country recently: 'So many people have not come, I don't know where these numbers come from.
"Approximately four to five days ago, there were from 5,000 to 6,000 arrivals, now this figure has grown up to 10,000."
Reuters Russian reporter Felix Light also shared this information on his Twitter page.
The meeting, held at the Verkhny Lars checkpoint, included the Minister of Internal Affairs of North Ossetia, the head of the State Traffic Inspectorate, with the heads of the Border Directorate of the Federal Security Service of the Russian Federation for North Osseia-Alania and the North Ossetian customs, according to the TASS report.
The Russians will also be allowing civilians to walk and cross the border.
"Based on the results of the meeting, the participants decided to allow citizens to cross the border on foot, and a number of further measures were planned in terms of law and order and security traffic," according to a Google translation of Georgia's Ministry of Internal Affairs Telegram post.
The post also said there was a need for an increase in "round-the-clock duty" of the traffic police and security forces to reduce the risks of illegal behavior and conflict among citizens, due to the influx of people.
While some citizens tried to leave the country to avoid conscription, others took to protest in the streets across Russia.
Demonstrations have broken out nationwide against the war and Putin's "partial mobilization" effort, with protesters holding banners that read "No to war" and "No mobilization."
At least 1,386 people have been arrested in 38 cities across Russia since Putin's announcement, according to the human-rights project OVD-Info.
Newsweek has contacted Russia and Georgia's Ministry of Foreign Affairs for comment.