Russians Take to the Street to Protest Putin: 'No Mobilization'
Protests have broken out in parts of Russia following President Vladimir Putin's announcement that he was calling up reservists in an escalation of the war in Ukraine, according to reports.
According to Latvian news website Meduza, authorities have begun to confront protests that have erupted in Russian cities.
Dozens of people have taken to the streets with protest signs in Irkutsk in Siberia and Ulan-Ude in Russia's Far East. Demonstrations were also reported in Khabarovsk and Yakutsk.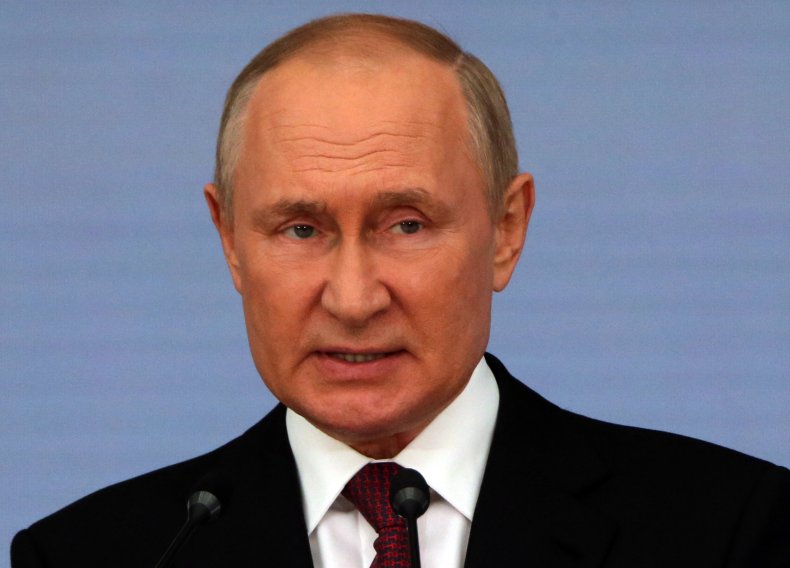 The Avtozak LIVE Telegram channel has shared images of some of the protesters and signs saying "No mobilization"
Other signs have used a play on words to turn "no war, no mobilization" to "no war, no grave-ization."
In Irkutsk, according to the Irkutsk Anarchist Telegram channel, authorities have already dispersed rallies and detained a number of people.
While in other cities, authorities are speaking to protesters, checking documents and suggesting they leave.
One video of a protester shouting back at police—in Lenin Square in the city of Khabarovsk in Russia's Far East—has begun circulating on Telegram.
In the video, shared to the Telegram ACT-54 Black channel, a person is seen shouting "I am not going to die for Putin and for you. You yourself know that everything sucks."
People around him began to clap in support.
In a pre-recorded speech released on Wednesday morning, Putin said there would be a partial mobilization of the military. Reservists and ex-military personnel with "certain military specialties and relevant experience" would be subject to conscription.
As part of the mobilization order, the contracts of Russian soldiers already serving in Ukraine have been extended indefinitely and Defense Minister Sergei Shoigu said following the announcement another 300,000 troops would be provided for the war effort in Ukraine.
There has already been talk of punishment for demonstrators from the Moscow prosecutor's office, according to a separate Meduza report
These punishments could come "in the form of imprisonment for up to 15 years," the prosecutor's office said. Thousands of Russians were arrested for attending anti-war demonstrations in February and March, after the invasion of Ukraine began on February 24.
Online, Putin has also faced pushback over his step towards further mobilization. So far more than 140,000 people have signed a petition opposing his announcement.
The Russian-language petition against conscription, titled 'Against partial and total mobilization,' was created on the Change.org petition site by a user with the pseudonym 'Soft Power.'
It says: "On September 21, 2022, Vladimir Putin announced the start of partial mobilization throughout Russia. Only those citizens who are in the reserve and, above all, those who served in the ranks of the armed forces, have certain military specialties, will be subject to conscription for military service.
"We, the citizens of Russia, women and men, oppose general and partial mobilization. President Vladimir Putin has no legal grounds, weighted and well-reasoned reasons for announcing it, and cannot have any.
"In the current state of uncertainty we are not prepared to expose our men—brothers, sons, husbands, fathers and grandfathers—to any moral, ethical or physical danger."
Newsweek has contacted the Russian Ministry of Foreign Affairs for comment.
Update 9/21/22 11:05 a.m. EDT: This article was updated with additional information and context.