Russia Says Every Suburb in Severodonetsk, East Ukraine, Under Its Control
Russia said on Tuesday that every suburb in the eastern Ukrainian city of Severodonetsk has been captured by its forces.
Speaking at a press briefing, Russian Defense Minister Sergei Shoigu stated that the residential areas of Severodonetsk in the Luhansk region were under Russian control.
"The residential quarters of the city of Severodonetsk have been completely liberated," he told reporters.
According to Shoigu, "to date, 97 percent of the territory of the Luhansk People's Republic has been liberated."
"A significant part of the Donetsk and Luhansk People's Republics on the left bank of Severodonetsk, including the cities of Krasny Liman and Svyatohirs'k, as well as 15 other settlements," the minister added.
Shoigu also mentioned Studenok, Yarovaya, Kirovsk, Yampol and Drobyshevo among the largest captured populated areas, Russian state news agency Tass reported.
"The troops continue placing the industrial zone and nearby localities under their control. They are developing an offensive in the Popasnaya direction," he said.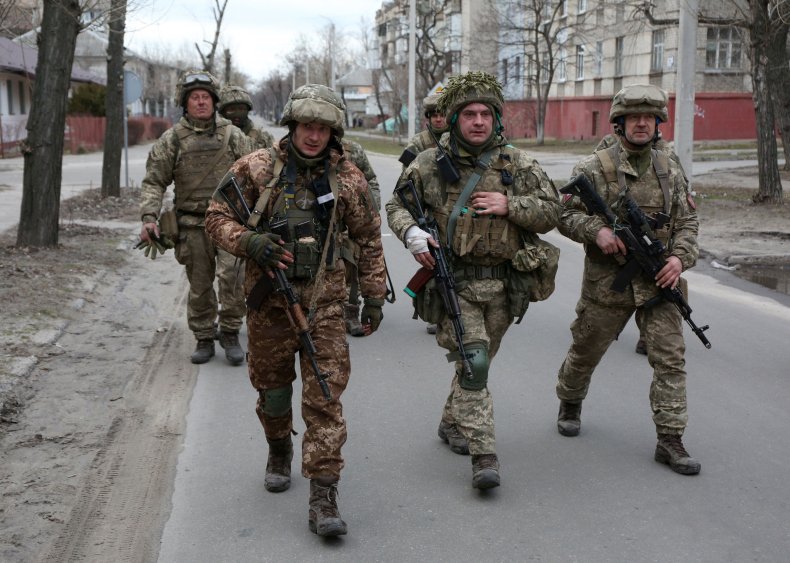 The war is currently focused on Ukraine's eastern Donbas region, as Russian President Vladimir Putin looks for military victory by attempting to seize the two big eastern regions, Luhansk and Donetsk—swathes of which have been under the control of Kremlin-backed separatists since 2014.
Putin's troops are pushing to capture the cities of Severodonetsk and Lysychansk, which would place all of Luhansk under Russian control.
Ukrainian President Volodymyr Zelensky said on Monday that there was a "difficult situation" in Severodonetsk, but Ukrainians "have every chance to fight."
Zelensky said that should the city fall to Putin's forces, retaking Severodonetsk will come at a great cost of equipment and troops.
"If you go to the better positions, it will be very costly for you to return, in terms of the number of killed people, the number of losses," Zelensky said. "If we decide to attack later, we will lose much more."
The General Staff of the Armed Forces of Ukraine said in a Facebook post earlier Monday that Ukrainian troops maintain control over the eastern Ukrainian city.
The U.K.'s Ministry of Defence said in its latest daily intelligence update on Twitter that Ukrainian forces had recaptured parts of Severodonetsk over the weekend, "although Russian forces likely continue to occupy eastern districts."
"Russia's broader plan likely continues to be to cut off the Sieverodonetsk area from both the north and the south," the update said.
"Russia will almost certainly need to achieve a breakthrough on at least one of these axes to translate tactical gains to operational level success and progress towards its political objective of controlling all of Donetsk Oblast."
Newsweek has contacted Russian authorities and Ukraine's Ministry of Foreign Affairs for comment.
Update, 6/7/22 8:35 a.m. EDT: This article has been updated with additional quotes and background information.