Russia's East Ukraine Push is Crucial for Putin 'Propaganda,' Governor says
Russia is continuing its intense offensive in eastern Ukraine hoping to seize full control of the Luhansk Oblast and push deeper into Donetsk Oblast, as outgunned Ukrainian defenders urge their Western partners to send more lethal military aid to help blunt Russia's slow advance.
As of Tuesday Russian forces were inside Severodonetsk, the last major city in Luhansk not yet under the control of Russian invaders and their proxy eastern Ukrainian separatist allies.
Moscow has focused its forces on the small Severodonetsk salient, hoping to trap Ukrainian defenders there and win a victory that Donetsk Governor Pavlo Kyrylenko told Newsweek is key for the Kremlin's propaganda campaign.
"Russians are shelling cities and villages all along the frontline from Vuhledar and Avdiivka to Lyman and Sviatohirsk," Kyrylenko told Newsweek via WhatsApp on Tuesday.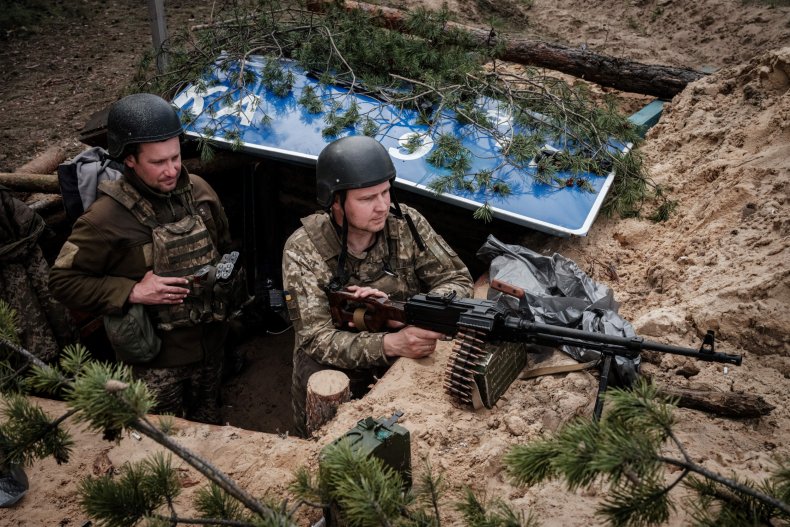 "But it's crucial for their propaganda to capture at least one oblast completely, that's why their main efforts are now concentrated on capturing Severodonetsk, and Luhansk Oblast in general."
The fighting in Donbas has been the most intense of the war so far. After Russia's humiliating defeat north of Kyiv, Moscow has refocused its efforts and resources on Luhansk and Donetsk, which together make up the Donbas region.
Both oblasts have been split between Ukrainian and Russian-backed separatist control since 2014. Seizing them would allow President Vladimir Putin to claim victory in Russia's supposed campaign to "de-Nazify" Ukraine and "liberate" Donbas.
But Ukraine's easternmost provinces have been devastated and depopulated by eight years of war, culminating in Russia's massive Donbas offensive which began in mid-April.
"Before the large-scale invasion there were 1.64 million people in the free [Ukraine government-controlled] part of Donetsk Oblast, including Mariupol," Kyrylenko said. "Right now we have 340,000 people left in the free part of Donetsk Oblast. We also estimate that around 100,000 people are still held as hostages in destroyed Mariupol, encircled with filtration camps."
Mariupol—a port city on the Sea of Azov in the southern part of Donetsk Oblast—has become a byword for destruction. Russian forces besieged the city in the opening days of the invasion before devastating the area with artillery, air and missile strikes over several weeks.
A small number of marines and Azov Battalion fighters resisted from inside the city's mammoth Azovstal steel works until mid-May. Moscow says almost 2,000 have now been taken prisoner.
Kyrylenko told Newsweek on Tuesday that the razing of Mariupol is serving as a blueprint for Russian forces on the Donbas front line.
"Russians constantly and deliberately shell the critical infrastructure; that's their way," the governor said. "They did the same thing in Mariupol: in the very first days, when the city was not even completely besieged yet, they destroyed its water and electricity supply. And they continue to do so in the rest of the oblast."
"We constantly have electricity and water outages caused by Russian shelling. But every time our specialists find a way to restore what was damaged ASAP. Just on Sunday, at about noon the Russians damaged the electricity supply for the whole northern part of the oblast, but by the evening of the same day it had been restored."
Most of Luhansk and around one half of Donetsk are already under Russian control. Elsewhere, Russian occupying forces have been accused of a wide range of atrocities, human rights abuses, and war crimes; all of which Moscow denies despite significant and growing evidence.
The names of Kyiv suburbs like Bucha, Irpin, and Gostomel are now synonymous with summary executions, disappearances, torture, and rape. Elsewhere across occupied Ukraine, more than one million people have been "evacuated," according to Russian Foreign Minister Sergei Lavrov.
Many have reportedly been forcibly relocated to Russia by way of "filtration camps." Such forced displacements could meet the threshold of crimes against humanity.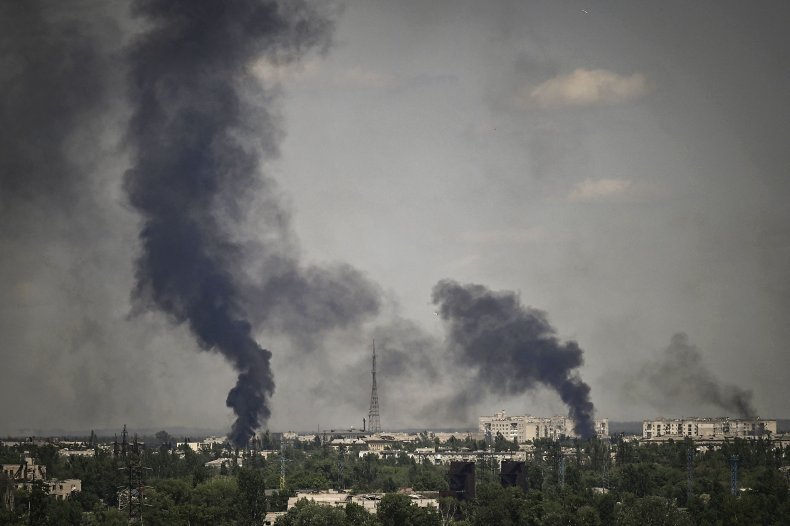 Kyrylenko said the atrocities that took place elsewhere are also happening behind the Russian lines in Donbas.
"Not only do we fear that the Russians commit atrocities in the occupied territories, but we know exactly that they are doing so," he said. "Mariupol, Bucha, Irpin—those were not just accidents. That was the true face of Russia, the face that the civilized world for decades pretended not to see."
"But now one can't pretend that one doesn't know the nature of Russian people, not any more," the governor continued. "They feel good when they commit genocide. That always was true about them, and always will be. Their hatred towards Ukrainians doesn't know [any] limit. That's why their crimes towards us won't know [any] limits as well."
Ukrainian leaders, including President Volodymyr Zelensky, have accused Russian forces of trying to cover up the crimes they are committing across Ukraine.
In Mariupol, the displaced city council accused Russian units of using mobile crematoriums to burn bodies of their victims. "The killers are covering their tracks," the council said in a number of posts on social media in April. "Russia's top leadership ordered the destruction of any evidence of crimes committed by its army in Mariupol."
Kyrylenko told Newsweek this will pose a problem for investigators, both Ukrainian and international.
"The only problem is that now they will try very hard to hide any signs of those atrocities," Kyrylenko said of what is happening in Donbas. "So the world must remember the crimes of the Russians that are known already, and put efforts towards investigating the crimes of Russians that are yet unknown."
Newsweek has contacted the Russian Foreign Ministry to request comment.