Forty-Eight More Russian Soldiers Will Face War Crime Trials, Ukraine Says
Ukraine's Prosecutor General Iryna Venediktova has said that authorities have opened 49 war crimes trials related to Russia's invasion of the country that began in February, as the first Russian soldier to be charged begins a life sentence for murdering a civilian.
Venediktova spoke at the opening of the "Russian War Crimes House" in Davos, Switzerland, where the World Economic Forum (WEF) is being held this week. Monday's event was organized by the Victor Pinchuk Foundation, which has rented the Russia House building that traditionally serves as a center of Russia's WEF presence.
Venediktova told attendees that invading forces have routinely engaged in "heinous crimes," prompting thousands of war crimes investigations by Ukrainian authorities.
"We have already initiated close to 13,000 cases which are connected only to war crimes," Venediktova said. "In this category, suspicions were reported [about] 49 individuals, which we started to prosecute [for] war crimes."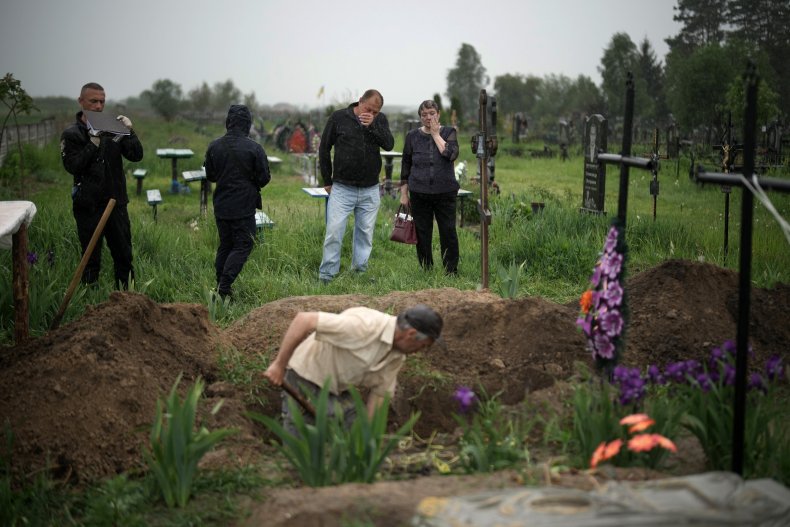 Venediktova noted that Ukrainian officials have a list of some 600 suspects thought to have engaged in war crimes, while two cases involving three individuals were already being heard by courts
The prosecutor general spoke shortly before tank commander Sergeant Vadim Shishimarin, 21, became the first Russian soldier convicted of and jailed for war crimes since the invasion began on February 24. Shishimarin, who pleaded guilty to killing a 62-year-old civilian in northeastern Ukraine in late February, was sentenced to life in prison.
Russian advances across Ukraine have produced a broad range of war crimes accusations, which Russian officials have systematically denied despite the growing evidence of such abuses.
Attacks on civilian targets like hospitals and transport hubs have been routine, as have mass arrests and deportations in occupied areas. Where the Russians have been forced to retreat from occupied areas, Ukrainians have discovered evidence of mass killings, rapes and other abuses.
The crimes uncovered in Kyiv suburbs including Bucha, Irpin, and Gostomel—among others—were particularly notable. But similar cases have been reported across the southern and eastern axes of Russia's invasion.
Ukrainian troops have also been accused of committing war crimes against invading soldiers. Venediktova said Monday that the scale of complaints against Russia suggests a systemic tolerance of, or encouragement of, war crimes against Ukrainians.
"All evidence indicates that the Russian military and political elite has unconditionally reverted to the brutal war tactics of violence," the prosecutor general said. "Civilian populations and civilian objects—including hospitals, educational facilities, and residential buildings—are internationally targeted in a widespread and systematic manner."
"Violations by the Russian Armed Forces documented by investigators and prosecutors amount to unspeakable deliberate cruelty and violence against civilians. This is particularly apparent in territories that were on the front lines of war, which practically became a slaughterhouse."
Summary executions, torture, mutilation, rape, targeting and shooting of civilians in the streets, and freshly-dug mass grave sites indicate the "grim reality of today's Ukraine," Venediktova said.
Venediktova confirmed 4,600 civilian deaths to date, including 232 children. The real number, she warned, is likely higher. "Unfortunately, this number does not include data from temporary occupied territories," she said.
"However, from what we can observe from satellite images and other sources, the situation there is catastrophic," Venediktova said of areas now under Russian control. "Many cities and towns are simply burned to the ground."
Meanwhile, forced deportations of Ukrainian civilians into Russia are ongoing. Occupying forces are feeding civilians through filtration camps, where Ukrainians are reportedly interrogated—and some tortured—before being moved on to remote locations inside Russia. Such forced deportations could be considered a war crime.
"Russia uses the practice of forced transfer of civilian populations, especially in children, to Russian territories," Venediktova said. "Tens of thousands of people have been forcibly relocated. Children are separated from families and put into the foster care system available for adoption in Russia. One can only imagine the stress children are going through."
She continued: "Russia also opened makeshift filtration camps, detaining and subjecting civilians to brutal interrogations and torture for any supposed links to the Ukrainian government. This is a well-known practice used in the Chechnyan wars."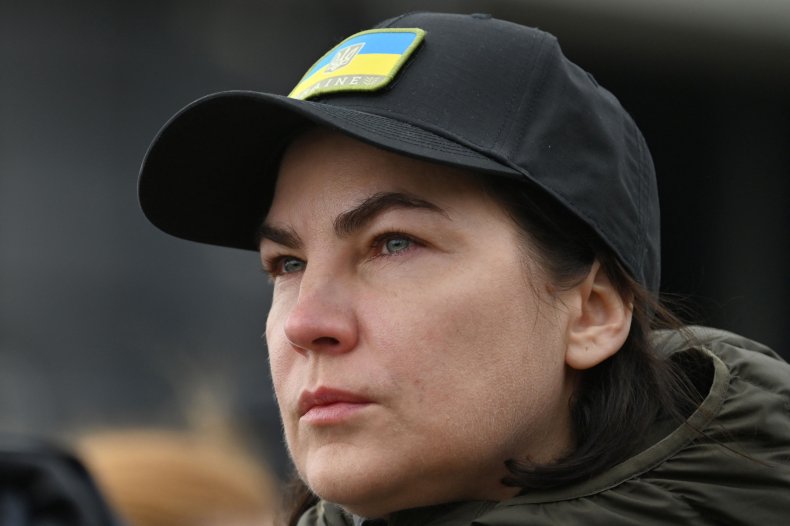 Also at the Victor Pinchuk Foundation event on Monday, Andriy Yermak—the head of President Volodymyr Zelensky's office—said that 232,000 Ukrainian children have already been deported to Russia.
"Forcible transfer of the children to other groups is also a sign of genocide," Yermak said. "Meanwhile, the Russian parliament is preparing to simplify the Ukrainian children's adoption by Russian nationals...It's not about humanism. It's about a frenzy of hatred and destruction under the slogan of humanism."
Anatolii Fedoruk, the mayor of Bucha, said Monday that the experience of his constituents should help prevent future war crimes.
"It is very difficult to talk because of what we've heard and what we survived through," Fedoruk told attendees of the event in Davos. "But we have to do it so that the whole world hears what is done, what is committed in Ukraine by Russian occupants. The Russian Federation violated all the rules of waging war. They were raping, they were killing, they were robbing, looting. "These were peaceful people who were trying to survive, they were going to the hospital to the point of humanitarian aid, and they were just shooting them."
He continued: "I'm happy that I survived, but I am so sorry that 419 peaceful civilians, citizens of Bucha, were killed, were tortured during this war, this aggression. But we sincerely believe that there will be justice...every crime will be investigated and will be taken to the war tribunal."
"Unfortunately, in the east of Europe, on the territory of Ukraine, there are full-scale military actions going on. We need to understand that wherever we are—in Ukraine, in Switzerland, in Portugal, in the U.S.—we need to understand that this is the third world war."
Newsweek reached out to the Russian Foreign Ministry for comment.