Top Zelensky Aide Sets Out Four Key Demands for Peace in Ukraine
Andriy Yermak, the head of Ukrainian President Volodymyr Zelensky's office, has urged Kyiv's Western partners to deepen sanctions on Russia and expand military support for Ukraine amid the pivotal battle for the eastern Donbas region.
Yermak, one of Zelensky's closest advisers, told a virtual Chatham House think tank meeting on Thursday that a combination of expanded military support, sanctions, mechanisms for reparations and reconstruction, and long-term security guarantees will help build a "fence" to protect Ukraine from future Russian aggression.
"Today there is no middle ground between good and evil," Yermak said. "You are either siding with good, or with evil."
Ukraine's unexpected battlefield successes defeated the Russian drive for Kyiv and Moscow's hopes for a swift end to its latest invasion. Russian troops are now bogged down in eastern and southern Ukraine, hoping to add key areas of the Donbas region to their occupied territories in the south and east of the country.
Western weapons
Ukrainian defenders are receiving new Western weapons daily. As the conflict descends into an attritional contest, Yermak warned Western capitals not to lose focus.
"People get accustomed, even to the war," Zelensky's aide said. "We cannot do that in Ukraine."
"The longer this war protracts, the higher and more numerous the risks that it will engage ever more countries because of our failure to put an end to it," Yermak said. "Waiting until the Russian Federation realizes that it's time for them to stop their aggression requires that Ukraine receives all of the necessary weapons and material."
"The powers that be in Russia, who see that the conflict is going on but they cannot prevail in this conflict, will [become] ever more aggressive," Yermak predicted. "I envision that Russia's next steps might [be]—and we hear it from officials in the Russian Federation—that they threaten Baltic states and Poland."
"We should concert effort in supporting Ukraine's speedy victory," Yermak said.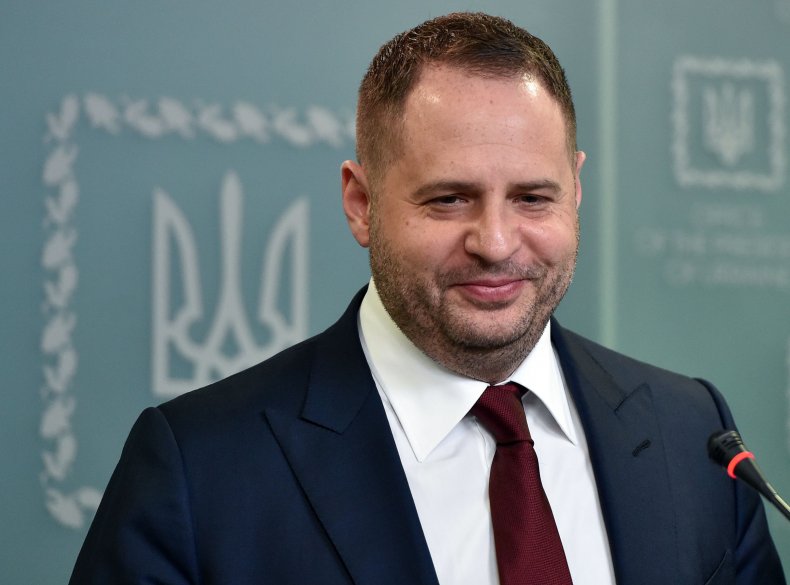 Western weapons have helped Ukrainian defenders confound military planners in Moscow and in the West, but Yermak said more and heavier arms are needed to eject the invaders from Ukrainian soil.
"We are extremely thankful to our allies and partners for supplies of arms and equipment and, we believe that all of the commitments in this demand will be met properly," Yermak said. "But we still need heavy weapons, we still lack MLRS," he added, referring to multiple launch rocket systems that U.S. President Joe Biden has so far refused to green light.
MLRS systems would augment Ukraine's artillery forces, allowing its troops to shell vital Russian supply lines and artillery units, as well as strike entrenched defenders.
"That equipment is able to save lives, not only of the military, but also the civilians," Yermak said. "To Russians, civilians are also a legitimate target, as well as civilian infrastructure."
More anti-aircraft systems, Yermak added, will also be "key" in Ukraine's counter-attacks against Russian troops in the east and south, as well as to protect civilians who remain under daily air and missile bombardment.
Energy sanctions
Tougher sanctions, Yermak continued, will further isolate Russia and cripple its ability to fund its military machine. European Union (EU) nations have still not imposed sanctions on oil and gas—both vital exports for Moscow that earn the Kremlin hundreds of millions of dollars each day.
Ukrainian leaders have demanded an end to such imports since the invasion began in February, but EU leaders are hesitant given the economic damage such measures would bring.
"Western countries continue to purchase oil and gas, and the money, the proceeds, continue to flow back to the Russian Federation," Yermak said. "That should be stopped."
"Since the 24th of February, the EU member states have daily paid $800 million for Russian oil and gas, and this money is used to finance the Russian aggression against our country," Yermak said.
The Zelensky aide expressed support for proposals that would introduce taxes and duties on Russian energy imports, with the proceeds used to create a fund for Ukrainian reconstruction.
All Russian energy exports, financial institutions, and access to international financial markets should be curtailed, Yermak said. "We should also look into the coordination of all sanction partners, and introducing secondary sanctions that [prevent] certain companies and governments to circumvent the sanctions."
"It is also important to recognize Russia as a state sponsor of terrorism," he continued, noting that efforts are already underway in the U.S. to convince Biden to do so.
Reparations and reconstruction
Early estimates suggest it may cost trillions of dollars to rebuild Ukraine. Russian troops, artillery, aircraft, and missiles have wrought severe destruction around the country, devastating civilian areas, key infrastructure, and industrial sites.
Yermak said Ukraine needs its own "Marshall Plan"—the U.S.-funded program that rebuilt war-torn Europe after World War II. "Ukraine's recovery can be a success story for all of Europe," Yermak said, touting the investment opportunities for the whole continent.
U.S. Secretary of the Treasury Janet Yellen said this week that such a plan is required to rebuild Ukraine, urging America's European allies to help foot the bill. Werner Hoyer, the president of the European Investment Bank, is among the more senior EU advocates of such a proposal.
Zelensky's government is demanding concrete security guarantees as part of any peace deal—insurance for Kyiv against future Russian aggression. Ukraine has been at war with Russia since 2014; Moscow and its proxies having seized Crimea and parts of Donbas.
Kyiv now hopes it can force Russian troops out of all areas occupied since 2014, and wants guarantees that it will not have to fight another major war alone.
NATO and EU membership ambitions are still enshrined in Ukraine's constitution. Potential NATO membership poses a particularly difficult challenge, given Russia's zealous opposition and NATO's unwillingness to admit Ukraine.
On the EU front, Kyiv is facing a long and difficult journey to full membership with its calls for accelerated accession having fallen on deaf ears.
"The global security of architecture has been destroyed by Russia," Yermak said. "NATO is the only institution capable of providing reliable protection—an umbrella of protection—to its allies."
"Because of the national egotism of a number of states it still pursues a double standards policy," Yermak said of NATO. "The alliance supports this illusion of open doors to Ukraine, but it does not practice what it preaches."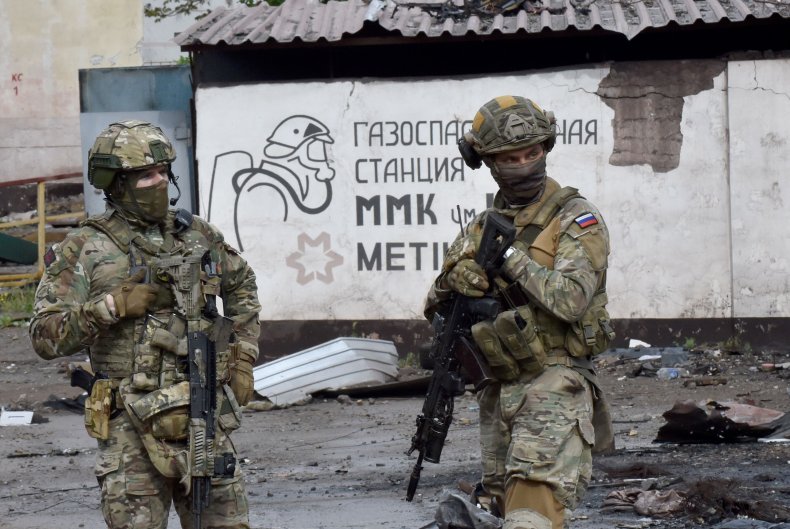 Zelensky appears to have given up on NATO membership—instead asking for security guarantees from the alliance's leading nations. France and Germany have expressed willingness to provide such protection, but the U.S. and U.K. have not.
NATO and the EU
Kyiv is still smarting from Western failure to enforce the 1994 Budapest Memorandum, and Ukrainian leaders have said they will not settle for anything less than legally-binding security guarantees.
EU membership, Yermak said, would go some way to protecting against Russian aggression. Kyiv is currently waiting for the European Commission to deliver its opinion on candidate status, which would set Ukraine on the path to full membership. But both French President Emmanuel Macron and German Chancellor Olaf Scholz have said there will be no quick resolution.
Macron has proposed a "European Political Community" open to non-EU member states. The vague proposal could be a mid-way point for aspirants like Ukraine, though the benefits are as-yet undefined. Macron's idea has been met with frustration in Ukraine, where some fear it is designed to keep Ukraine out of the bloc while avoiding the political blowback or full rejection.
"We see no alternative to our EU membership," Yermak said. "Any proposition on how that could be substituted is not acceptable to Ukraine or Ukrainians. EU integration, to us, is not only a way to modernize and reform the country, and to enhance our GDP, but also a factor that will ensure our security and safety in the future."
"We are capable of being members of those organizations and we could be a valuable asset to those organizations," Yermak said of both NATO and the EU. "And regular citizens of European countries understand that pretty well. European politicians should listen to the opinions of their people."
European politicians like Macron and Scholz are stressing the need for an immediate ceasefire, a goal not shared by the Ukrainians. Kyiv believes it has the momentum, and their minds are more focused on defeating Russia rather than ending the fighting at any cost.
"We see some attempt to reconcile Ukraine with Russia on the Kremlin's terms," Yermak said, an apparent reference to recent interventions by Macron and Scholz. "It is unacceptable to even discuss the opportunity of off-ramps for the aggressor country."
"Our dead and wounded would not allow us to accept such conditions. Our task should be to deter the Russian Federation from further aggressions in the future. And that means enhancing the defense capabilities of Ukraine."
"The territorial integrity and sovereignty of Ukraine should be restored to the full," Yermak said. "This war should end in our victory, a common victory with the civilized world."
Newsweek has contacted the Russian Foreign Ministry for comment.