Russian Soldiers Refuse to Fight Due to Shrinking Paychecks: Report
Some Russian soldiers who fought in Ukraine are refusing to return and fight due to lower paychecks, according to a report from the Russian news outlet Caucasus.Realities.
Members of the Russian Guard from Krasnodar, a city in Russia, have filed reports refusing to be sent back to Ukraine. According to a source from the Federal Troops of the National Guard, several of the soldiers cited dissatisfaction with the amount they were paid during their time in Ukraine from February to April as the reason for refusing to fight, Caucasus.Realities reported.
The source explained in the report that part of the reason paychecks were shrinking was due to the growing exchange rate of the ruble, Russia's currency.
"Just the other day, a payment for the second month of being there came. And if for the first month they paid 100 thousand, now it's 50. The command explained this by the fall in the dollar exchange rate—the payment is calculated from about 50 dollars per day of stay, but is made in rubles at the Russian exchange rate," the source said.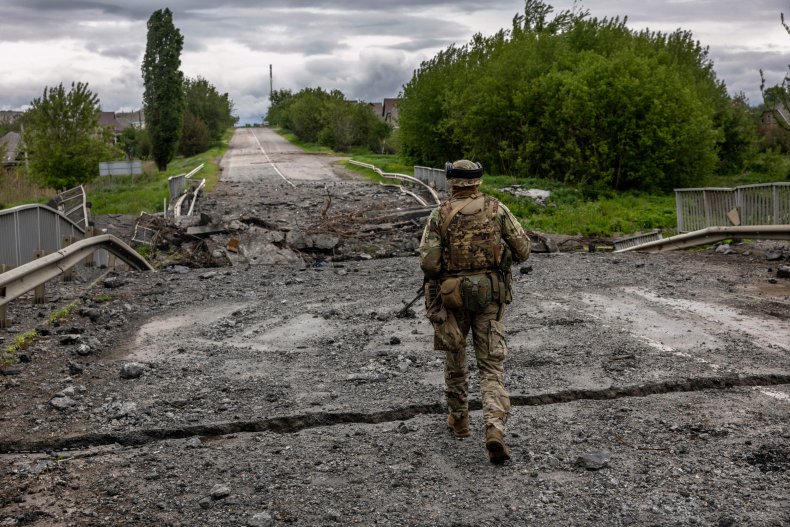 The report summarized that if the dollar rate in Russia on March 10 was 120 rubles, it was 56 rubles by May 26, hence why payments from the military had changed.
Despite the international economic sanctions against Russia that have slowed economic growth even more than countries predicted, the ruble's value has grown significantly, jumping nearly 150 percent since it initially collapsed right after the invasion began, according to the Wall Street Journal.
Decreasing soldiers' paychecks does little to help with the current issue of low morale and mistreatment within the Russian military. While paychecks shrink, soldiers have been asked to pay for weapons and supplies with their own money.
The Russian military has reportedly taken to promising significant signing bonuses to those who sign short-term military contracts. A military official in the North Caucasus republic of Chechnya was recently offered a first-month salary of 300,000 rubles ($5,200) during a recruitment attempt, according to The Moscow Times.
Still, Russian troops are facing significant losses coming from inside their own factions. Russian military officers are reportedly refusing to follow orders, and some troops have reportedly sabotaged their own vehicles to avoid going to the frontlines. Contracted soldiers have been threatened with criminal charges should they attempt to quit, though Newsweek could not independently verify these claims.
Russia has been focusing its offensive in the Donbas region in eastern Ukraine and Ukrainian Deputy Defense Minister Hanna Malyar said last week that "fighting has reached its maximum intensity," according to The Washington Post.
Newsweek reached out to the Russian defense ministry for additional comment.