Russian Soldier Says Body Armor Supplied by Military Is 'Terrible'
As the war between Russia and Ukraine continues, a Russian soldier said that the body armor provided to them by the Russian military is "terrible."
The Security Service of Ukraine (SSU) frequently shares calls on its website allegedly intercepted from Russian troops, and one Russian soldier reportedly asked his mother to send money so they can purchase better protective armor.
According to The Daily Beast, the SSU shared a call in which the soldier's mother asked, "How much do you need? And what kind of equipment? And you have to buy that with your own money?"
The soldier reportedly replied, "Body armor. It's just that what we have now is terrible."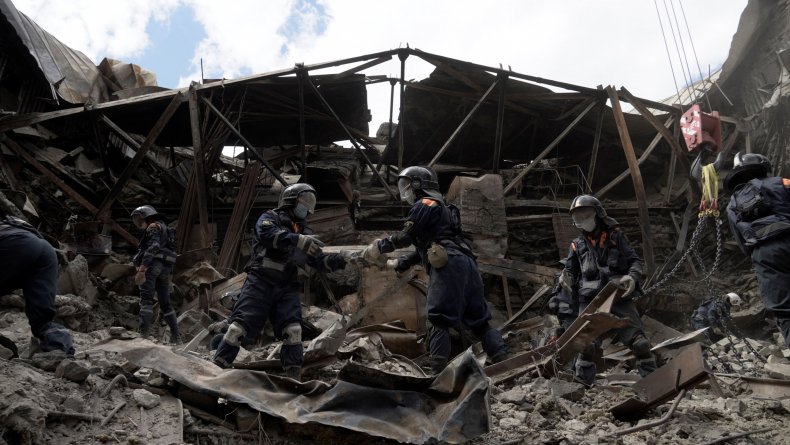 While Russia has downplayed the significant losses its military has taken since the invasion was launched in late February, more and more evidence is coming out through international media that Russian forces may be struggling more than they are letting on.
Videos published by Al Jazeera show a worker wearing protective clothing zipping up white body bags in a refrigerated train wagon full of piled-up bodies. Al Jazeera reported that the bodies were "unclaimed" and belonged to Russian soldiers who died on the front line, though Newsweek could not independently verify the videos.
Beyond a lack of body armor, Russian soldiers have reportedly been battling low morale and discontent caused by the Russian command's poor treatment of troops.
The SSU intercepted a call between a Russian soldier and an acquaintance from home, in which the soldier said, "Well, they send us directly to the front line, to real hell. There we're cannon fodder.… There is just the artillery.… And to go under the artillery fire—it's a f**king suicide."
The SSU also detailed text messages sent from a commander in April fighting near Izium, who wrote, "Everyone here is completely demoralized. There are 10 to 15 people left in the companies at best. About 60 young servicemen have been added… half of them are cowards, dammit, and panickers."
Russian soldiers have reportedly taken to shooting at their own cars in order to avoid going to the front lines, according to the Zaporizhzhia Oblast Military Administration.
Former U.S. Major General James Marks told CNN in March that the Russian army is struggling due to poor leadership.
"This Russian army that's been trying to modernize over the course of the last couple of decades, and it's done a fairly good job of getting the right equipment and capabilities, but they are poorly led. There's nothing worse in any organization than crappy leadership, and that's exactly what the Russians are displaying," Marks said.
Military experts weighed in in March that the Russian army seemed only "days" away from running out of resources, though they have continued to hold on as the attacks on Ukraine continue.
Newsweek reached out to the Russian Foreign Ministry for comment.