Top Russian Sniper Killed by Ukraine Forces
Ukraine's armed forces have killed Russia's top sniper, according to Russian pro-government sources.
The news of the death of Alexander Kislinsky, a sniper in Russia's GRU/GU's 22nd Spetsnaz Brigade deployed in Ukraine, was reported on May 24 on multiple Russian channels on Telegram and VK, the Russian social media platform similar to Facebook.
Pro-Russian accounts characterized the senior scout-sniper in Ukraine's death as that of a "hero" and "a warrior" deserving of "eternal memory." An image of Kislinsky's funeral circulated on VK, suggesting that his body was brought back to Russia for burial.
A VK account attributed to the Special Units of Russia (SPR) confirmed that Kislinsky was buried in "his small homeland." According to the account, the sniper died during combat in Donetsk.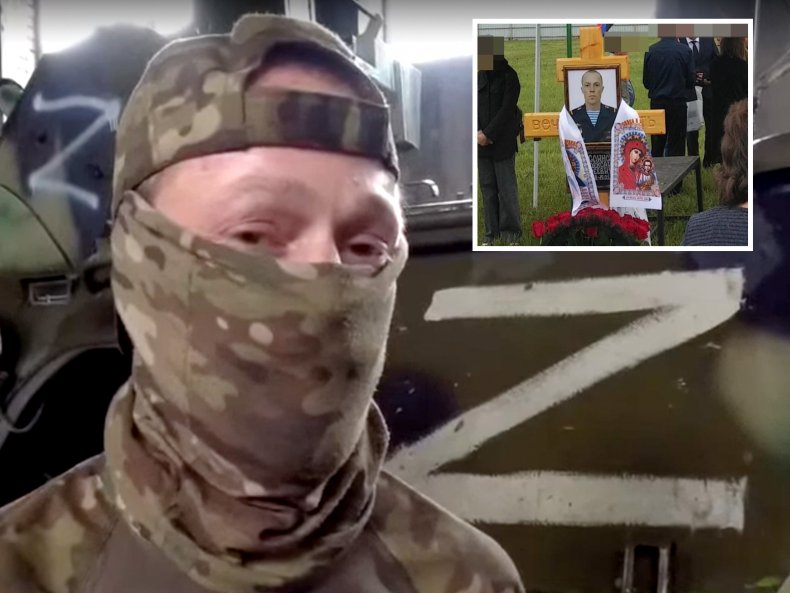 "He died not just in the fight against Nazism, he died defending the Russian people and the Russian land," the account said.
In a video shared by the account showing Kislinsky standing in front of a Russian tank labeled with the pro-war symbol "Z," the sniper says: "My grandfather didn't finish off the nazi scum, but we will. They've been hiding in the forests all this time, but now they came out and we will send them back, with our modern tech we will finish them all off."
Kislinsky said he had four grandfathers who fought during World War II, two of whom survived while the other two died.
"So we need to finish them off," he says in the video. "Look at those old men, they walk around boldly brandishing their nazi outfits, think we don't see them, but we'll get to them. Run guys, just run away."
The VK account claimed that the sniper had become "a very effective combat unit" during the war in Ukraine, "causing significant damage to the enemy." It added that while Kislinsky was a "harsh opponent" to the Ukrainian enemy, he was an "extremely kind and sympathetic person."
Photos of the sniper shared on Russian social media showed him next to and inside tanks labeled with the "Z" symbol. A picture of Kislinsky next to two other snipers dated in May was reportedly taken in Donbas.
In mid-May, a video shared on Russian platforms and posted by researcher Rob Lee on Twitter shows Russian snipers, likely from the same brigade as Kislinsky, in Pinsky, a Ukrainian village in Donetsk.
To this day, Ukraine's armed forces claim that 30,500 Russian troops have been killed in Ukraine since the beginning of the war in February. The Kremlin has so far only admitted to the loss of about 1,500 troops.