Putin Does Not Understand What Is Happening in Ukraine, Zelensky Says
Vladimir Putin is living in a constructed "alternative reality" and "does not fully understand what's going on" in Ukraine, Volodymyr Zelensky has said.
Ukrainian President Zelensky said Russia's full-scale invasion of his country, which began 91 days ago, would most likely end with a negotiated settlement—but only if Putin, his Russian counterpart, agrees to direct negotiations that he has so far avoided.
"[Putin] is not keenly aware of what's going on in Ukraine. Ukraine is not going to concede our territory, we are fighting in our country on our land," Zelesnky told attendees at the World Economic Forum in Davos, Switzerland, on Wednesday.
Speaking via video link, he said: "This is a war of Ukraine, not against anybody, but that's a war for our land, for our freedom, for our independence, for our future. We haven't got any other land. We should stay where we are. And there would be no opportunity for us to find somewhere else to live, nor do we want to look for somewhere else to live."
"I think that the president of the Russian Federation should be actually shoved into the reality of today, not being in this bubble and this alternative reality of his," Zelensky said.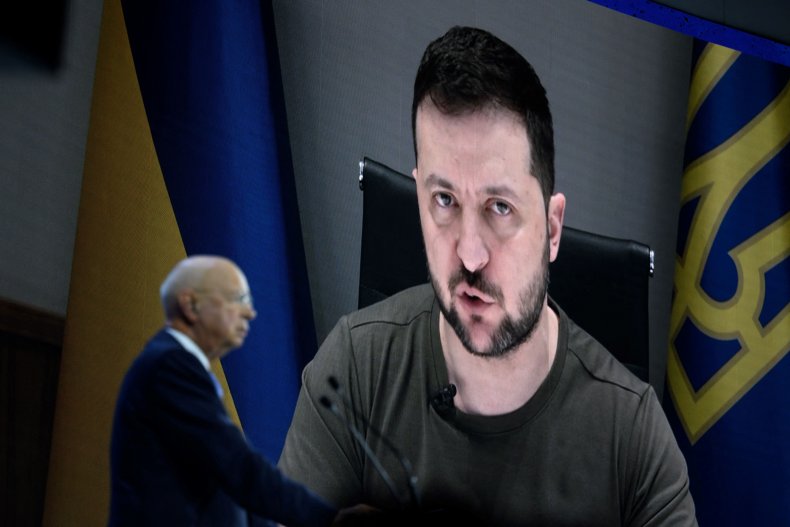 Asked when the war would end, Zelensky said the timing depended on the political will to keep supplying weapons and finance "to boost our resilience," as well as peace talks.
"I'm sure there would be some sort of a peaceful process, some sort of talks, and we would be discussing the issues of who Ukraine is going to negotiate with, with what president of the Russian Federation we are going to negotiate with," the president added.
"I hope that there will be a different president in the Russian Federation."
Zelensky has long said that only direct president-to-president talks can end the fighting. But the Ukrainian leader suggested that Putin is isolated from the reality of his stagnating and costly invasion.
Bilateral peace talks in the days after Russia launched its invasion on February 24. But multiple rounds of discussions have brought limited results beyond opening humanitarian corridors from combat zones and besieged settlements.
The talks, beset by mistrust and subterfuge, have since stalled entirely. Evidence of Russian atrocities and human rights abuses—which Moscow denies—in occupied areas also undermined the discussions.
Zelensky said Moscow should "demonstrate at least something, like withdrawing their troops and equipment to the positions before the 24th of February," to show commitment to talks.
Russia's planned lightning war on Ukraine failed, its poorly-supplied and poorly-prepared advance units bogged down and destroyed by fierce Ukrainian resistance.
Having withdrawn from the north, Russian forces are now focused on holding occupied areas in the south and advancing in the east—in the Donbas region's Luhansk and Donetsk oblasts, under Russian and Russian-proxy control since 2014.
Kyiv wants to regain all Ukrainian territory, not just that seized by the Russians since February 24.
"When Ukraine says that it will be fighting to regain its territories, it means that Ukraine will be fighting until it gains all its territory back," Zelensky said.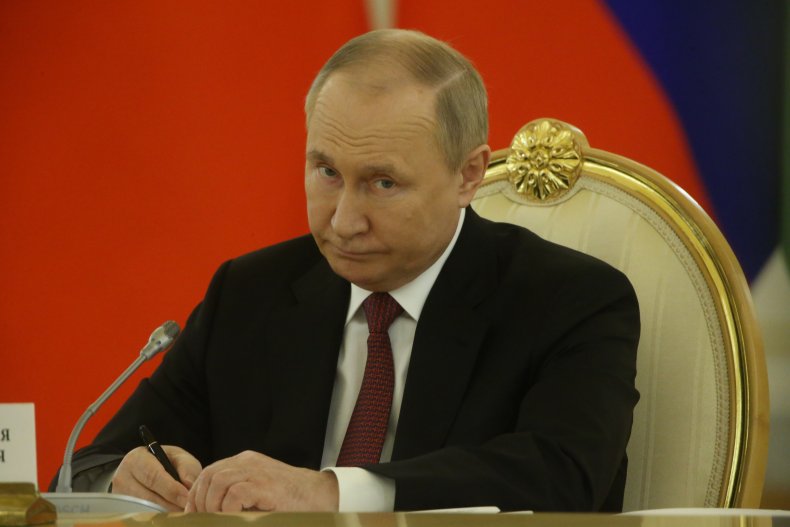 Zelensky also urged Western allies not to fall to infighting, or think their job is done.
"Weapon-wise Russia is still prevailing," Zelensky said. "They outnumber us, they outgun us and what we need is weapons. of course. And we need to be much more powerful."
Zelensky said he was concerned about splintering unity in the West, citing the European Union's stalled sixth sanctions package—which is planned to include measures on Russia's lucrative oil exports—and internal NATO debates over the proposed accession of Finland and Sweden. "I can't see it," Zelensky said of western unity.
"Our huge benefit and our huge advantage over Russia would be when we are truly united, when every country is dead sure what side it is on," the president said.
Newsweek has contacted the Russian Foreign Ministry to request comment.