Explosions as Ukraine Drone Spotted 140 Miles Into Russia's Territory
Russian regions close to Ukraine's border reported a number of explosions overnight amid speculation that the war is spilling over the border.
Russian air defenses reportedly fended off an attack on a military airbase in the Voronezh region where two loud explosions were heard overnight in the Shilovo district, according to OSINT aggregator. The district is located near the Baltimor military airfield.
Citing the regional governor, OSINT said a small reconnaissance drone had been shot down over the city which lies around 140 miles from the Ukrainian border, although it said "no video of photographic proof has been provided yet."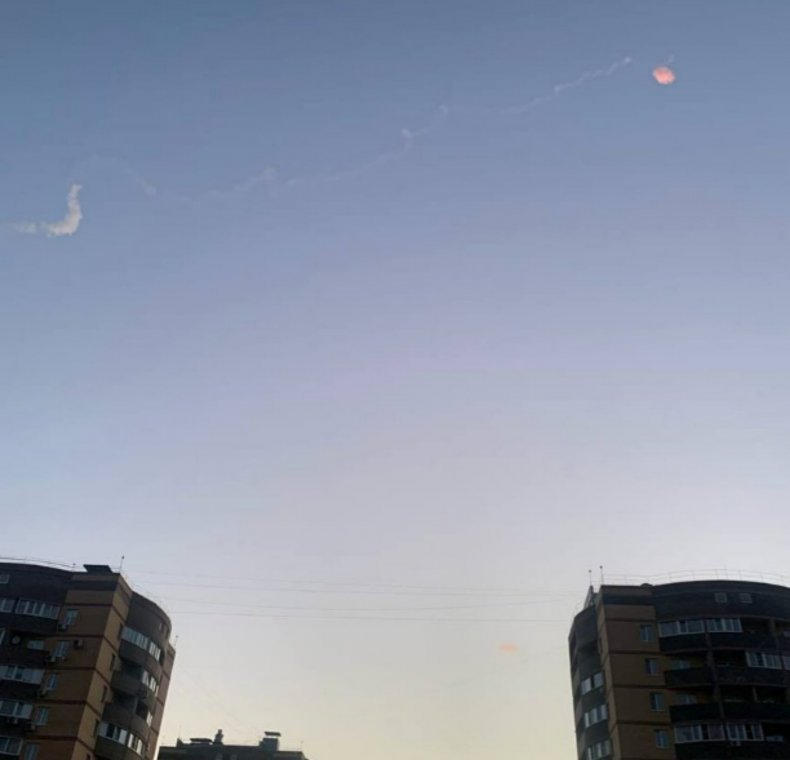 A follow up tweet allegedly showed video of the "actual impact" of Russian air defense "engaging a target over Voronezh."
Regional governor Alexander Gusev wrote on Telegram that an air defense system "detected and successfully destroyed a small-sized reconnaissance UAV (unmanned aerial vehicle)." He said that there was no threat to residents.
Meanwhile, explosions were heard overnight in the Russian city of Kursk, with video posted on social media purportedly showing the blasts.
A local Telegram channel post said that four Russian military personnel had died in the Kursk blast, although this has not been confirmed and the regional governor Roman Starovoyt said there were "no casualties."
Starovoyt said on his Telegram channel that the blasts took place at 2.45 a.m. on Wednesday and that "the details of the incident are being clarified."
"According to preliminary data, the air defense system worked," he wrote. "There are no casualties or destruction," he said, adding that he would provide further details later.
In another incident, an ammunition depot caught fire near the village of Staraya Nelidovka in the Belgorod region. The regional governor Vyacheslav Gladkov said on Telegram that there had been several blasts but no civilian casualties had been reported.
"So far, not a single duty service of the city and the region has found the cause of this sound," Gladkov wrote. The fire at the ammunition depot has been extinguished, TASS reported, without mentioning its cause.
Newsweek has contacted the Ukrainian and Russian defense ministries for comment.
Belgorod, Voronezh and Kursk share borders with Ukraine and the blasts follow suspected Ukrainian attacks earlier this week on two major oil facilities in Bryansk.
Since the start of Russia's invasion of Ukraine on February 24, "terror" threat levels have been raised and extended in all three regions.
State news agencies reported that Russia's Federal Security Service arrested two "Ukrainian Nazi sympathizers" suspected of plotting terrorist attacks in the Belgorod region.
Update 04/27/22, 5.30 a.m. ET: This article has been updated with further information and a new picture.