The countries of Russia and Ukraine are set to go to court as Russia stands accused of planning to commit genocide.
The case concerns, according to the court filing, "a dispute...relating to the interpretation, application and fulfillment of the 1948 Convention on the Prevention and Punishment of the Crime of Genocide," which both countries signed. Ukraine has accused Russia of aiming to commit genocide with their invasion, which has resulted in the death of more than 100 civilians and another 300 people injured, according to the United Nations.
Russia launched its attack on Ukraine last week while accusing Ukraine of genocide, as well. Russian President Vladimir Putin has alleged that war crimes were committed for the past eight years by the Ukrainian government and that his goal for the invasion was the "denazification" and demilitarization of Ukraine. Ukraine has denied any such war crimes have taken place.
"Ukraine 'emphatically denies' that such genocide has occurred and states that it submitted the Application "to establish that Russia has no lawful basis to take action in and against Ukraine for the purpose of preventing and punishing any purported genocide,'" the court filing states.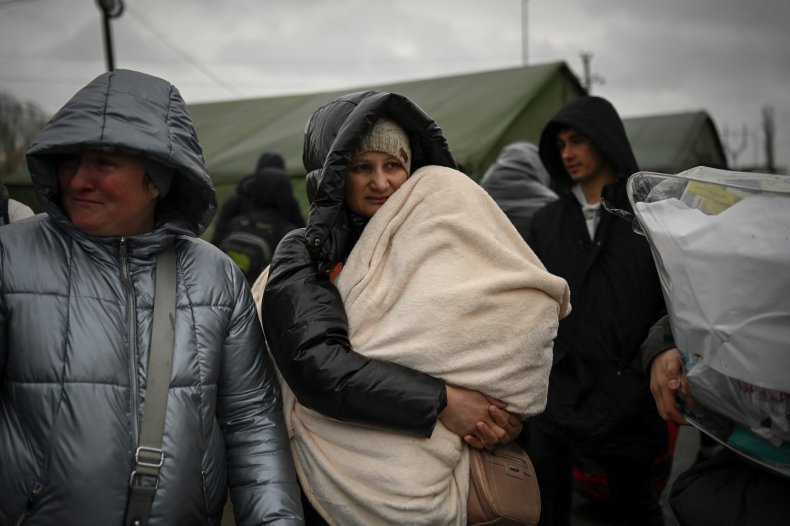 The court filing also asserts that Russia "is intentionally killing and inflicting serious injury on members of the Ukrainian nationality."
In addition to their allegations of genocide, Ukraine is also asking the court to take "provisional measures" to put an end to the Russian invasion that began on February 24. The case filed by Ukraine also asks Russia to pay the country reparations for their actions.
The case between the two nations will go before the International Court of Justice (ICJ) in The Hague, Netherlands, next week. The case will be heard over two days—March 7 and March 8. Cases before the ICJ usually take years to go to trial, Reuters noted.
The International Court of Crimes (ICC) announced on Monday that it's planning on opening an investigation into alleged war crimes or crimes against humanity in Ukraine. The ICC's chief prosecutor, Karim Khan, said in a statement that he believes the allegations of war crimes to be true. The investigation would look into potential war crimes committed in Ukraine between November 21, 2013, to November 22, 2014. A second inquiry would look at alleged war crimes from February 20, 2014, onwards.
"I am satisfied that there is a reasonable basis to believe that both alleged war crimes and crimes against humanity have been committed in Ukraine," Khan said.