Video Shows Russia Failing To Shoot Down U.S. HIMARS Missiles, Ukraine Says
The impact of the M142 High Mobility Artillery Rocket System or HIMARS on Kyiv's forces continues to be felt in Ukraine after missiles fired from the United States-supplied weapons evaded Russian air defense, according to a Ukrainian official.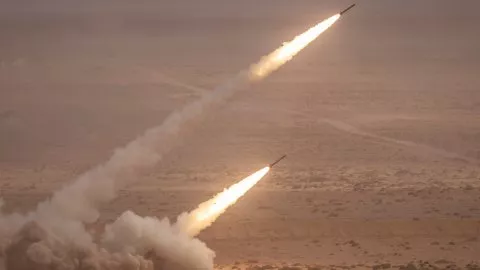 A video tweeted by Anton Gerashchenko, an advisor to Ukraine's internal affairs minister, sparked social media users to comment on how Russian-fired missiles had failed to intercept the HIMARS rockets. Gerashchenko wrote on Telegram that Russian "air defenses are unsuccessfully trying to shoot down HIMARS missiles flying towards the ammunition depot in Skadovsk."
Skadovsk is in the southern Kherson region and was where a Russian ammunition depot was reportedly destroyed on Wednesday, according to Ukrainian media.
The clip also run by news outlets NEXTA and UNN shows missiles taking off followed by explosions on the horizon. Underneath his message, Gerashchenko wrote the hashtag "weapons of victory."
U.S. Defense Secretary Lloyd Austin announced on Wednesday that the country would provide Ukraine with four more HIMARS, to bring the total to 16. HIMARS have been praised by Ukrainian officials as making a tangible difference on the battlefield against Russian forces. Austin added that the U.S. would "continue to provide historic levels of security assistance to help Ukraine."
The M31 series rockets that have been supplied with the HIMARS can hit a target within a 16-foot radius at a range of up to 52 miles, which has allowed Ukraine's forces to destroy dozens of Russian command stations and ammunition depots.
Last week, an unnamed senior U.S. Defense Department official told a Pentagon briefing that the weapons systems were having a "significant impact on what's going on, on the front lines."
Meanwhile, as previously reported by Newsweek, the governor of Ukraine's Luhansk region, Serhiy Haidai, said that Russian forces were in "panic mode" over the weapons.
Igor Girkin, an ex-commander of separatist forces in eastern Ukraine, said on social media that Russia had lost large numbers of troops and equipment due to the weapons.
However, Andrey Kartapolov, head of the Russian State Duma Defense Committee, told TASS that there is "no need to be afraid" of the weapons.
"The system is serious," he said but insisted "our defense systems" can counter it, as he added that they shot down 12 missiles over a bridge in the Kherson region.
This week, Russia's Defense Minister Sergei Shoigu ordered his generals to prioritize destroying Ukraine's long-range missiles and artillery.
Newsweek reached out to the Russian defense ministry for comment on the unverified video.
{{#isDisplay}} {{/isDisplay}}