Russia Fills Ukraine Meatpacking Plant With Bodies of Dead Soldiers: Report
Russia has converted a meatpacking plant in the occupied Ukrainian city of Melitopol into a morgue that is now "completely filled" with the bodies of killed Russian servicemen, according to a report issued Thursday by the Main Intelligence Directorate of Ukraine's Defense Ministry.
The directorate said that Melitopol's Russian "occupation administration" is now urgently trying to source more freezers and industrial refrigerators to store its dead because the meatpacking plant can't fit additional bodies.
Russia's purported efforts to find enough storage for the overwhelming numbers of the dead came as Russian President Vladimir Putin signed a decree Thursday ordering more than 134,000 new conscripts into the army. While Russia's Defense Ministry denied that the conscripts had been drafted for the Russia-Ukraine War, even though it admitted in March that some conscripts were involved in the offensive, Ukraine's report suggests that Russia may be facing high manpower losses.
Ukraine's Defense Ministry said in a Facebook post Wednesday that about 31,500 Russian personnel had been killed in the war. Russia, meanwhile, has largely refrained from providing updates on its soldier casualties.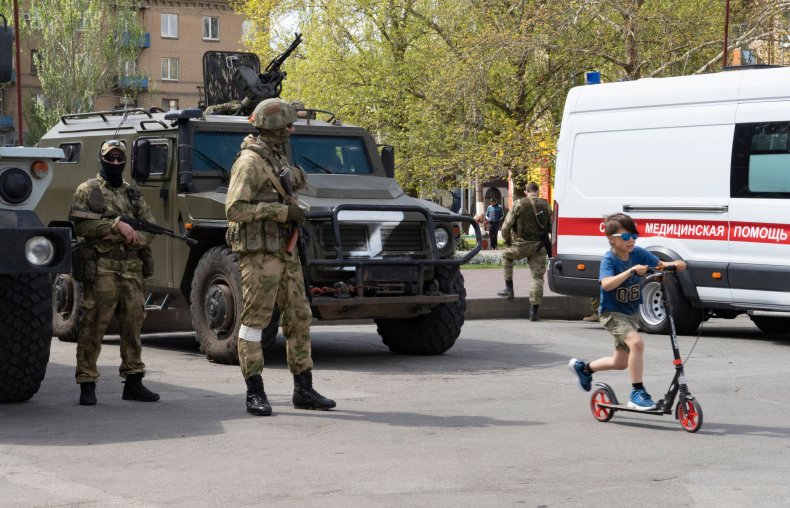 The country last released a death toll on March 25, saying that 1,351 Russian soldiers and officers had been killed in Ukraine, Radio Free Europe reported.
Another Ukrainian government agency has alleged that Russia is trying to conceal the full extent of its troop losses in the war. The Security Service of Ukraine, said last month that it had intercepted calls from Russian soldiers who said that killed soldiers were being recorded as "missing" and their bodies were being hidden in massive "dumps."
The report from Ukraine's intelligence directorate suggested that the storage of bodies in Melitopol, which is located in the Zaporizhzhia region, was another effort by the Russian leadership to conceal the true scale of its losses in Ukraine.
It described a specific instance on June 6 when the Russian military visited a facility in the occupied city and inspected its refrigeration chambers.
"The equipment was found suitable for conversion into a morgue," the report said, according to an English translation. "The company's management was informed about 'the decision to temporarily use them free of charge for the preservation of the bodies of fallen servicemen.'"
The directorate said that more bodies of Russian servicemen who died during fighting closer to the other Ukrainian cities Polohy and Huliaipole, which are also located in the Zaporizhzhia region, are being transported to Melitopol.
"These events are associated with heavy losses of the occupiers in manpower," the report added.
In the Zaporizhzhia region, which is located in southeastern Ukraine, Russian forces are focusing on ground and artillery attacks near its border with the Donetsk region, according to the June 8 campaign assessment from the Institute for the Study of War.
Newsweek reached out to the defense ministries of Russia and Ukraine for comment.