Russia Will Soon Be Able to Fire Nuclear Cruise Missiles Twice As Far, and They Could Be Coming Closer to U.S., Reports Say
Russia is reportedly doubling the range of one of its nuclear-capable, sea-launched cruise missiles, and is looking to deploy the weapons as far as the western Atlantic.
The 3M-54 Kalibr cruise missile, dubbed SS-N-30 by the U.S.-led NATO Western military alliance, can be fired by surface ships or submarines, and is capable of taking out vessels as well as striking targets on land. The missile's current range is estimated at roughly 2,000 kilometers, or about 1,243 miles, but the state-run Tass Russian News Agency cited a defense industry source as saying Tuesday that "the newest high-precision ship-based Kalibr-M cruise missile with a maximum firing range of more than 4,500 km [2,796 miles] was being developed for the Russian Navy."
The source said that the Kalibr-M was still being researched, with funding from the Russian Ministry of Defense, but was part of the state armament program outlining additions to Moscow's arsenal up to 2027, so "the rocket must be transferred to the fleet before the end of the program."
Not only would its range reportedly be extended, but "it will be much larger, the weight of its warhead will approach 1 ton [about 1.1 tons]," the source told Tass, adding that both frigates and nuclear submarines would be capable of using the weapon, which was "designed to destroy land facilities and will be able to carry both conventional and nuclear warheads."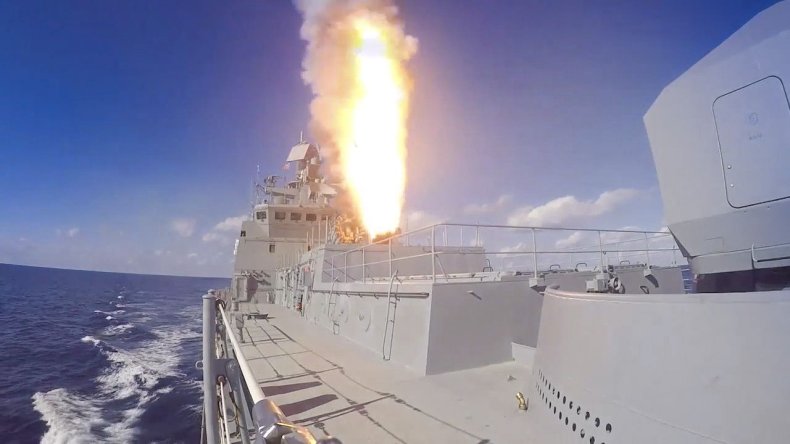 Modernizing his country's naval power has been a key element of Russian President Vladimir Putin's campaign to restore Moscow's once-global military might, and the Kalibr cruise missile has proved an effective tool in live combat. Russian warships and submarines have both fired the powerful precision weapon at Islamic State militant group (ISIS) positions in Syria as part of Russia's campaign to support the Syrian government against rebels and jihadis fighting to overthrow it since a 2011 uprising backed by the U.S. and its regional allies.
The U.S. later switched its focus to battling ISIS but has done so as part of a separate campaign that rivaled the pro-government offensive backed by Russia and Iran. Differences over the conflict have sometimes led to tense moments in the Mediterranean, but one report suggested that Kalibr-armed Russian vessels could soon also pose a threat to the U.S. military at home.
Russia has greatly expanded its maritime presence in recent years and has increased its activity in the North Atlantic among other regions. In an article published Friday, the Washington Free Beacon cited officials with knowledge of recent intelligence reports as saying that Moscow now planned to send Kalibr-equipped surface ships and submarines on patrols in the Western Atlantic, closer to U.S. shores, in the upcoming months.
Such patrols were a common occurrence in the days of the Cold War and, as tensions between the world's leading military powers have again erupted into a competition over spheres of influence, Pentagon officials have sounded the alarm over what they perceive to be a growing threat. In May, the U.S. Navy revived the Second Fleet to shore up defenses of the North Atlantic and, in August, Chief of Naval Operations Admiral John Richardson said that a resurgent Russian submarine force posed a greater challenge now than at any point since the Cold War.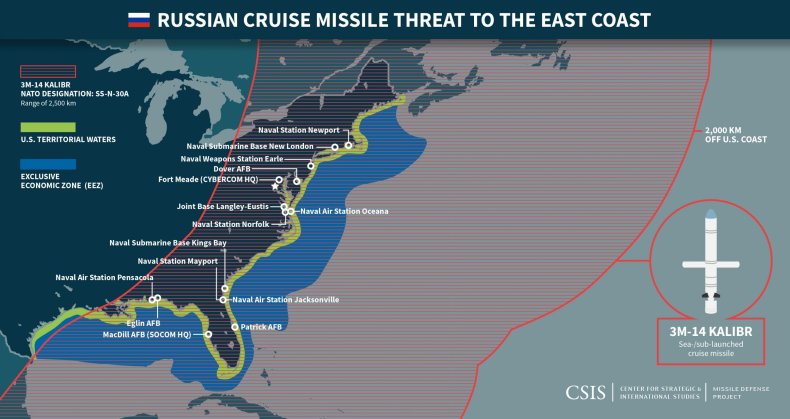 In addition to the Mediterranean and the Atlantic, Kalibr cruise missiles were also set to see service in three other maritime flashpoints—the Baltic, Barents and Black Sea. The U.S. has viewed Russia's military rise with deep suspicion, while Moscow has accused Washington of pursuing hostile policies aimed at maintaining the Pentagon's military superiority around the world.
Putin has sought to level the playing field by introducing new nuclear-capable weapons said to be impervious to modern or even prospective defense systems. These included hypersonic weapons such as the Avangard glide vehicle or air-launched Kh-47M2 Kinzhal cruise missile, both of which were too fast to be intercepted by existing U.S. defenses.
Also potentially threatening the U.S. coastline was the Poseidon underwater drone, a nuclear-capable and highly-maneuverable weapon that some experts have argued could be used to inflict radioactive tsunamis on major cities, though the strategic effectiveness of the tactic has been called into question.