The Russian military has revamped its missile capabilities over the past year, establishing new units tasked with overseeing the use of precision and long-range weapons.
The Russian Ministry of Defense's official newspaper Krasnaya Zvezda published an article Tuesday recapping a "landmark" year for the Russian armed forces. Detailing various defense achievements, the article revealed that "command and control bodies and special units have been formed that plan the use of high-precision long-range weapons and prepare flight missions for all types of cruise missiles."
"As a result, full-fledged groups of precision weapon carriers have been created, capable of using missiles at targets at a distance of up to 4,000 kilometers [nearly 2,500 miles]," the official defense organ wrote.
As reported by the state-run Tass Russian News Agency, the basis for these groups were warships armed with the Kaliber cruise missile in the Baltic, Barents, Black and Mediterranean Seas—all sites in which Russia has brushed with its top rival, the U.S-led NATO Western military alliance.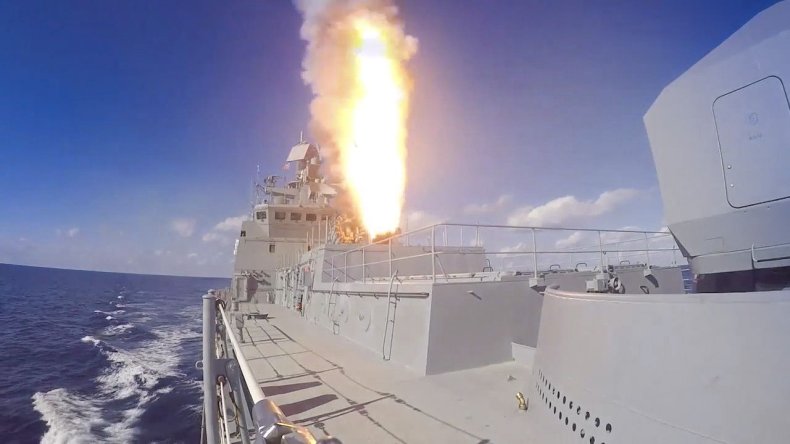 Russia's ties to the U.S. and its Western allies in Europe have soured in recent years, falling out especially after Moscow's 2014 annexation of the neighboring Crimean Peninsula as Ukraine underwent political turmoil. NATO began to bolster its borders, especially in the Baltic region and Poland, where a second Aegis Ashore missile defense site is being constructed, adding to another such site in Romania, located across the Black Sea from Russia.
While a number of pro-West states along Russia's borders have expressed anxiety about the Eurasian power's own military activities, Moscow has justified defending its boundaries by arguing it needed to defend against NATO's eastern expansion. Russia has warned of a U.S.-built missile shield surrounding the country and has rejected allegations that it interfered in the affairs of foreign countries.
"It should be noted that in the political circles of a number of Western countries there is a painful reaction to the well-founded actions of our country to increase its defense potential in the face of the North Atlantic alliance actively increasing its offensive capabilities and improve its military infrastructure near the western borders of the Russian Federation," Krasnaya Zvezda wrote Tuesday.
Heightened tensions have led to near-constant military drills from both sides, sometimes leading to close encounters and dueling accusations of airspace violations. Though Russian military may have the advantage in the immediate borders of Europe, its power does not compare to that of the U.S. Russian President Vladimir Putin set out to even the playing field in March by revealing a new arsenal of what Krasnaya Zvezda referred to these as "unique" and "unparalleled" weapons.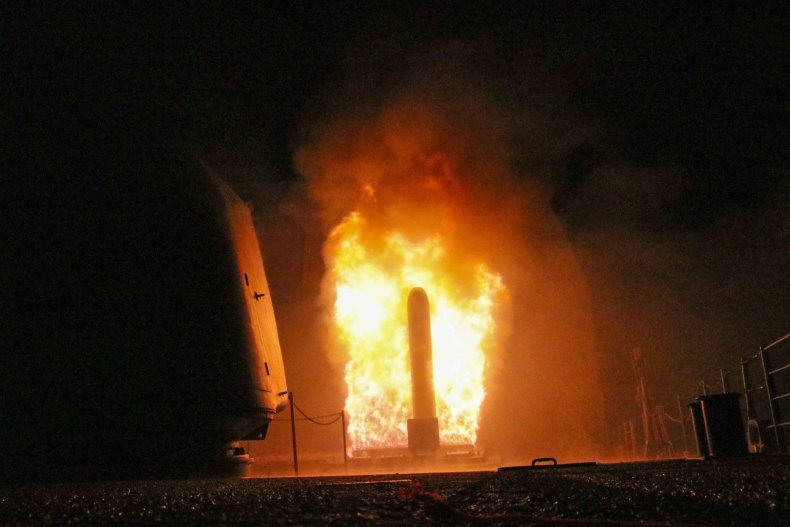 Putin has for years set out to modernize and expand his country's military capabilities, but Moscow's missile might come into the spotlight when he unveiled a slew of highly advanced, nuclear-capable weapons in development at an annual address to the government. These included the RS-28 Sarmat intercontinental ballistic missile, the Kinzhal hypersonic air-launched missile, the Avangard hypersonic missile glider, the Peresvet laser combat system, the Poseidon underwater drone and the Burevestnik nuclear-powered cruise missile.
On the battlefield, however, the Kalibr cruise missile has already proven an asset to Russian forces combating the Islamic State militant group (ISIS) in Syria. Russian warships and submarines have fired these missiles from positions in the Mediterranean Sea—where U.S. warships supporting a rival anti-ISIS mission are supported—against jihadi strongholds. Russia held war games there in late August and early September as the U.S. considered launching an attack on Moscow's ally, the Syrian government.
Up north in the frigid waters of the Barents Sea, NATO launched its largest drill in decades late last month. The ongoing Trident Juncture 2018 exercise was accompanied by a series of Russian rocket tests nearby as Moscow accused the Western coalition of escalating their dispute with the multinational maneuvers.