Russia Calls Out U.S. Military 'Threat' After NATO Minister Accidentally Says There Are 'Ballistic Missiles' at Base
Russia amped up tensions with NATO on Thursday after a NATO Western defense coalition minister told a media outlet that a military base possessed ballistic missiles.
Pavel Alekseenko, the secretary of Russia's embassy to Romania, lashed out on social media after Romanian Defense Minister Mihai Fifor told local broadcaster Antena 3 that the U.S. Naval Support Facility Deveselu had "ballistic missiles" that made Russian President Vladimir Putin upset.
The base is home to NATO's Aegis Ashore Missile Defense Facility, which Russia has long accused of threatening Russia's military capabilities, and Alekseenko saw Fifor's words as an admission of even more extensive U.S. military infrastructure near Russia.
"Fifor's statement is another proof that the American shield in Deveselu is a direct and immediate threat to Russian national security. Thank you for this spontaneous truth, Mr Fifor!" Alekseenko wrote on Facebook in comments translated by the state-run Tass Russian News Agency.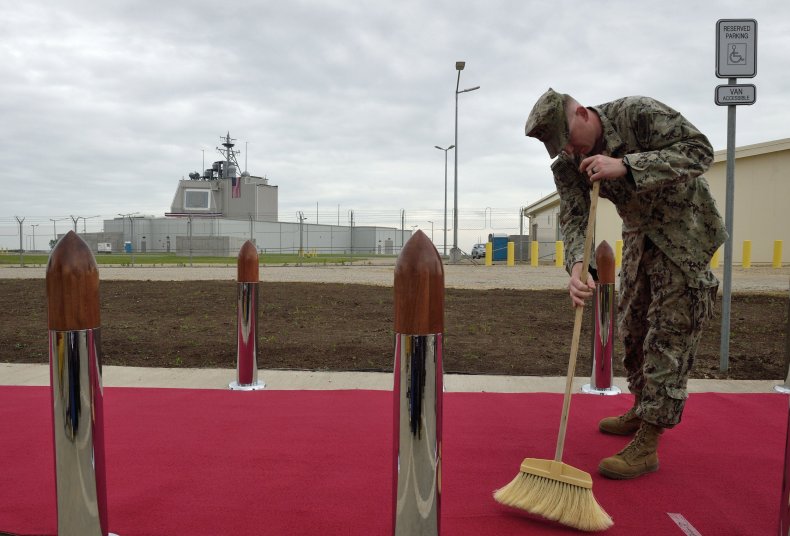 Cold War foes Russia and U.S.-led NATO have been increasingly at odds since Russia annexed the former Ukrainian territory of Crimea, which lies across the shore of the Black Sea from Romania, amid a 2014 political uprising in Kiev. Romania has been a NATO member since 2004, but only received the advanced Aegis Ashore Missile Defense Facility in 2015. It was inaugurated and declared operational in May 2016.
Russia has long criticized the Aegis system and other advanced U.S. anti-missile installations across Europe and in Asia as well, calling them part of a global missile shield intended to block a Russian attack in the event of a conflict. During his interview with Antena 3, Fifor said the growing Western military presence in Romania would anger Putin.
"Obviously, President Putin will not be extremely delighted that very serious military capabilities are being developed in Romania. How could President Putin ever be excited about the fact that in Romania there is the military base at Deveselu with ballistic missiles; how could President Putin ever be delighted that we have a base at Mihail Kogalniceanu populated with American soldiers, and we continue to insist on the US under the strategic partnership to secure the continuity of US troops on Romania's soil? How could the Russian Federation ever be delighted that Romania has developed its naval capabilities? Or even more, how could the Russian Federation ever be delighted when we declare that Romania intends to develop a submarine programme in the Black Sea?," Fifor told Antena 3, according to Romania's official Agerpres news agency.
Following Alekseenko's remarks, Fifor defended his comments and said they were misinterpreted by Russian officials. He emphasized that there was only a missile defense system at Deveselu, not ballistic missiles.
"I think that when we talk about the way the Russian Federation manifests itself, there is no doubt whatsoever. As for the statements of some officials, I watched them yesterday - they are funny - that's all I can say, what is important is the following thing: that from a misunderstanding of my words on a show two nights ago (...) we have reached a flurry of interpretations, some more interesting than others," he said, according to Agerpres.
"I want to emphasize something as clear and firm as possible: Romania, and I emphasize, Romania does not have ballistic missiles at Deveselu base, and I think it's time for us to stop with these speculations because they are not things that should reach the political dialogue area," he added.