Five seriously ill coronavirus patients at a St. Petersburg, Russia, hospital, who were all on ventilators, died when a fire ripped through their intensive care unit on Tuesday morning.
A source at the emergencies department in Russia's second city told news agency TASS that a short circuit may have caused the fire, which was spread across 100 square feet on the sixth floor of St George's hospital, in the city's Vyborg district, at around 6 a.m.
"The ventilators are operating to their limit. According to preliminary data, an overload occurred which ignited the machines, causing the fire," a source told TASS.
A police source said that four men and one woman, aged between 59 and 67, were killed in the tragedy. More than 150 people were evacuated from the hospital, which had been converted to treat COVID-19 patients at the end of March. It is not known how many were injured.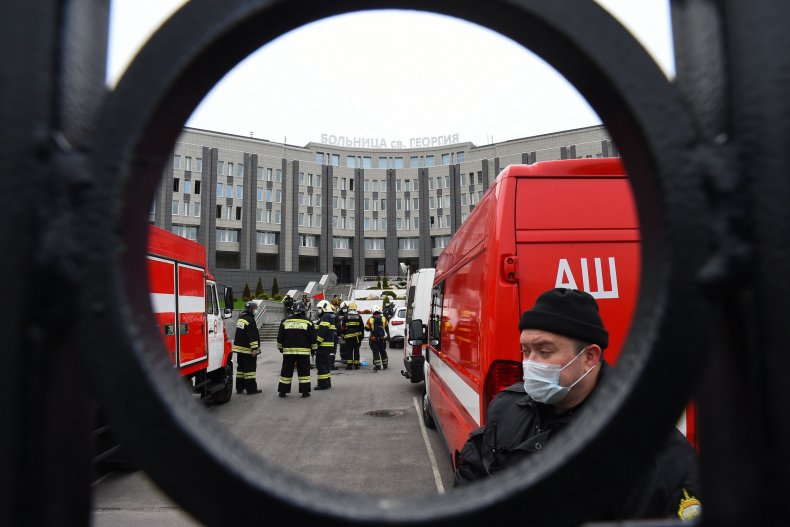 The Prosecutor General's Office is investigating the cause of the fire and will look at whether the hospital complied with fire safety standards or was criminally negligent, according to the agency.
The hospital will continue to work as usual, with no plans to transfer patients to other hospitals.
Faulty wiring is also believed to be behind another tragic fire that killed 11 people in a retirement home in the town of Krasnogorsk, near Moscow, on Monday.
Meanwhile last week, one person was killed in a fire in Moscow's Spasokukotsky hospital, which was also treating coronavirus patients. The fire began in one of the buildings and forced the evacuation of around 300 patients.
On Monday, President Vladimir Putin said in a televised address that the restrictions across the country would start to be eased and businesses would begin to return to work, although decisions would be made on a regional basis.
In Moscow, the lockdown has been extended until May 31, but from Tuesday, some construction and industry across the capital, which is the epicenter of the country's pandemic, would resume operations. Residents will also have to wear face masks and gloves in public places.
The infographic below, provided by Statista, shows the countries with the most confirmed COVID-19 cases, as of May 12.