Russia said on Wednesday it had flown two nuclear-capable TU-160 bombers to a far eastern Russian region opposite Alaska. State media called the operation a training exercise that demonstrated the country's ability to position nuclear arms close to the United States, according to Reuters.
The operation comes amid increased tensions over arms control between Moscow and Washington. Earlier this month, the United States withdrew from the Reagan-era Intermediate-Range Nuclear Forces Treaty, a landmark nuclear missile pact with Russia. The Trump administration said Moscow had violated that treaty.
"Russia is solely responsible for the treaty's demise," U.S. Secretary of State Mike Pompeo said in a statement on August 2. He accused Russia of failing to destroy its SSC-8 or 9M729 ground-launched, intermediate-range cruise missile systems, which the United States says are noncompliant.
The Kremlin denied the United States' accusation.
The U.S. ambassador to Moscow reportedly said earlier on Wednesday that the New Strategic Arms Reduction Treaty, the last major nuclear pact between Russia and the United States, was outdated and flawed. The ambassador suggested the treaty could be scrapped upon its expiration in 2021 and replaced with something else.
If it is neither extended nor replaced, "there will be no legally binding limits on the world's two largest strategic arsenals for the first time since 1972," according to The Arms Control Association, a Washington, D.C.-based nonprofit.
And it seems like Wednesday's events could foreshadow such an eventuality.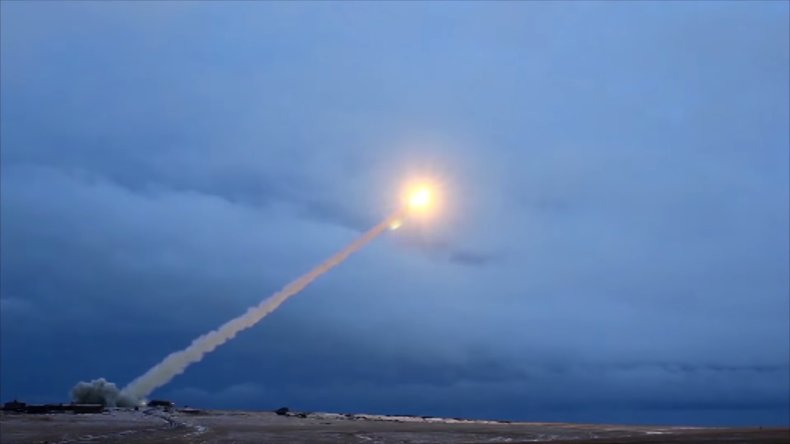 The Kremlin said on Tuesday that it was winning the race to develop modernized nuclear weapons, Reuters reported. But it was just last week that a mysterious rocket accident in northern Russia killed at least five people and caused a brief spike in radiation levels.
Neither Russia's defense ministry nor its state nuclear agency, Rosatom, clarified the type of rocket that exploded August 8. The agency did say the explosion happened while testing "isotope power sources within a liquid propulsion system."
Experts believed it was probably a nuclear-powered cruise missile known in Russia as Burevestnik and by NATO as Skyfall.
Last week, Russia's military reportedly took another step in its effort to field armed drones for front-line missions.
Footage released by Russia's defense ministry showed a combat drone dubbed "The Hunter," known in Russian as Okhotnik, circling an unnamed airfield several times and landing after 20 minutes.
State-run news agency Tass said the Sukhoi S-70 Okhotnik-B possessed the "most advanced reconnaissance equipment."