Russia Built A Floating Nuclear Power Plant, Now It's Making An Arctic Journey Despite 'Chernobyl' Comparisons
Russia has constructed a massive, floating nuclear power plant and is set to send it to a remote port city in the Arctic, garnering criticism and comparisons to a historic disaster.
The Akademik Lomonosov is a massive floating power unit containing a twin KLT-40 naval propulsion reactor nuclear power plant. Designed by Russia's state-run nuclear corporation Rosatom, the powership is the first of its kind to ever be designed for mass production and arrived last year in the Arctic, northwestern port city of Murmansk to undergo testing that concluded in March.
As soon as later this month, the Akademik Lomonosov will make a 3,100-mile journey east toward Russia's northernmost town of Pevek, located in the Chukotka region that lies just across the narrow Barents Strait from the U.S.' largest and most sparsely populated state of Alaska.
The sea-based unit would replace the Bilibino Nuclear Power Plant and coal-fired Chaunskaya Power Plant to provide energy to the isolated region and has been hailed by some as a marvel of modern engineering. For others, it represents an environmental disaster of unprecedented proportions waiting to happen.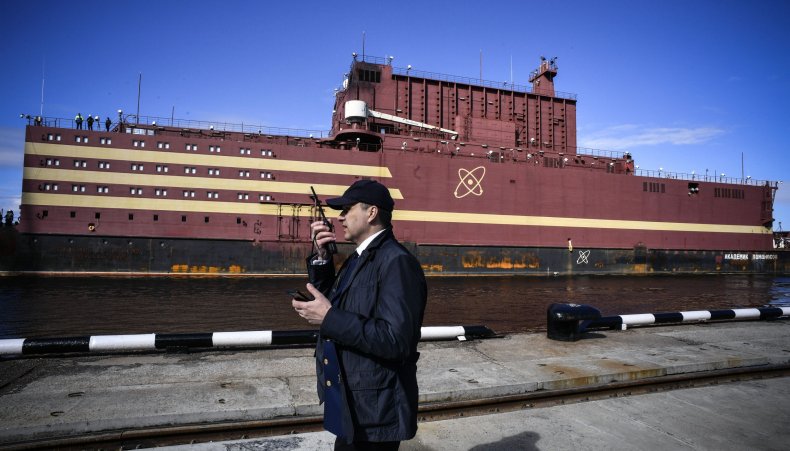 As the Akademik Lomonosov prepared to make its first major trip from the Baltic Shipyard in Saint Petersburg to Murmansk last April, environmental activist group Greenpeace warned that the floating facility could represent "a Chernobyl on ice." The nickname, which has since haunted the one-of-a-kind powership, was a reference to world's worst nuclear disaster in 1986 that has recently seen a resurgence in attention due to the release of a popular HBO miniseries of the same name depicting the tragic events.
While the disaster officially led to only 28 deaths from direct exposure from a massive radiation release that followed a failed safety test at the Chernobyl Nuclear Power Plant, up to thousands more were believed to have died from cancer potentially linked to contamination following the incident. It was one of only two disasters to be classified as a level 7 "major incident" on the International Nuclear Event Scale, the other being the Fukushima Daiichi nuclear disaster that followed the 2011 earthquake and tsunami that struck Japan.
Rosatom has defended the ship's safeguards against such incidents and dismissed Greenpeace's comparisons of the ship to Chernobyl or a "nuclear Titanic" by telling Newsweek last April that "it should be made clear that Greenpeace has not produced any peer reviewed and credible evidence to support its claims."
Just last month, however, a mysterious incident involving a research submarine believed to be nuclear-powered killed up to 14 sailors after a series of events that the Kremlin has declined to speak on. About a week later, separate reports emerged noting that radiation levels were 100,000 times higher than normal in the waters surrounding the wreck of the Soviet attack submarine K-278 Komsomolets, which sank in 1989 in the Norwegian Sea in the Arctic.
Despite some setbacks past and present, however, Russia has used nuclear power to forge new paths in the Arctic, a region that has increasingly become a site of competing geopolitical interests as climate change accelerated the melting of ice that once vast swaths of sea largely inaccessible. The Soviet Union built the world's first nuclear-powered icebreaker in 1957 and over six decades later Russia continues to maintain the only such fleet. In May, the Baltic Shipyard launched the latest of three such ships considered to be the largest and most powerful of their kind.
Moscow has also stepped up military drills in the Arctic, seeking to boost its posture as it faced increasing competition from the United States and other Arctic states looking to expand their own footprint in the strategic region.