Russia Free to Select Klishina as Sole Athlete at Rio Olympics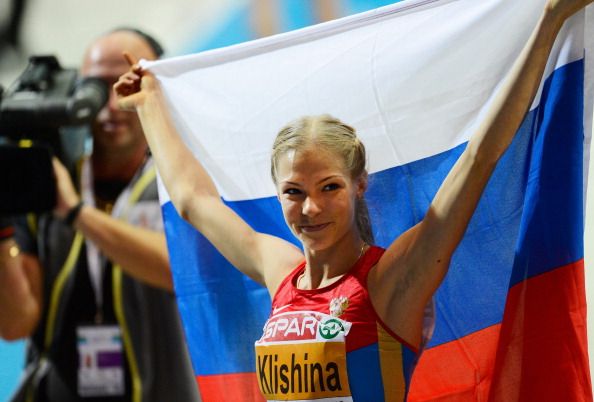 Darya Klishina, the only Russian athlete allowed to compete in the next Olympic Games, will be allowed to represent her country in Rio de Janeiro this summer.
Although Russia's athletics team was placed under a blanket ban for this summer's games, after the country's anti-doping agency was deemed unreliable, Klishina was the sole athlete who was deemed to have met additional criteria required by the International Association of Athletics Federations (IAAF).
She has been training outside Russia for the last three years and was regarded as unlikely to have been tainted by any potential malpractices within Russia's anti-doping apparatus.
Following the announcement she will compete and her statement thanking the IAAF, many Russians turned on the long jumper, accusing her of betraying Russia by praising an organisation that barred Russians from competing at the Rio Olympics. Many also accused her of turning her back on Russia due to her training abroad and potentially competing under a neutral flag.
According to the head of the International Olympic Committee, Thomas Bach, Klishina will not be banned from competing under the Russian flag. On the contrary, it is up to Russia to simply select her for the games.
"The classic rules apply for Klishina," Bach told Agence France Presse. "She has been declared eligible by her International Federation (IAAF) and, in accordance with the Olympic Charter, it is for her national Olympic committee to decide on her selection for the Games. If she is selected, she will be a full member of the Russian Olympic team."
According to the International Olympic Committee since Klishina has been cleared to compete by the IAAF, she is in the international pool of athletes, eligible for selection by nations. Therefore Klishina is eligible for selection by Russia.
The Russian Olympic Committee's official list of sports stars who have requested to represent the country at Rio 2016, features Klishina at number 997. The Olympic Committee is expected to declare who will compete for Russia in all Olympic disciplines before August 4, once every national federation has submitted its list to the committee on Monday.
The Russian Olympic Committee did not respond to press enquiries on whether Klishina will be included in Russia's Olympic team.