Russia Making Gains in Ukraine War but at 'Significant' Cost—U.K. Intel
One hundred days into Russia's invasion of Ukraine, President Vladimir Putin has achieved none of his strategic objectives, although his troops have seized the initiative in the eastern Donbas region, according to British defense intelligence.
In their daily assessment of the war, the U.K. Ministry of Defence gave an overview of the three-month-long war, saying Russia had failed in its initial aims to seize Kyiv and government centers, praising "staunch Ukrainian resistance."
But after being "repulsed" by Ukraine in a "failure" caused by "false planning assumptions and poor tactical execution," Putin's forces have adapted to focus on the Donbas where they were now "achieving tactical success."
The ministry said Russian forces "have generated and maintained momentum" and as such had managed to "hold the initiative" over Ukraine's troops. They added that Russia controlled over 90 percent of the Luhansk region, which it will likely be able to control fully within the next two weeks.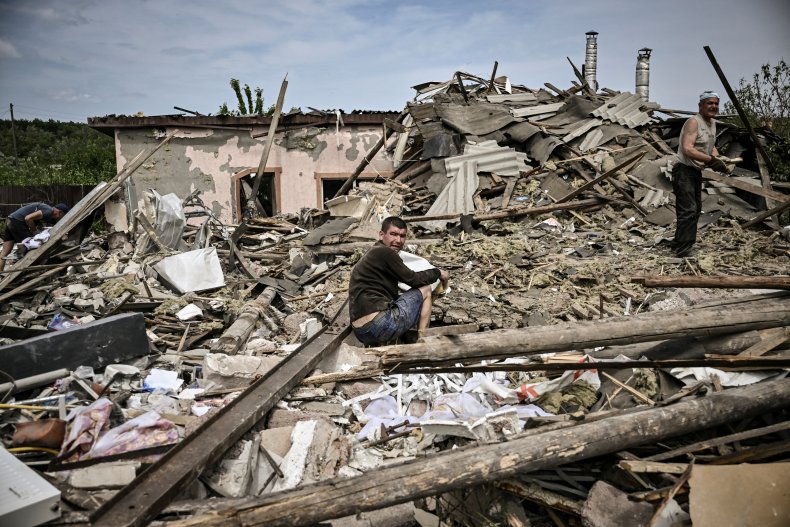 However, these successes have been achieved at a "significant resource cost" by concentrating forces on a single part of the overall campaign and Russia has not made gains on other fronts or axes, "all of which have transitioned to the defensive."
"For Russia to achieve any form of success will require continued huge investment of manpower and equipment, and is likely to take considerable further time," the ministry said.
The Kremlin gave a rosier assessment of its campaign on Friday with spokesperson Dmitry Peskov saying it had achieved its goal of protecting people in the self-proclaimed Donetsk People's and Luhansk People's Republics. "Measures have been taken to ensure their protection," he said.
Ukraine's President Volodymyr Zelensky said that Russian forces now control around a fifth of Ukrainian territory with a front line that extends for more than 600 miles. In a video address on Friday, he said that "victory will be ours."
Meanwhile, an assessment by the U.S. think tank the Institute for the Study of War (ISW) on Thursday said that Russian forces were making "incremental, grinding, and costly progress in eastern Ukraine."
It said that Russia's "inconsistent occupational measures" in southern Ukraine showed both the level of Ukrainian resistance and "likely Kremlin indecision on how to integrate occupied territory."
The ISW also said that Russian forces were continuing their onslaught against Severodonetsk and Lysychansk to get control of Luhansk, but Ukrainian counter-offensives in the northwestern Kherson region had pushed Russian forces to the eastern bank of the Inhulets River.
On Thursday, Ukrainian presidential adviser Oleksiy Arestovych said that Ukrainian forces had destroyed a Russian battalion tactical group (BTG) by the Inhulets river. He added that Russian troops had been caught "with their pants down" and dozens of soldiers and pieces of equipment had been taken out by Kyiv's forces.